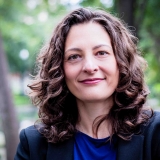 Carin Zissis
Editor-in-Chief, AS/COA Online
Carin Zissis is editor-in-chief of AS/COA Online, the website of the Americas Society and Council of the Americas. In that role, she oversees digital strategy for the organizations, as well as serving as editorial lead on the website's suite of content. She is the host of of Latin America in Focus podcast, which covers topics ranging from refugee crises to elections to battling fake news. 
Based in Mexico City since 2013, she covered the 2018 Mexican elections and subsequent presidential transition. With over a decade of editorial experience in both print and online media, her writing and commentary have been featured by AFP, The Boston Globe, Business Insider, CNN, Huffington Post, NYTimes.com, U.S. News & World Report, Univision Noticias, World Politics Review, and other outlets. Over the past 15 years, she has reported on and analyzed a range of topics, including Mexican immigration to the United States, the 2009 Honduran coup, Turkish women's rights, Pakistani tribal areas, and China's environmental crisis. Prior to joining AS/COA in 2007, she covered Asia as a website staff writer for the Council on Foreign Relations. While there, she produced an interactive guide to North Korean nuclear tensions that earned CFR.org's Crisis Guide series a Knight-Batten Award for Innovations in Journalism.
She holds an MA in Journalism and Latin American Studies from New York University, a BA in History from George Washington University, and is a member of the Mexican Council on Foreign Relations (COMEXI).
Areas of Expertise: Mexico, digital media.