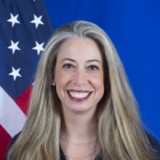 Bernadette M. Meehan
U.S. Ambassador to the Republic of Chile
Bernadette M. Meehan was confirmed as U.S. Ambassador to the Republic of Chile by the U.S. Senate on July 20, 2022. 
Ambassador Meehan most recently served as Executive Vice President of Global Programs at the Obama Foundation, where she oversaw leadership development programs for emerging leaders and worked to empower adolescent girls around the world. Previously, a career Foreign Service Officer for more than a decade, Ambassador Meehan served in Washington in multiple positions at the White House National Security Council, including Special Assistant to the President for National Security Affairs and Spokesperson for the National Security Council; Senior Advisor; and Director for Strategic Communications. She has also served as Special Assistant to the Secretary of State; Special Assistant in the State Department Executive Secretariat; and a Dean & Virginia Rusk Fellow at Georgetown University's Institute for the Study of Diplomacy. Her overseas assignments include the U.S. Consulate General in Dubai, United Arab Emirates; the U.S. Embassy in Baghdad, Iraq; and the U.S. Embassy in Bogota, Colombia. 
Ambassador Meehan served on the Board of Advisors for Georgetown University's Institute for the Study of Diplomacy, which brings together students, scholars, and practitioners to explore global challenges and the evolving demands of diplomatic statecraft. She was also a member of the Advisory Council of Hostage US, a 501c3 non-profit organization that supports families of Americans taken hostage or wrongfully detained abroad and supports hostages and detainees when they return home. 
Prior to joining the Department of State, Ambassador Meehan was a Vice President at J.P. Morgan Chase and a Vice President at Lehman Brothers. She speaks Spanish and Arabic. A native of New York, Ambassador Meehan earned her B.A. from Boston College. She and her husband Evan have one daughter.
Bernadette M. Meehan fue confirmada como Embajadora de Estados Unidos ante la República de Chile por el Senado de Estados Unidos el 20 de julio de 2022. 
La Embajadora Meehan se desempeñó más recientemente como Vicepresidenta Ejecutiva de Programas Globales en la Fundación Obama, donde supervisó programas de desarrollo de liderazgo para líderes emergentes y trabajó para empoderar a las adolescentes en todo el mundo. Anteriormente, como funcionaria de carrera del Servicio Exterior durante más de una década, la Embajadora Meehan ocupó varios cargos en Washington en el Consejo de Seguridad Nacional de la Casa Blanca, incluyendo Asistente Especial del Presidente para Asuntos de Seguridad Nacional y Portavoz del Consejo de Seguridad Nacional; Asesora Principal; y Directora de Comunicaciones Estratégicas. También se desempeñó como Asistente Especial del Secretario de Estado; Asistente Especial en el Secretariado Ejecutivo del Departamento de Estado; y como Becaria Dean & Virginia Rusk en el Instituto para el Estudio de la Diplomacia de la Universidad de Georgetown. Sus asignaciones en el extranjero incluyen el Consulado General de Estados Unidos en Dubái, Emiratos Árabes Unidos; la Embajada de Estados Unidos en Bagdad, Irak; y la Embajada de Estados Unidos en Bogotá, Colombia. 
La Embajadora Meehan formó parte del Consejo Asesor del Instituto para el Estudio de la Diplomacia de la Universidad de Georgetown, que reúne a estudiantes, académicos y profesionales para explorar los desafíos globales y las demandas cambiantes de la diplomacia. También fue miembro del Consejo Asesor de Hostage US, una organización sin fines de lucro 501c3 que brinda apoyo a las familias de estadounidenses tomados como rehenes o detenidos injustamente en el extranjero y apoya a los rehenes y detenidos cuando regresan a casa. 
Antes de unirse al Departamento de Estado, la Embajadora Meehan fue Vicepresidenta en J.P. Morgan Chase y Vicepresidenta en Lehman Brothers. Habla español y árabe. Originaria de Nueva York, la Embajadora Meehan obtuvo su licenciatura en Boston College. Ella y su esposo Evan tienen una hija.