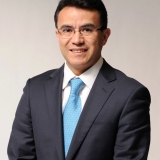 Ariel Yépez-García
Manager, Infrastructure and Energy Sector, Inter-American Development Bank
Ariel Yépez-García is the manager of the Infrastructure and Energy sector at the Inter-American Development Bank (IDB). Previously, Mr. Yépez-García was the Energy Division Chief at the IDB. In this position, he led the implementation of energy projects to promote energy transition, decarbonization, and sustainable development in Latin America and the Caribbean.
Before joining the Bank, Mr. Yépez-García served as Senior Energy Economist at the World Bank and as Director of Economic Planning at Petróleos Mexicanos (PEMEX). He also held various positions in the Ministry of Finance in Mexico, including the General Director of Revenue, Royalties, Prices, and Tariffs. 
Ariel has also taught at the National Autonomous University of Mexico and the Autonomous Technological Institute of Mexico. He has also published articles and books about energy, infrastructure, regulation, public finance, and industrial organization. His most recent book is ¿How do households consume energy? Evidence from Latin America and the Caribbean, which has been published in English, Spanish and Portuguese.
He holds a Ph.D. in economics from the University of Chicago and a master's degree in economics from the Colegio de México. He also received the National Economics Award from the Banco Nacional de México.