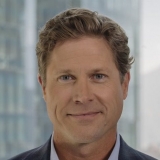 Andrew H. Martin
President, Latin America Cluster, Pfizer Inc.
Andrew H. Martin is the president of the LatAm Cluster within Pfizer's Emerging Markets Business Unit. In this role, he is responsible for: Pfizer's efforts to deliver innovative medicines to patients, partnering with key stakeholders to improve health equity, and creating sustainable change in healthcare access and care in the region.
Prior to this position, he was vice president of U.S. Rheumatology and Gastroenterology Franchise Lead where he led teams focused on leveraging an extensive portfolio of immunoinflammatory assets and was Vice President and Group Lead for Rare Disease, where he led a diverse team of colleagues who were responsible for helping enable access to life-changing medicines for patients across more than 100 countries in the Emerging Markets.
Mr. Martin has worked in the healthcare industry for 18 years and has commercial experience in a number of therapeutic areas including: gastrointestinal disorders, anti-infectives, women's health, vaccines, rare disease, and immunology. He has held roles in managed care, commercial development, inline marketing, strategy, and market development and has lived in and/or worked in numerous regions including the United States, Asia, the Middle East, Europe and Latin America.
Mr. Martin is also a strong advocate for Diversity, Equity and Inclusion in the workplace and is currently the Pfizer Chair of Men as Allies—a colleague resource group whose mission is to encourage and activate the role men play in the development of woman.
Prior to beginning his healthcare career, he spent 5 years at Fiskars Inc., a multinational consumer goods manufacturer. During his time at Fiskars, he was responsible for sales and marketing activities in the Asia-Pacific and Latin American markets.
Mr. Martin has an undergraduate degree in political science and East Asian studies from the University of Pittsburgh and a master of business administration degree from the Johnson Graduate School of Management at Cornell University. He lives in Newtown, PA with his wife and two sons.