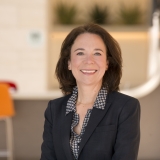 Ana Lucia Magliano
Executive Vice President, Services, Latin America and the Caribbean Mastercard
Ana Lucia Magliano is executive vice president, Services, Latin America and the Caribbean (LAC), reporting to the regional president. In this role, she leads a team responsible for implementing a unique range of data-driven capabilities and cyber security solutions that help customers make smarter decisions as well as provide safe, secure and frictionless interactions. 
Ana Lucia joined Mastercard in 2011, as vice president, as a member of the Data & Services in Brazil. Prior to assuming her current position, she was senior vice president, global head of product development for Retail Banking and senior vice president of Advisors Business Development. 
Before joining Mastercard, Ana Lucia worked at Booz & Company, leading complex consulting projects including a wide array of themes such as: strategy formulation and planning, organization and corporate governance, design and definition of business models, and process redesign and optimization for a diverse set of private and public sector clients. 
Ana Lucia holds an MBA from Columbia University in New York and a Bachelor's degree in Mechanical Engineering from Universidade de São Paulo.