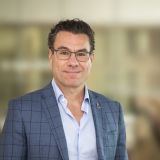 Alvaro Cardenas
President, Latin America & Caribbean, Diageo
Alvaro Cardenas currently serves as president for Diageo Latin America & Carribean (LAC). A Colombian citizen, Alvaro has been with Diageo for over fifteen years and during that time he has held roles in general management and finance, across Latin America, Asia, and Europe. 
Across the LAC region, Alvaro holds responsibility over the markets and teams that manage Diageo's leading portfolio of premier brands, including Johnnie Walker, Don Julio, Smirnoff, Tanqueray, and Baileys, in addition to local spirits like Ypioca cachaca.
 Prior to his position as president for Diageo LAC, Alvaro served as managing director for the Andean Region. In this role, Alvaro executed a strategy to triple the amount of business in 3 years. Alvaro joined Diageo in 2007 and has gained further operational, market and global experience through his roles as Global End to End Commercial Process Director, Finance Director for Southeast Asia and multiple markets across the South American region including Paraguay, Uruguay, Brazil (PUB) and the Andean Region. 
His earlier career included global and regional finance and strategy roles at Coca-Cola, Pfizer, and Quaker. Alvaro holds a bachelor's degree in business administration with a major in marketing. 
Alvaro is fluent in Spanish, English, and Portuguese. Alvaro is a pace-setting leader who continuously seeks out opportunities for his teams and business. Moreover, he is known for his passion and drive to deliver results, using his ability to build strong teams that deliver outstanding outcomes, along with an unwavering commitment to Diageo standards and a commitment to compliance. 
As of July 1, 2023, in addition to his role as LAC president, Alvaro was appointed as the chair of Diageo's Executive Working Group (EWG) on ESG. In this role, he helps to lead, promote, and drive Diageo's ESG efforts as outlined in Society 2030: Spirit of Progress—the 10-year action plan for creating a more inclusive and sustainable world.