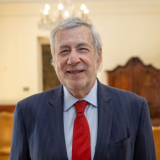 Alberto Van Klaveren
Minister of Foreign Affairs
Alberto van Klaveren Stork holds a Degree in Legal Sciences from the Universidad de Chile, a Master of Arts in International Studies from the University of Denver, United States, and a Doctorandus in Political Science from the Universiteit Leiden, Netherlands. 
With extensive experience in the academic world, he has worked in research on International Relations, Comparative Foreign Policy, Chilean Foreign Policy and International Law. 
Until his appointment as Foreign Affairs Minister, he served as director of the International Legal and Economic Relations Academic Unit in the Institute of International Studies at the Universidad de Chile. 
He was also Chile's Ambassador to the European Union, Belgium and Luxembourg between 2001 and 2006, Foreign Affairs Undersecretary between 2006 and 2009, and agent of the State of Chile before The Hague for the claim filed against the country by Peru. He is an independent.
Alberto van Klaveren Stork es licenciado en Ciencias Jurídicas por la Universidad de Chile, tiene una Maestría en Estudios Internacionales de la Universidad de Denver, Estados Unidos, y un Doctorandus en Ciencias Políticas de la Universiteit Leiden, Países Bajos. 
Con una amplia experiencia en el ámbito académico, ha trabajado en investigación sobre Relaciones Internacionales, Política Exterior Comparada, Política Exterior de Chile y Derecho Internacional. 
Hasta su nombramiento como Ministro de Relaciones Exteriores, se desempeñó como director de la Unidad Académica de Relaciones Internacionales Jurídicas y Económicas en el Instituto de Estudios Internacionales de la Universidad de Chile. 
También fue Embajador de Chile ante la Unión Europea, Bélgica y Luxemburgo entre 2001 y 2006, Subsecretario de Relaciones Exteriores entre 2006 y 2009 y agente del Estado de Chile ante La Haya por la demanda presentada contra el país por parte de Perú. Es independiente.