Wifredo Lam: A Retrospective of Works on Paper
September 18, 1992 to December 20, 1992
Curated by Dr. Charles Merewther, the exhibition Wifredo Lam: A Retrospective of Works on Paper featured a selection of 76 extraordinary works on paper including drawings, prints, and books by the artist, who was born in Sagua la Grande, Cuba 1902, and who died in Paris in 1982. The exhibition, promoting Lam as one of the foremost modernists of the Americas, was the first retrospective on this subject ever presented in the United States.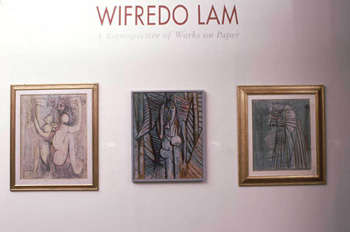 Although Lam initially studied art in Cuba, he developed into a mature artist while living in Europe. He traveled to Madrid in 1923, continued his studies, and began his life as a professional artist in that city. With the outbreak of the Spanish Civil War, Lam joined with the Republican forces, and in 1937, he fought against the fascists in defense of Madrid. In 1938, he moved to Paris where he associated with Pablo Picasso and the Surrealists. Lam returned to Cuba in 1942, although he continued to travel widely, frequently returning to Europe. These diverse experiences, cultural and political, had a profound impact on Lam's art. Through them, he developed an artistic language that synthesized aspects of European modernism (especially Synthetic Cubism), and concepts and symbols of his native Afro-Cuban culture. In doing so, he also forged an artistic language particularly relevant to his Caribbean culture and one that was evocative of the complex culture and spiritual life of modern Cuba.
An exhibition catalogue is available.
The exhibition was made possible with the support of Fundació "la Caixa," the National Endowment for the Arts, and the New York State Council for the Arts.