Americas Society
Council of the Americas
Uniting opinion leaders to exchange ideas and create solutions to the challenges of the Americas today
Visions of Light and Air: Canadian Impressionism, 1885-1920
September 27, 1995 to December 17, 1995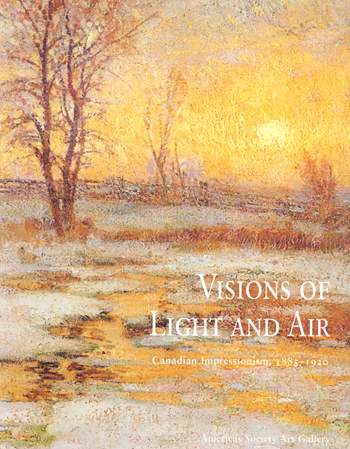 This major exhibition focused on the development and history of Impressionism as practiced by Canadian artists working in their native country and abroad, between 1885 and 1920. Canadian Impressionism, 1885-1920 featured approximately sixty-five paintings constituting an historical survey of the Impressionist tradition in Canada during this period. It included work by such noted painters as William Blair Bruce, Canada's earliest Impressionist, who, along with a group of American artists established the Anglo-American art colony in Giverny, France, in 1887. The exhibition also featured paintings by master Impressionists Maurice Galbraith Cullen and Marc-Aurèle Suzor-Coté, renowned for their sunlit portrayals of the Quebec landscape, and James Wilson Morrice, recognized for his views of St. Malo, France, and of Old Montreal. Canadian Impressionists who were active in the United States also comprised an important segment of the exhibition- they included: Ernest Lawson, a member of the Eight; and William Henry Clapp, who was affiliated with the Oakland-based group of painters knows as The Society of Six. Some of the other artists represented in the exhibit were: Clarence Alphonse Gagnon, Lawren Stewart Harris, Charles William Jefferys, Helen Galloway McNicoll, George Agnew Reid, and Tom Thomson.
Both the exhibition and the accompanying catalogue sought to define the various ways in which Canadian painters responded to the Impressionist aesthetic. The project illuminated the French origins of Canadian Impressionism as well as its connection with similar artistic currents within the United States. Carol Lowrey, a specialist in the late nineteenth- and early twentieth-century Canadian and American painting, curated the exhibition.
This was the first exhibition of Canadian Impressionism in the United States. In addition, because the curator drew upon recent scholarship, the exhibition and its accompanying catalogue made an important contribution to the fields of Canadian art history and Impressionist studies. Loans for the show were secured from a wide selection of important Canadian institution, such as the National Gallery of Canada, the Art Gallery of Ontario, the Art Gallery of Hamilton, The Montreal Museum of Fine Arts, the University of Toronto, as well as private and corporate collections.
An exhibition catalogue is available.
This exhibition was made possible by the generosity of the Power Corporation of Canada/Power Corporation du Canada, the Canadian Consulate in new York and the Richard and Priscilla Schmeelk Foundation. Funding for the exhibition catalogue was graciously provided by the American Friends of Canada.