Torrijos: The Man and the Myth
On view: through
Guest Curator: Nan Richardson
January 31 - April 12, 2008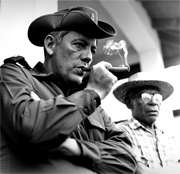 Torrijos: The Man and the Myth was a unique exhibition of never-before-published photographs of former Panamanian leader Omar Torrijos by Graciela Iturbide, one of Mexico's most celebrated photographers. Omar Torrijos was Panama's most famous leader (from 1968 to 1981) and is one of the best-known twentieth century figures throughout Latin America.
The exhibition was not only an homage to Omar Torrijos, it is also the documentation of a period of social change in Panama. Graciela Iturbide photographs a rural Panama and captures indigenous people in small villages across the land. At times we see the clash between urban and rural life, indigenous and modern life, as Iturbide moved alongside General Torrijos from community to community.
Torrijos: The Man and the Myth will be accompanied by a bilingual publication by Umbrage Editions. It will include all the exhibited photographs by Iturbide and never-before-told personal reminiscences by Gabriel García Marquez, Nobel Prize Laureate in Literature who was a friend and confidant of General Torrijos.
In conjunction with the exhibition, Americas Society will host public lectures, conversations with the photographer, and other related cultural and education programs.
Americas Society gratefully acknowledges the generous support of Galería Emma Molina, Graciela Iturbide, the Bruce T. Halle Family Foundation and La Fundación/Colección Jumex. Additional support has been provided by the Mexican Cultural Institute of New York.
Photo: Graciela Iturbide, General Torrijos on one of his visits to the countryside in Panama, 1975.