October 06, 1987 to December 23, 1987
This exhibition featured 148 spectacular items of colonial silver from the celebrated collection of the Museo Isaac Fernández Blanco in Buenos Aires. Though it was well known that both Mexico and Peru had a tremendous importance during colonial times in contributing precious metals to the European economy, the traditions of metalworking that continued to flourish in the New World over the same period were little known outside the immediate region of Latin America.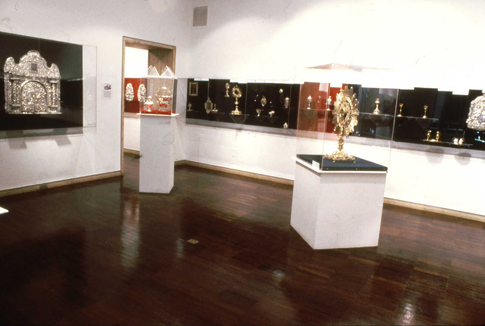 The exhibit provided fascinating insights into the colonial period, which was a time of intensive production with gold and silver. To a great degree, metalwork in Latin America was modeled on European prototypes, but it is most interesting for its divergences from these strict formulas. Though a number of superb examples survived, they were widely scattered, not only among different nations, but also between churches (where some of the finest pieces still remained in use), private collections, and museums.
This exhibition consequently was a rare opportunity to view both sacred and secular uses to which precious metals were applied during three hundred years of colonial domination. The collection which Isaac Fernández Blanco bequeathed to the Municipality of Buenos Aires in 1921 was the first public collection of its kind in the world. Supplemented and enriched over subsequent years both by purchases and additional bequests, it represented the enormous diversity of silver objects ranging from plaques and crowns created for religious ritual, to exquisite maté cups, their curious and ingenious drinking straws and even such domestic utensils as a chocolate pot, which were fabricated for private use. These objects vividly demonstrated the skill of the regional craftsmen, provincial tastes, and traditions.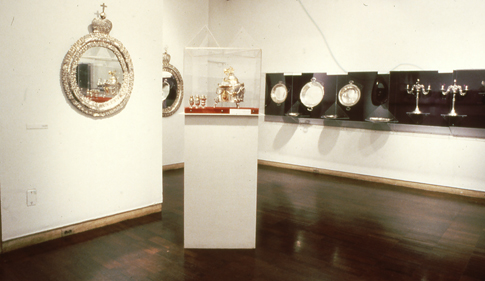 Representing the seventeenth, eighteenth, and nineteenth centuries, this collection included pieces from Bolivia, Chile, Mexico, Peru, and Venezuela, as well as the Río de la Plata region encompassing Buenos Aires. It richly documented not only the distinction between items intended for sacred, civil, and private uses but also the impact of European tastes, on Indian heritage and indigenous customs.
Southern Splendor was curated by Adolfo Luis Ribera.
An exhibition catalogue is available.
This exhibition was made possible with the support of the National Endowment of The Arts, and additional contributions from other generous individual sources.