Pictures of You, an Exhibition of Work by Iñaki Bonillas, Minerva Cuevas, Mario García-Torres, and Yoshua Okon
On view: through
Pictures of You, curated by Sofía Hernández Chong Cuy brought together four artworks that called attention to looking, expectation, and observation. The works included in this exhibition employed and captured the intrinsic sensorial and structural qualities of the pictorial, yet relied on perceptive modes other than the visual. Rather than presenting a set of pictures, the works selected for Pictures of You could be seen as artistic propositions that underlined the significance and potential of imagination.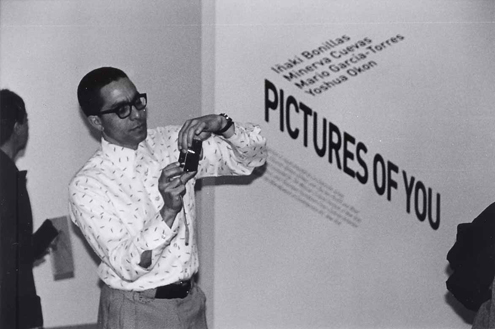 Iñaki Bonillas has addressed the use of the photographic camera incorporating synaesthetic strategies to complicate fixed categories or images of photography. In his piece 10 cámaras documentadas acústicamente (10 Cameras Documented Acoustically) (1998), Bonillas recorded the sounds of ten different cameras at various shutter speeds. This was the first showing of Bonillas' work in the United States.
In addition to Mejor Vida Corp. and to her "operations" with micro-activist strategies, Minerva Cuevas had created a body of work in video that investigated the making, and sometimes fusion, of performance and image. Selfdoor (1998) consisted of a video projection, and showed the artist in a darkened room repeatedly and slowly striking a black wall with an axe. The video ended when the artist dismantled the wall and an image of a landscape appeared.
Mario García-Torres' Abastecedora de Galerías (The Gallery Store) (2001–ongoing) consisted in the creation and distribution of a series of products for art museums and galleries. For this exhibition, García-Torres manufactured prototypes of two products found in the store's catalog: an air freshener (scent of oil paint), and various signature-white, latex wall paints. García-Torres developed the paints based on the diverse whites used in oil paintings by modern and contemporary Mexican painters—among them, Diego Rivera and Carlos Nava Mérida. This was the first showing of Mario García-Torres' work in the United States.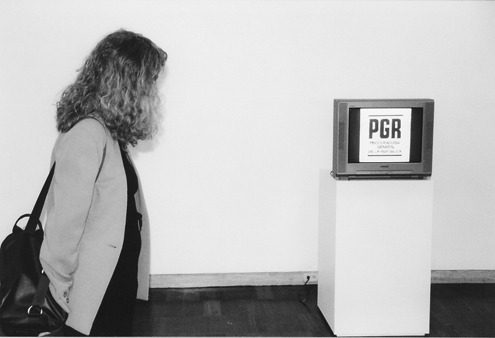 Yoshua Okon showed Presenta (Presents) (1998), a video that takes as its core subject the structure of video or artwork production itself. This video, which ran for three minutes as a continuous loop and was displayed on a television monitor, was a blunt, visual parade of official credits and logos, all of them from various civic and cultural establishments in Mexico, both private and public.
*During the exhibition opening, María Alós performed Image Registry, the first of a series of performances that took place throughout 2002 in selected receptions and events at Americas Society.
Exhibition catalogue available
Pictures of You was made possible with the support of La Colección Jumex; Ambassador Eduardo Ramos-Gómez; Thacher, Proffitt and Wood; and The Mexican Cultural Institute of New York. Additional support was provided by The Mexican Cultural Institute of New York; Putumayo World Music; and Putumayo Cross-Cultural Initiatives.
Images: Visitors at Pictures of you. Americas Society. 2002.