Modern and Contemporary Art from the Dominican Republic
On view: through
The Dominican Republic, a relatively small country within the Americas; nevertheless possessed a rich tradition in the visual arts little known outside the Caribbean. This exhibition traced the modern art history of that country, beginning with the paintings of the country's pioneering modernist, Celeste Woss y Gil in the 1910s and 1920s; the influence exerted by a community of Spanish exile artists who arrived in Santo Domingo in the 1940s; the development of modernist idioms by native-born artists in the 1950s, 1960s, and 1970; and the rise, in the last decade, of a new generation of artists who tended to work with installation and other non-conventional artistic media.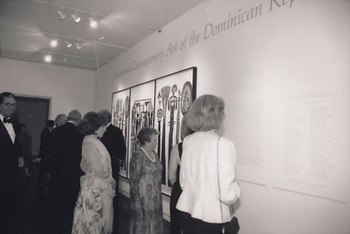 The exhibition was divided into two parts: the first, presented at The Spanish Institute, surveyed Dominican art from earlier in the century to the 1970s and comprised some fifty of the finest paintings, drawings, and sculptures created by 19 major figures. The curator of this part of the exhibition, that was shown at The Spanish Institute, was Dr. Edward J. Sullivan, Chairman of the Department of Fine Arts at New York University, and an internationally prominent expert in Latin American art.
The second part of the exhibition, shown at the Americas Society, highlighted artists who had emerged in the 20 years prior to the show. It included paintings, sculptures, photographs, graphic works, and mixed-media installations by leading young Dominican artists: Tony Capellán, José García Cordero, Martín López, Marcos Lora Read, Jorge Pineda, Belkis Ramírez, Raúl Recio, Freddy Rodríguez, Fernando Varela, and Bismarck Victoria.
The innovative work by members of this generation was clearly linked to international developments in contemporary art in the United States and Latin America. At the same time, these artists evinced a pronounced interest in Dominican culture and history, and their works frequently investigated Caribbean identity and social issues. In his installations, for example, Tony Capellán used natural elements common to the Caribbean, foodstuffs, and domestic items, to comment upon contemporary social issues. In contrast, a series of paintings by Freddy Rodríguez from the early 1990s, featuring stark crosses and circles (symbolic of the Church and the sacramental host), juxtaposed with depictions of indigenous foods like yucca, refered to the clash of cultures in the New World that began with the conquest.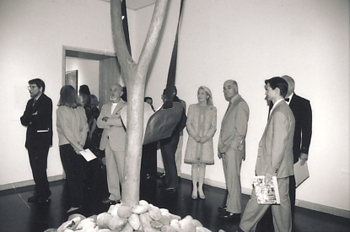 Elizabeth Ferrer, Head of the Visual Arts Department of the Americas Society, and a specialist in twentieth century Latin American art, curated this portion of the exhibition.
An exhibition catalogue is available.
Oscar de la Renta and María Matilde P. de Bonetti provided special support and assistance to this project. This exhibition was also made possible thanks to the contributions of numerous individuals and organizations in the Dominican Republic and the United States. Additional fundes were provided by NYNEX.