Marta Minujín is a prominent voice of the Argentine neo-avant-garde art scene of the 1960s and 70s, with a brilliant international career that helped define the discussion about media, performance, and participation. Minujín is often mentioned as one of the pioneers of happenings.
Marta Minujín's Minucode (1968), originally commissioned by the Center for Inter-American Relations (now Americas Society), explored social codes in four groups of leading figures in the arts, business, fashion, and politics in New York through a series of cocktail parties/happenings. Deeply interested in Marshall McLuhan's theories about the mass media, Minujín created an electronic environment with footage and light and sound shows produced during the happenings.
MINUCODEs, organized by Gabriela Rangel and José Luis Blondet, revisited that project more than 40 years later. Through recently recovered footage and documents, the exhibition shed light on the original mythical event.
Image courtesy of the artist.
[[nid:47614]]
Americas Society and Pinta Art co-present Marta Minujin: Minucodes. We gratefully acknowledge Erica Roberts, Fundación Exportar, Mario and Lilian Rodero, and Alejandro Quentin for their generous support, which helped make this exhibition possible.
In-kind support was graciously provided by Dirección General de Asuntos Culturales del Ministerio de Relaciones Exteriories, Comercio Internacional y Culto, República Argentina, the Consulate General of Argentina in New York, and Fundación Espigas. In-kind support for the public programs was graciously provided by University of Pittsburg Press, the Mexican Cultural Institute of New York and Alexander and Bonin Gallery.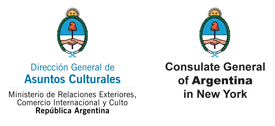 The Visual Arts Program is also supported in part with public funds from the New York City Department of Cultural Affairs.