Jump Cuts: Venezuela Contemporary Art from the Collection Mercantil
On view: through
Jump Cuts featured 28 Venezuelan artists addressing themes and issues central to Venezuela's recent social and aesthetic development. The exhibit was curated by Tahía Rivero, Jesus Fuenmayor, Lorena Gonzalez I., and Gabriela Rangel and featured highlights of the contemporary section of Colección Mercantil in Caracas, one of the most wide-ranging collections of Venezuelan art in the world. It included works by Arturo Herrera, José Antonio Hernández-Diez, Javier Téllez, and Carla Arocha.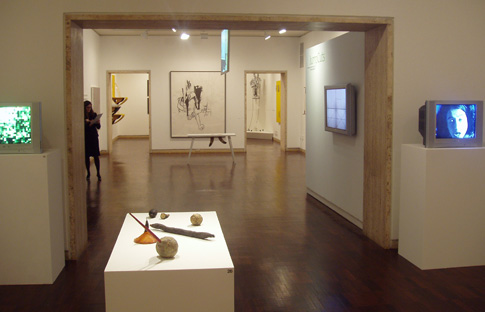 The concept of the exhibit drew on Jean Luc Godard's use of the "jump cut," a cinematographic term that referred to the editing of film shots causing a disjunctive and visible break in the film's continuity, camera position, or time. The work of Venezuelan artists in this exhibit highlighted dialogues with the past and present, reflecting a break from Kinetic Art and the idea of modernity as a concept in crisis. Thematic groupings within the exhibition included Art-Thought, Necrophilia, The Modern Vernacular, and From the Object to its Representation. These were the jump cuts in the history of Venezuela's visual art from the 1970s to the present.
The exhibition was the largest Venezuelan contemporary exhibition in New York City in 30 years. Through painting, drawing, photography and video, Jump Cuts offered an exceptional opportunity to witness the spirit of change and the complex diversity of Venezuelan contemporary art.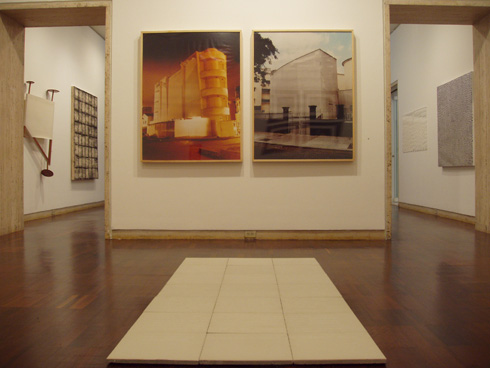 Artists Included in the Show:
Alexander Apóstol, Juan Araujo, Carla Arocha, Emilia Azcárate, Aziz + Cucher, Mariana Bunimov, Sigfredo Chacón, Eugenio Espinoza, José Gabriel Fernández, Magdalena Fernández, Héctor Fuenmayor, Alexander Gerdel, Alí González, José Antonio Hernández Diez, Arturo Herrera, Juan Iribarren, Diana López, Luis Molina-Pantin, Roberto Obregón, David Palacios, Alfredo Ramírez, Juan Carlos Rodríguez, Luis Romero, Javier Téllez, Meyer Vaisman, Sandra Vivas, Alfred Wenemoser, and Julia Zurilla.
Exhibition Catalogue Available
The exhibition was organized by the Banco Mercantil and the Americas Society.
Installation views: Jump Cuts. Americas Society. 2005. Photographs by Alexander Apostol.