Intimate Recollections of the Rio de la Plata: Paintings by Pedro Figari 1861-1938
March 06, 1986 to May 19, 1986
An outstanding selection of 59 oil paintings and 15 drawings, supplemented with books written and illustrated by the Uruguayan artist, Pedro Figari, was exhibited at Americas Society. Though Figari's paintings were well represented in public and private collections in the United Sates, to show the master at his best and to introduce unfamilliar works, well over half of the paintings were imported from collections in Montevideo and Buenos Aires.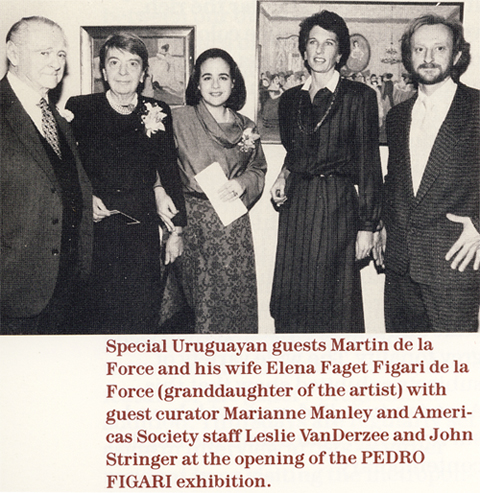 Born in Montevideo in 1861, Pedro Figari was a man of great distinction. Reared in the traditions of nineteenth century humanism and trained as a lawyer, he was also active as a statesman and diplomat. Although he began to paint circa 1890-1900, it was not until 1921 when he moved to Buenos Aires that he devoted his professional career to painting. Unlike other great Latin American masters, such as the Mexicans Diego Rivera, José Orozco, Álfaro Siqueiros, Frida Kahlo, the Cuban Wifredo Lam, the Chilean Roberto Matta, or even his Uruguayan compatriot Torres García, Figari's painting had not had any discernible stylistic impact on the growth of international artistic vision. Rather, his unique personal outlook was a celebration of distinct local and regional traditions and found correspondence with the intimate scenes of his French friends and contemporaries Edouard Vuillard and Pierre Bonnard. For their quiet, introspective mood, small scale, carefully worked textures, brilliantly modulated color, and humanistic emphasis, Figari's paintings shared many characteristics with these European painters, though his motifs were drawn quite deliberately from the New World. In theme, Figari's paintings captured a bygone era inspired from the area bordering the Río de la Plata, the estuary between the South American countries of Uruguay and Argentina. They documented a regional life-style that was already disappearing and becoming obsolete within the artist's own time. It was through dedication to specifically regional environment and local heritage, rather than by generating any particular stylistic language, that Figari became an example to later generations of artists.
Exhibition Catalogue Available.
This exhibition was made possible with the generous contributions from Aerolineas Argentina, Temple Hoyne buell Foundation, Dr. Maury P. Leibovitz, the National Endowment for the Arts, the New York State Council on the Arts, Mrs. Jefferson Patterson, and Ambassador Miguel Páez Vilaro.