Havana: The Revolutionary Moment. Photographs by Burt Glinn
On view: through
Havana: The Revolutionary Moment presented a unique collection of rarely seen photographs by veteran Magnum photographer Burt Glinn, recording Castro's historic entry into Havana in January 1959. In his memoir, Glinn describes the combination of chutzpah and journalistic prescience that led him to leave a New York party and hop a plane to Havana on New Year's Eve. The photographs of Fidel thronged by his fellow Cubans along the road to Havana, of troops embracing, and of celebrating men and women filling the streets captured the revolutionary fervor and idealistic anticipation that characterized that dramatic moment in Cuban history.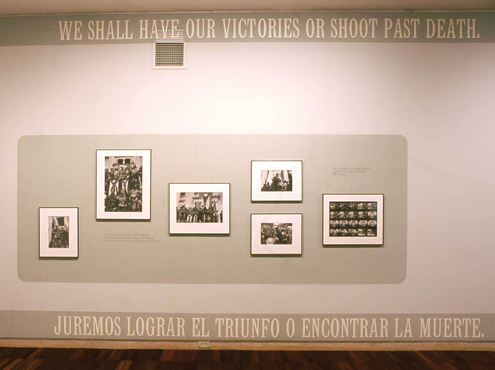 Havana: The Revolutionary Moment was the centerpiece of a series of public programs at Americas Society that analyzed the promises, challenges, and possibilities of post-Revolutionary Cuba. According to Alan Stoga, Acting President of Americas Society, "Whether you are pro- or anti-Fidel, it is not possible to understand Cuba today, without understanding the promise and potential with which Fidel Castro came to power. That is why we were so excited by this opportunity to present Burt Glinn's fascinating photographs to New York. But we also wanted to update the story, with its failures and its successes, by looking at the art, literature, politics, and economics of this controversial and complex country."
An exhibition catalogue is available.
Havana: The Revolutionary Moment was produced in association with the Fototeca de Havana in Havana, Cuba, and the Southeast Museum of Photography in Florida. The New York presentation was made possible by Zemi Communications.
Installation view:Havana: The Revolutionary Moment. Americas Society. 2002.