The First America: Selections from the Nancy Sayles Day Collection of Latin American Art
January 13, 1987 to April 05, 1987
In 1987 the New England Foundation for the Arts was touring a major exhibition of 56 paintings, drawings, prints, photographs, and sculptures from the Nancy Sayles Day Collection of Modern Latin American Art owned by the Museum of Art, Rhode Island School of Design. One of the foremost collections of its kind in the United Sates, the Sayles Day Collection surveyed the most important developments in Latin Modernism, with particular strengths in Mexican socio-political art (José Clemente Orozco, Diego Rivera, David Álfaro Siqueiros) the works of Latin pioneers in the international movement (Wifredo Lam, Roberto Matta, Carlos Mérida, Joaquín Torres-García); geometric and op art (Jesús Rafael Soto, Carlos Cruz-Diez, Edgar Negret); expressive figuration (Luis Benedit, Jorge de la Vega, Rómulo Macció); and realism (Claudio Bravo, Santiago Cárdenas, Horacio Torres). Curated by John Stringer, Director of Visual Arts, Americas Society, the exhibition and the accompanying catalogue documented the collection and discussed its relation to the international tendencies and the evolution of modernism in Latin America.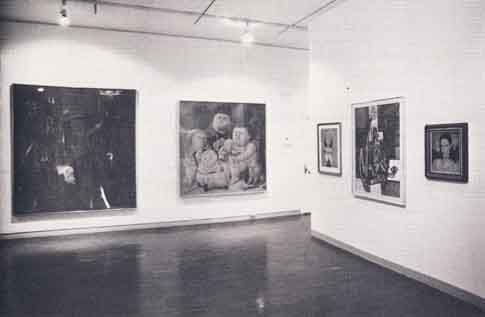 Though the art of Latin America held a significant place within the cultural history of the century, it was generally under-appreciated because there were relatively few collections accessible to the U.S. public. Because of its high quality, notable stylistic range, and the diversity of the national customs it represented, the Sayels Day Collection was an important resource for recasting the image of Latin American modernism. This was the most extensive exhibition ever to be prepared from the collection and the first time that it was seen outside Rhode Island.
Some Artists Included in the Show:
Roberto Aizenberg, Jorge Alvaro, Manuel Álvarez Bravo, Antonio Henrique Amaral, Luiz Cruz Azaceta, Luis Fernando Benedit, Marcelo Bonevardi, Fernando Botero, Frank Bowling, Claudio Bravo, Santiago Cárdenas, Agustin Víctor Casasola, Alfredo Castañeda, Enrique Castro-Cid, Jean Charlot, Carlos Cruz-Diez, José Luis Cuevas, Ernesto Deira, José María de Mora, Marisol Escobar, Manuel Espinosa, Gertrude Goldschmidt a.k.a. GEGO, Gunther Gerzso, Elsa Gramcko, Marcelo Grassman, Luis Herrera Guevara, Wifredo Lam, Fernando La Rosa, Gerd Leufert, Rómulo Macció, Eduardo Mac Entyre, Rodolfo Machado, Aldemir Martins, Roberto Matta, Mendes de Souza, Carlos Mérida, Armando Morales, Edgar Negret, Luis Felipe Noé, Juan O'Gorman, Rodolfo Opazo, José Clemente Orozco, Rogelio Polesello, Cándido Portinari, Diego Rivera, Carlos Silva, David Alfaro Siqueiros, Jesús Rafael Soto, Fernando de Szyszlo, Horacio Torres, Joaquín Torres-García, Jorge de la Vega, Enrique Zañartu.
An exhibition catalogue accompanied the show with text by John Stringer. The catalogue is out of print, but is available for consultation.
The exhibition was made possible by a grant from the National Endowment for the Arts, through the New England Foundation for the Arts, a consortium of the six New England state arts agencies.