Contemporary Art from Chile
February 07, 1991 to April 28, 1991
This exhibition presented recent works by Chilean artists Gonzalo Díaz, Virginia Errázuriz, Gonzalo MEzza, Alicia Villarreal and Enrique Zamudio. It was the first museum-quality exhibition of contemporary Chilean art to be presented in the United States in over a decade. The works were selected by Ms. Bercht to provide a forum for the group of Chilean artists, who use a wide range of innovative media in order to address their cultural and social contexts. Their works included installations and serial imagery, which often utilized photography as a key linguistic and conceptual component.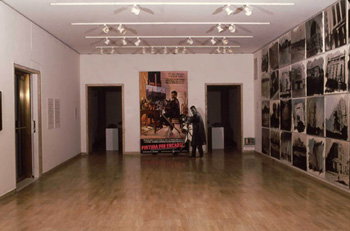 An illustrated catalogue is available.
Contemporary Art from Chile was made possible by support from Banco O'Higgins, Chile, with additional funding from The Andy Warhol Foundation for the Visual Arts; Corporación Nacional del Cobre de Chile (CODELCO): Eastman Kodak Company; Fundación Andes, Santiago, Chile; IBM de Chile; LADECO Airlines, Chile, and the New York State Council on the Arts.