Beginning with a Bang! From Confrontation to Intimacy
On view: through
Beginning with a Bang! proposed a movement between two artistic scenarios and was organized by guest curator Victoria Noorthoorn into two distinct sections. The first, a selection of action-based projects by artists working in Buenos Aires; the second, a documentary section exploring the rich historical foundations that link these projects to the 1960s and 1970s.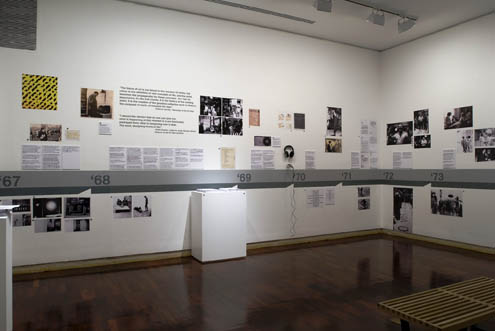 ---
A video by Pepe Lopez provides further insight into the exhibition.
Read more about it in artforum's "Critics' Picks."
Purchase the exhibition catalogue.
---
The historical section was organized as a timeline from 1956 to 1976 that focused on immediate actions and performing gestures of destruction and dematerialization that sought to confront and transform the art system during this time. In the timeline, the viewers were able to access information on specific gestures and projects by Alberto Greco, Marta Minujín, Roberto Jacoby, the mass media art group (Eduardo Costa and Roberto Jacoby, Raúl Escari, and Juan Risuleo), Pablo Suárez, and Federico Manuel Peralta Ramos among others.
The contemporary section presented installations, performance projects and films that together propose a "politics of intimacy," by: Marina De Caro, Ana Gallardo, Graciela Hasper, and Roberto Jacoby in collaboration with Syd Krochmalny, Fabio Kacero, Fernanda Laguna, Patricio Larrambebere, Eduardo Navarro, Leandro Tartaglia and Judi Werthein.
We gratefully acknowledge the generous support of our funders: Teresa de Bulgheroni; Banco Hipotecario; Falcon Properties; Fundación arteBA; Fundación Exportar - Secretary of Trade and International Economic Relations, Argentina; haudenschildGarage Foundation - Eloisa and Chris Haudenschild; Pinta-Art, LLC; Alejandro Quentin. Additional support is provided by Arte al Día International, Havanna, Qiviuk, Terrazas de los Andes.
Installation view: Beginning with a Bang! Americas Society Art Gallery, 2007. Photograph by Arturo Sanchez.