Aspects of Contemporary Mexican Painting
September 13, 1990 to December 31, 1990
This exhibition focused on the 1980s, a time of great importance and creativity in Mexican painting. The exhibition was curated by prominent art historian Dr. Edward J. Sullivan, Chairman, Department of Fine Arts, New York University.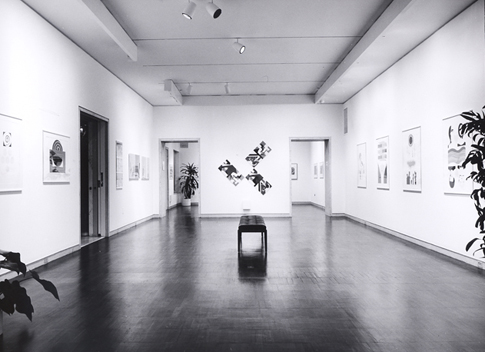 During the 1980s, many artists living in Mexico began to seek new alternatives to the forms of expression that had dominated Mexican art of the 1960s and 1970s, especially international trends such as abstraction. A number of painters sought to evoke dream-like fantasy in their art, creating vibrant and symbolic images which often integrated traditional elements of Mexican iconography.
This exhibition was significant in that it focused on aspects of Mexican painting that had not been fully explored in previous exhibitions. Principal among these were the re-interpretation of Mexican identity, as well as the intense inward scrutiny of the artists' individuality. Issues of gender –i.e., feminism and personal solutions to the socio-political role of the artists in a developing nation, were manifested in both the work presented and the text in the catalogue that accompanied the show.
Approximately 30 paintings by 9 artists working in Guadalajara, Mexico City, Monterrey, and Oaxaca were on display. Included were Alejandro Colunga, Julio Galán, Rocio Maldonado, Arturo Marty, Rodolfo Morales, Dulce María Nuñez, Georgina Quintana, Ismael Vargas, and Nahum Zenil. These artists had blended modernism with unique personal expression, and were aware of their debt to the history of Mexican art. Both 'high' and popular culture were equally important to the development of their work.
An exhibition catalogue is available.
The exhibition was made possible with support from the National Endowment for the Arts, New York State Council on the Arts, California Arts Council, Grants for the Arts of the S.F Hotel Tax Fund, American Express International, Bell Helicopter, Coca-Cola de Mexico, Holt Companies, Peter M. and Juliana Hawn Holt, Laredo National Bank, R. J. P. Nabisco, Mexico City: Banamex, Bancomer, S.N.C, Dr Ernesto Fernandez Hurtado, Grupo INCA, Inq, Enrique Madero Bracho, Mexicana de Aviación, Monterrey: Grupo Industrial Alfa, Grupo Visa SA de CV, Mrs Yolanda Santos de Garza Laguera, and Arancia Grupo Industrial, Guadalajara.