Americas Society
Council of the Americas
Uniting opinion leaders to exchange ideas and create solutions to the challenges of the Americas today
Arturo Herrera: Les Noces (The Wedding)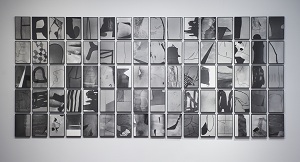 February 03, 2011 to April 30, 2011
Arturo Herrera: Les Noces (The Wedding)
February 3 - April 30, 2011
Curator: Gabriela Rangel
Americas Society introduced Arturo Herrera's groundbreaking installation Les Noces, the artist's first work to incorporate music and moving images to New York audiences. Herrera is internationally renowned for his explorations of a wide variety of different media, including collage, sculpture, photography, prints, and video. His practice is deeply informed by the history of modernist abstraction.
 
Les Noces is a two-channel digital projection based on the 1923 ballet of the same name, scored by the composer Igor Stravinsky for Diaghilev's Ballet Russes. Herrera digitally reworked fragments of his own works as well as leftovers gathered from his studio into an ever-shifting dance of abstract black-and-white images set to Stravinsky's music. This chance-based process intentionally invoked the mutable nature of performance as well as the transformative power of collage: no dance is ever performed exactly the same way twice. The use of Stravinsky's complex music score in conjunction with fragmented materials animated and projected as moving images also addressed the difficulty to make abstraction an intelligible process.
---
Watch a video of the artist and curator discussing the exhibition.
---
The exhibition featured works on paper, sculptures, reliefs, collages, and photography in which Herrera's deconstructive process became transparent and links to the moving images. The exhibition reconsiders Herrera's approach to collage and abstraction as one of the most important experimental work to have emerged after the 1990s.
Americas Society gratefully acknowledges the following donors for their generous support of this exhibition, related public programs and forthcoming publication: Chevron, Mercantil, Estrellita and Daniel Brodsky, and Pablo Henning.
We also thank Sikkema Jenkins Gallery for in-kind support and collaboration. Americas Society's Visual Arts Program is supported by Sharon Schultz Simpson and in part by public funds from the New York City Department of Cultural Affairs in partnership with the City Council.