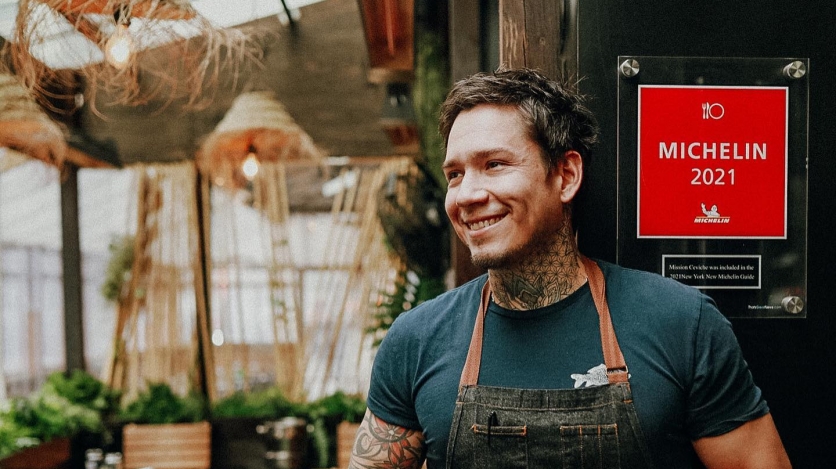 José Luis Chavez. (Image: Mission Ceviche)
YPA Gastrodiplomacy: Chef José Luis Chavez, Mission Ceviche
We're hosting our first in-person dining experience as part of this series with the Peruvian-Colombian chef and owner in his popular NYC restaurant.
Overview
Join Young Professionals of the Americas for our fifth—and first in-person—edition of the YPA Gastrodiplomacy Series.
Chef José Luis Chavez will host a dinner for a select group of YPA members in New York. The five-course tasting menu will involve exquisite dishes designed mindfully to showcase the best of what Peru has to offer. Born in Venezuela to a Peruvian father and Colombian mother, Chef Chavez is a natural mix of Latin American cultures. He will talk to the diners about each dish and what it represents, in addition to giving us his take on what it means to be a "gastrodiplomat."
About Mission Ceviche
Mission Ceviche believes in bringing people together in vibrant and dynamic venues to create lasting memories over satiated stomachs. Led by co-founders and owners Chef José Luis Chavez and Brice Mastroluca, the team is dedicated to using the freshest ingredients and a modern take on classic culinary techniques to showcase the flavors and dishes of Peru. The menus are designed to be as varied as the cultures and ecosystems of Peru, as diverse and exciting as New York, and as globally relevant as the team preparing and serving the food and drinks.
This program is open to YPA Silver members and Steering Committee Members only. 
Price: $70 (includes a welcome drink, five-course tasting menu served by the chef, and Q&A with the chef)
To register, please email ypany@as-coa.org. If capacity is reached, we will open a waitlist.
Join the discussion on Twitter: #GastrodiplomacyYPA | @ascoaYPA
---
Not a member yet? Join YPA today for access to this event and our networking and social events, such as private art fair tours, concerts, and intimate talks with industry leaders around professional development.
Want to learn more about events like this? Sign up for the YPA mailing list.