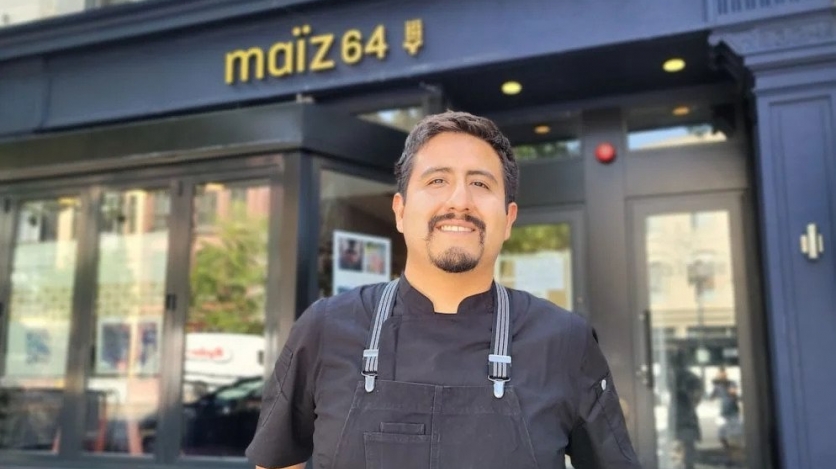 Alam Méndez. (Image: Ignacio Urquiza)
YPA Gastrodiplomacy: Chef Alam Méndez, Maïz64
Join Young Professional of the Americas for our sixth edition of the dining series with the Oaxacan chef at his DC restaurant.
Overview
Join Young Professionals of the Americas for our sixth edition of the YPA Gastrodiplomacy Series.
Chef Alam Méndez, head chef of Maïz64, will host a dinner for a select group of YPA members, where diners will have the opportunity to enjoy a three-course tasting menu that combines traditional Mexican flavors and techniques with local ingredients. Chef Méndez heads up the well-respected Pasillo de Humo in Mexico City, where he focuses on the Oaxacan cuisine he grew up eating and cooking. He will talk to the diners about each dish and what it represents, in addition to talking to us about the restaurant and his incredible story.
About Maïz64
Maïz64 is a modern homage to authentic Mexican cuisine, featuring local ingredients that result in exquisite and vibrant creations in an authentic Mexican ambiance in a beautiful and sophisticated spot in Washington, DC. At the restaurant, you can enjoy the best that the countryside and sea have to offer, to dress it in color, embrace it and make stories about it creating a unique experience.
To register, please email ypadc@as-coa.org. We will give priority to YPA members and Steering Committee Members. If capacity is reached, we will open a waitlist.
Join the discussion on Twitter: #GastrodiplomacyYPA | @ascoaYPA
---
Not a member yet? Join YPA today for access to this event and our networking and social events, such as private art fair tours, concerts, and intimate talks with industry leaders around professional development.
Want to learn more about events like this? Sign up for the YPA mailing list.