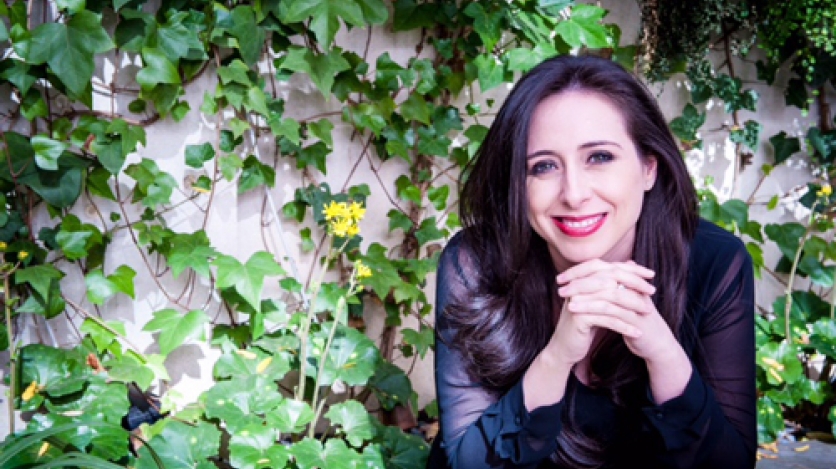 Vanessa Perez. (Image: Maria Grazia Facciola)
Vanessa Perez: Spain
Music of the Americas presents the Venezuelan-American pianist Vanessa Perez in celebration of her latest CD on the Steinway label, Spain, featuring works by Manuel de Falla and Debussy.
Overview
Pre-registration for this event is now closed. The box office will be open beginning at 6:15 PM.
Admission: FREE for AS and YPA Members; $20 for non-members. No additional fees will be charged when purchasing online. $10 tickets will be available for purchase at the door for students and seniors with ID.
Not yet a member? Learn how to become an AS member or a YPA member to access this event.
Music of the Americas presents Venezuelan-American pianist Vanessa Perez in celebration of her latest CD on the Steinway label, Spain, featuring works by Manuel de Falla and Debussy with special guests Heather Buck (soprano) and Stephen Buck (piano).
Program (subject to change)
| | |
| --- | --- |
| Manuel de Falla (1876-1946) | Fantasía Bética (1919) |
| Claude Debussy (1862-1918) | "La soirée dans Grenade" from Estampes (1903) |
| De Falla | Homenaje "Le tombeau de Claude Debussy" (1920) |
| De Falla | Spanish Dance No. 1 from La vida breve (1905) |
| Debussy | "La puerta del vino" from Préludes, Book 2 (1913) |
| De Falla | Spanish Dance no. 2 from La vida breve with pianist Stephen Buck |
| De Falla | El amor brujo (1920), selections from suite |
| Debussy | Seguidille with Heather Buck, soprano |
| De Falla | Siete canciones españolas  |
About the artists
Vanessa Perez was raised in Venezuela, where she began her studies in Caracas at Colegio Emil Friedman with Luminita Duca. In the United States, she studied with Claudio Arrau pupils Ena Bronstein and Rosalina Sackstein. At 17, she won a full scholarship for London's Royal Academy of Music to study with Christopher Elton. She continued her studies with pianists Lazar Berman and Franco Scala at the Accademia Pianistica Incontri Col Maestro (Italy) and completed post-graduate studies with Peter Frankl at Yale University and pianist Daniel Epstein in New York City. Perez made her Carnegie Hall debut in 2004, but her NYC debut was in fact at the downtown jazz shrine of the Blue Note, where Latin jazz star Arturo Sandoval had her perform Sureña, a piece laced with Venezuelan folk melodies. Beyond traditional classical concert performances, Perez has also collaborated in concert with José Limón Dance Company on the choreographer's Mazurkas (2014).
Perez has developed an international profile, performing in prestigious venues across the United States, Latin America, and Europe. She has performed alongside such renowned artists as pianist Ingrid Fliter, cellist Jan Vogler, violinist Colin Jacobsen, and conductors such as Gustavo Dudamel, John Axelrod, Enrique Batiz, Gustav Meier, James Judd, David Gimenez Carreras, and Diego Matheuz. At age 11, she was invited to Caracas for her solo debut performing Grieg's Piano Concerto with the Orquesta Sinfonica Municipal under Carlos Riazuelo. Since her concerto debut, Perez has performed internationally in concert halls and festivals, known for her rich musicality and alluring stage personality. "To watch Perez play is an amazing show in itself…Each phrase finishes in something similar to a caress of the keyboard, in a fast or slow gesture as suggested by the music's momentum but always harmonious and beautiful" (El Clarin).
Recent performance highlights include the International Keyboard Institute & Festival in New York, the Gilmore international Keyboard Festival, and a collaboration with the Lucerne Symphony Orchestra under John Axelrod in Germany to concerts with the Orquesta de la Juventud Simon Bolivar under Dudamel and the Teresa Carreno Youth orchestra under Nikolaj Znaider in Caracas, and at the Casals Festival under Diego Matheuz in Puerto Rico. A frequent performer throughout the Americas, Perez has performed in the cultural capitals of Mexico, Brazil, Uruguay, Peru, and Argentina (Teatro Colón); in Europe, in venues such as the Palau de la Música (Barcelona), the Montpellier Festival (France), Beethoven-Haus (Germany), Wigmore Hall (London), and Stadhuis (Belgium). Actively involved in contemporary music, Perez has collaborated with and performed works by such composers as Paul Moravec, Lowell Liebermann, Suzanne Farrin, and Paul Desenne.
Perez's recordings have been featured on WQXR (New York), WFMT (Chicago), and WGBG (Boston), among others. Most recently she performed on Minnesota Public Radio, Texas Public Radio, NPR's "All Things Considered," and American Public Media's "Performance Today." Perez is a Steinway Artist.
Praised as "the kind of performer who makes it all look easy," soprano Heather Buck has established herself internationally as a consummate singing actress, "combining agile, liquid soprano, a bright, natural stage presence, and the timing of an expert comedienne," (Opera News). She performed as Lulu Baines in Elmer Gantry with Florentine Opera, which was recorded for the Naxos label (released in 2011), received two Grammy awards, and was voted No. 1 by Opera News "Best of the Year."
Pianist Stephen Buck made his Weill Hall at Carnegie Hall debut through Artists International in New York. Currently serving as Coordinator of Academic Studies at SUNY Purchase, Mr. Buck has recently performed across the United States, Asia, South America and Europe. A versatile musician, Mr. Buck has organized music festivals, written program and liner notes, and continues to teach at all levels. He has appeared on recordings for the Naxos label and will soon feature for a release on the Innova label, and has directed the AlpenKammerMusik Festival in Austria and the Adriatic Chamber Music Festival in Italy. He was awarded his doctoral degree from Yale University where he studied with Peter Frankl. Mr. Buck received a Master of Music degree from the University of Michigan, studying with Anton Nel, and graduated Phi Beta Kappa from Johns Hopkins University, where he studied with Ann Schein at Peabody Conservatory.
Listen to this NPR feature on Perez by Performance Today's Fred Child and read a Music Note on her last performance at Americas Society in 2012.
Vanessa Perez performs Albéniz at Americas Society, 2012.