Americas Society
Council of the Americas
Uniting opinion leaders to exchange ideas and create solutions to the challenges of the Americas today
U.S. Energy Diplomacy in the Americas
Council of the Americas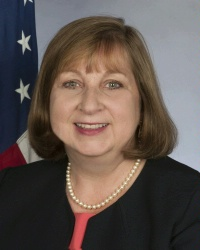 Council of the Americas will hold a private discussion on energy and U.S. foreign policy with Sue Saarnio, acting special envoy and coordinator for international energy affairs at the U.S. Department of State.
Abundant and diverse energy resources throughout the hemisphere offer tools for countries to build competitive economies, improve their terms of trade, and enhance regional security. Ms. Saarnio, the State Department's top official for energy diplomacy, will discuss how the U.S. is advancing this agenda across the Americas and the commercial prospects that regional energy coordination is working to promote. This is an excellent opportunity to discuss industry priorities and key energy issues with a senior State Department official.
To register, email us at dcprograms@as-coa.org.
RSVP no later than 3:00 p.m. the day before the event.