Tech Series Roundtable: The Orange Economy and its Implications for Creative Industry
Americas Society
/
Council of the Americas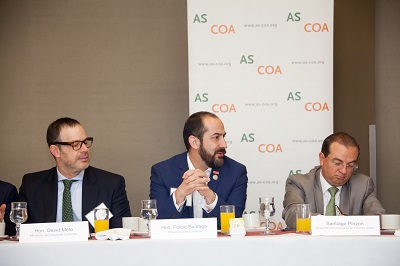 AS/COA hosted a private, off-the-record roundtable on the orange economy and its implication for the creative industry. The discussion took place in Bogotá, Colombia and convened senior-level business and policy leaders from the technology and internet sectors.
Discussion Leaders:
José Ignacio Argote, Vice Minister Regional Development and Patrimony, Colombian Ministry of Culture
David Melo, Vice Minister of Creativity and the Orange Economy, Colombian Ministry of Culture
Felipe Buitrago, Presidential Advisor for the Orange Economy, Presidency of Colombia
Ing. Julio Ríos Gallego, Professor, Julio Profe Net (YouTube)
Santiago Pinzon, Director of Digital Industry and Services, ANDI (moderator)
This program is part of AS/COA's Tech Series. For more information, please contact Francisco Martinez at
fmartinez@as-coa.org
or 305-779-4816.