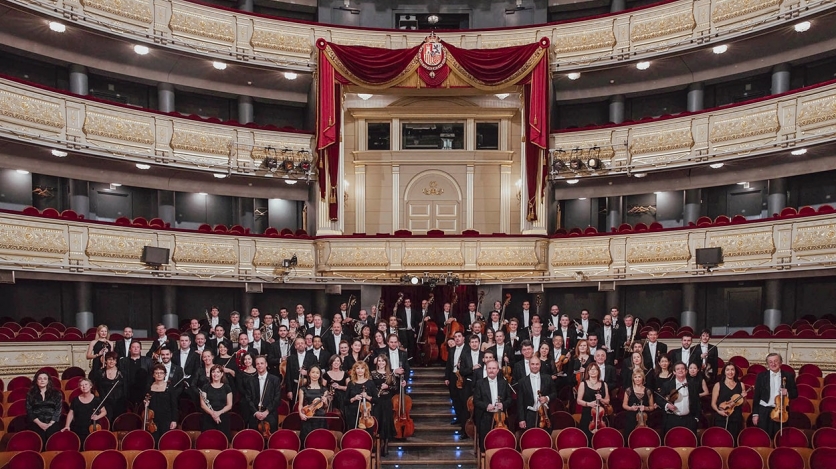 Orchestra of the Teatro Real. (Image: Javier del Real)
Teatro Real
Artistic Director Joan Matabosch discusses his work at Spain's leading opera house. 
Overview
Remember to follow us to watch this and other exciting performances. 
The Teatro Real (Royal Opera of Madrid) is one of the world's leading opera houses. Founded in 1818, the theater is located in front of the Palacio Real and was inaugurated in 1850 with Donizetti's La Favorita. It has hosted the most renowned singers and composers of the past two centuries, including Giuseppe Verdi, Diaghilev, Nijinsky, and Stravinsky. Teatro Real was awarded the Best Opera House in the World at the International Opera Awards 2021. 
Artistic Director Joan Matabosch will discuss his work at the theater, its current initiatives, and its future. The evening will also include a performance by cellist Pablo Ferrández. 
In collaboration with

Program Notes
About the speakers
Ignacio García-Belenguer Laita was boen in Zaragoza in 1967. He has been director general of the Teatro Real since April 2012 and is a member of the governing board of the institution. He is vice president of the Asociación de Teatros de Ópera de España. A member of the Cuerpo Superior de Administradores Civiles del Estado since 1995, he received his law degree from the Universidad de Zaragoza and studied political science and sociology at the UNED. He also holds master's degrees in public policy from the Universidad Carlos III in Madrid and Public Leadership from the IESE Business School of the Universidad de Navarra. He was awarded the Encomienda al Mérito Civil by the King and Queen of Spain in 2003. Until his appointment in 2012 at Teatro Real, his government career included work for the national and municipal governments in culture and data protection positions. He has taught at several Madrid universities, including Universidad Carlos III, Universidad Complutense, and Universidad Autónoma.
Funders
The MetLife Foundation Music of the Americas concert series is made possible by the generous support of Presenting Sponsor MetLife Foundation.
The Fall 2022 Music program is also supported, in part, by public funds from the New York City Department of Cultural Affairs in partnership with the City Council, by the New York State Council on the Arts with the support of the Office of the Governor and the New York State Legislature, and by the Howard Gilman Foundation.
Additional support comes from Association of Performing Arts Professionals' ArtsForward program, made possible through support from The Andrew W. Mellon Foundation, the Alice M. Ditson Fund of Columbia University, The Amphion Foundation, the Aaron Copland Fund for Music, New Music USA's Organizational Development Fund, and the National Endowment for the Arts.