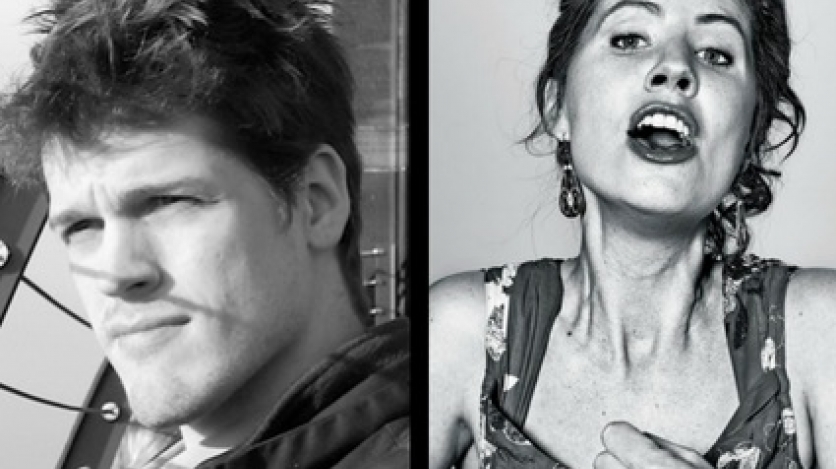 David Adamcyk; Kate Soper, Image: Richard Burbridge.
Talea Ensemble: Killing Jar
Talea Ensemble returns to Americas Society with a concert featuring electroacoustic works by David Adamcyk (Canada) and Kate Soper (United States).
Overview
Registration has closed for this event. 
Admission: Free and open to the public.
Not yet a member? Learn how to become an Americas Society member to access this event.
Talea Ensemble returns to Americas Society with two substantial works for chamber ensemble: a new electroacoustic work by Canadian composer David Adamcyk and a work for voice and chamber ensemble by Kate Soper entitled Voices from the Killing Jar with soloist Lucy Dhegrae. Soper writes: "A killing jar is a tool used by entomologists to kill butterflies and other insects without damaging their bodies: a hermitically sealable glass container, lined with poison, in which the specimen will quickly suffocate. Voices from the Killing Jar depicts a series of female protagonists who are caught in their own kinds of killing jars — hopeless situations, inescapable fates, impossible fantasies, and other unlucky circumstances — each living in a world constructed from among the countless possible sonic environments of the Wet Ink Ensemble, for whom the work was written."
Kate Soper, Voices from the killing jar
About the composers
David Adamcyk is a Canadian composer, electronic musician, and sound engineer living in New York. He creates musical works for the concert hall and theatrical stage, often incorporating technology. He was the assistant to Martin Matalon and Philippe Leroux, has collaborated with artist Julia Randall, and has worked with Quasar, Cairn, the MSO, Talea, ECM+, IRCAM, Esprit Orchestra, and SMCQ. David has taken part in the Nouvelles Rencontres composition program at Domaine Forget in St-Iréné and was selected for the National Arts Center's Young Composers program in Ottawa. He has won four prizes at the SOCAN Foundation composer's competition, and was also one of the five finalists in the CBC/SRC Evolution composition competition. David holds a doctorate in composition from McGill University, and currently teaches sound recording, live sound, and electronic music at Columbia University's Computer Music Center and at the Manhattan School of Music.
Kate Soper is a composer, performer, and writer whose work explores the integration of drama and rhetoric into musical structure, the slippery continuums of expressivity, intelligibility, and sense, and the wonderfully treacherous landscape of the human voice. She has been hailed by The Boston Globe as "a composer of trenchant, sometimes discomfiting, power" and by The New Yorker for her "limpid, exacting vocalism, impetuous theatricality, and...mastery of modernist style." A Pulitzer Prize finalist, Soper has been commissioned by ensembles including the Los Angeles Philharmonic, the American Composers Orchestra, Carnegie Hall, the Tanglewood Music Center/BUTI, the MIVOS string quartet, and Yarn/Wire. Praised by The New York Times for her "lithe voice and riveting presence," Soper performs frequently as a new music soprano. As a singer and performer with experience in Western Classical and Indian Carnatic music, songwriting, improvisation, and experimental theatre, she has sung in U.S. and world premieres of works by composers such as Peter Ablinger, Beat Furrer, George Lewis, Matthias Spahlinger, and Katharina Rosenberger, and has appeared with groups such as the Morningside Opera Company, the Theatre of a Two-Headed Calf, and the Dinosaur Annex Ensemble. She performs regularly in her own works, and has been featured as a composer and vocalist on the Chicago Symphony Orchestra's MusicNOW series, the New York City-based MATA and SONiC festivals, the Lucerne Forum for New Music, Gaudeamus Muziekweek New York, the Sacramento Festival of New Music, and the American Composers Orchestra's Orchestra Underground series. Soper is a member of Wet Ink, a New York-based new music ensemble dedicated to seeking out adventurous music across aesthetic boundaries. She is the Iva Dee Hiatt assistant professor of music at Smith College.
About the soloist
Lucy Dhegrae regularly premieres new vocal works and operas, and has worked closely with such composers as Unsuk Chin, Jason Eckardt, Susan Botti, Alexandra Vrebalov, and Sky Macklav. Her opera premieres include Trillium J by Anthony Braxton, Andy: A Popera (Opera Philadelphia/Bearded Ladies Cabaret), A Marvelous Order by Judd Greenstein, and Ashley Fure's The Force of Things. Dhegrae's festival appearances include Darmstadt (Germany), Klangspuren (Austria), Mostly Mozart Festival, Bard Music Festival, Gesher Music Festival (St. Louis), and Aldeburgh Music Festival (as a Britten-Pears Young Artist). She is the 2018 recipient of Univeristy of Michigan School of Music's Emerging Artist Award, and among the first cohort of fellows with Turn the Spotlight, a new mentorship program for young professionals. As an "adventurous mezzo-soprano" and "raconteur" (The New Yorker) she directs Resonant Bodies Festival, and international presenter of boundary-pushing contempory music vocalists, which she founded in 2013. She has taught at SoundSCAPE (Cesena, Italy) Banff Centre (Alberta, Canada), and Bard College Conservatory's Graduate Vocal Arts Program; and has been invited to present lectures at Northwestern University's Bienen School of Music, CUNY's Graduate Center, NYU, and William Paterson University. She graduated from the Bard College Conservatory Graduate Vocal Arts Program (MM in Vocal Performance '12) as well as the University of Michigan School of Music, Theater, and Dance (BM in Vocal Performance '08) and is a core member of the new music ensemble Contemporaneous. 
About the ensemble
Talea Ensemble has been labeled "a crucial part of the New York cultural ecosphere" by The New York Times and given many important world and U.S. premieres of new works by composers including Pierre Boulez, Tristan Murail, Olga Neuwirth, John Zorn, Unsuk Chin, Rand Steiger, Beat Furrer, and Fausto Romitelli. Talea has performed at Lincoln Center Festival, Internationales Musikinstitut Darmstadt, Wien Modern, Contempuls, Newport Jazz Festival, La Ciudad de las Ideas (Mexico), Art Summit Indonesia, and the International Contemporary Music Festival (Peru). Radio broadcasts of performances have been heard on ORF (Austria), HRF (Germany), and WQXR's Q2. As an active collaborator of new music, Talea has joined forces with the Austrian Cultural Forum, Consulate General of Denmark, Korean Cultural Service NY, Italian Cultural Institute, and the Ukrainian Institute. Assuming an ongoing role in supporting and collaborating with student composers, Talea has served as ensemble-in-residence at Harvard University, Columbia University, Stanford University, Ithaca College, Cornell University, and New York University. Talea has recorded works on the Living Artists Label, Gravina Musica, Tzadik, and New World Records. Recently commissioned composers include Anthony Cheung, Oscar Bettison, and Georges Aperghis.