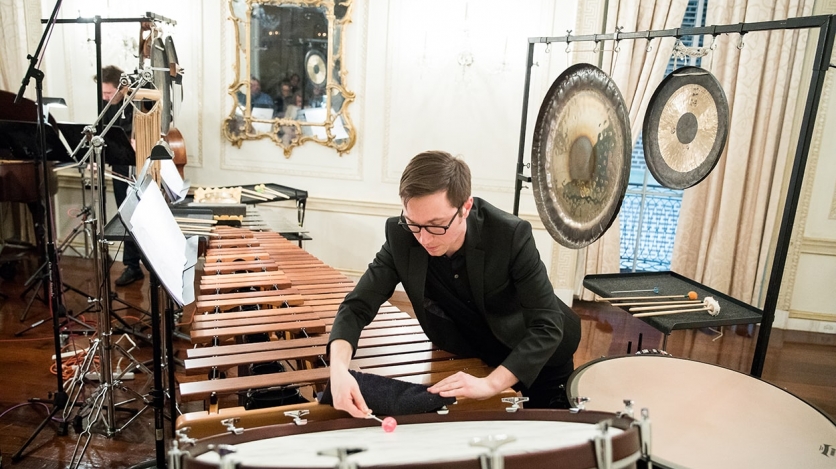 Talea Ensemble at Americas Society (Image: Roey Yohai Studios)
Talea Ensemble and Michelle Agnes Magalhães: Herbarium
In their Americas Society debut, Talea Ensemble presents the world premiere of a new cycle by the Brazilian composer. 
Overview
Admission: Free and open to the public. Please register.
Not yet a member? Learn how to become a Cultural Circle member to access this event.
In their Americas Society debut, NYC-based new music group Talea Ensemble — dubbed "a vital part of the New York contemporary-classical scene" by The New York Times — presents the world premiere of a new chamber music cycle by Brazilian composer Michelle Agnes Magalhães, who is currently a Radcliffe Fellow at Harvard University. Herbarium explores sonic complexity and visual structures through the lens of Emily Dickinson's poetry.
Program: Herbarium
| | |
| --- | --- |
| Before you thought of spring | piano and percussion |
| Pink small and punctual | piano |
| I know a place where summer strives | piano, percussion, double bass and electronics |
| It sounded as if the streets were running | piano and electronics |
| Besides the autumn poets sing | double bass |
| Of all the sounds despatched abroad | percussion |
| The Souls that Snow | piano, percussion, double bass and electronics |
About the composer
Brazilian composer Michelle Agnes Magalhães explores the limits between gesture and writing, composition and improvisation. The piano plays a key role in these two fields of her musical activity: several important pieces of her composition catalogue were conceived for this instrument, and she performs regularly as an improvising pianist, both as soloist and collaborator. As part of her fellowship at Radcliffe, Magalhaes is at work on a concerto for piano and ensemble intimately anchored to a prior study of Harvard's keyboard instruments collection. The composition process includes an acoustical analysis of Harvard's pianos and fortepianos in order to expand upon the harmonic material of the piece. Magalhães holds a doctorate from the University of São Paulo and a master's degree from the University of Campinas (Brazil). She has been awarded fellowships and residencies from such institutions as the Camargo Foundation, the São Paulo Research Foundation, UNESCO, and the Villa Sträuli. From 2013 and 2017 she worked as a researcher and as a composer at IRCAM (Institut de Recherche et de Coordination Acoustique/Musique, Paris) and in 2018 will be composer-in-residence there.
About the ensemble
Talea Ensemble has been labeled "…a crucial part of the New York cultural ecosphere" by The New York Times and has given many important world and US premieres of new works by composers including Pierre Boulez, Tristan Murail, Olga Neuwirth, John Zorn, Unsuk Chin, Rand Steiger, Beat Furrer, and Fausto Romitelli. Talea has performed at Lincoln Center Festival, Internationales Musikinstitut Darmstadt, Wien Modern, Contempuls, Newport Jazz Festival, La Ciudad de las Ideas (Mexico), Art Summit Indonesia (Jakarta), and the International Contemporary Music Festival (Peru). Radio broadcasts of performances have been heard on ORF (Austria), HRF (Germany), and WQXR's Q2. As an active collaborator of new music, Talea has joined forces with the Austrian Cultural Forum, Consulate General of Denmark, Korean Cultural Service NY, Italian Cultural Institute, and the Ukrainian Institute. Assuming an ongoing role in supporting and collaborating with student composers, Talea has served as ensemble in residence at Harvard University, Columbia University, Stanford University, Ithaca College, Cornell University and New York University. Talea has recorded works on the Living Artists Label, Gravina Musica, Tzadik, and New World Records. Recently commissioned composers include Anthony Cheung, Oscar Bettison, and Georges Aperghis.
In collaboration with: