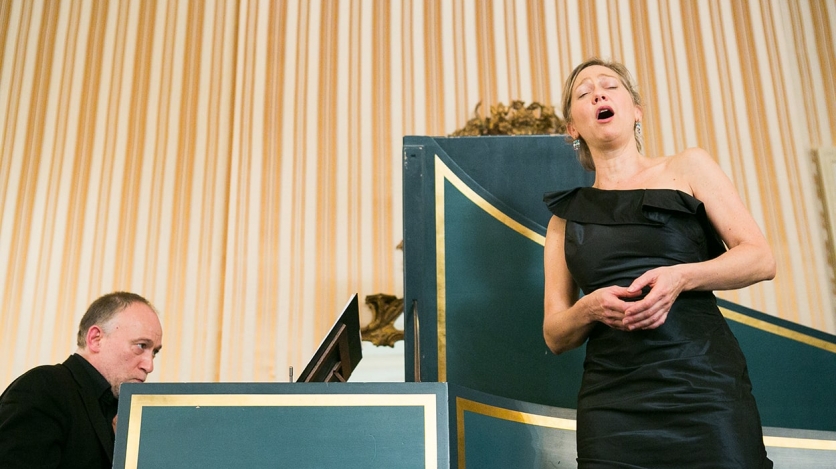 Suzie LeBlanc and Alexander Weimann at Americas Society. (Image by Roey Yohai Studios)
Suzie LeBlanc and Alexander Weimann: As You Like It
Soprano Suzie LeBlanc joins keyboardist Alexander Weimann in songs based on Shakespearean texts. 
Overview
Pre-registration for tonight's event is now closed. Box office will open at 6:15 PM.
Admission: FREE for AS and YPA Members; $20 for non-members. No additional fees will be charged when purchasing online. $10 tickets will be available for purchase at the door for students and seniors with ID.
Not yet a member? Learn how to become an AS member or a YPA member to access this event.
Celebrating the 400th anniversary of Shakespeare's birth, Music of the Americas presents Canadian soprano Suzie LeBlanc alongside keyboardist Alexander Weimann, with whom she frequently collaborates, in "As You Like It," a program of early arias set to Shakespearean texts.
This concert is part of GEMAS, a project of Americas Society and Gotham Early Music Scene devoted to early music of the Americas.
Repertoire
Robert Johnson (1583–1634)
Where the bee sucks; Full fathom five (The Tempest) 
Thomas Thomkins (1572

–

1656)
Barafostus' Dream
Maurice Greene (1696

–

1755)
Orpheus with his lute (Henry VIII)
Anon./John Bull (1562

–

1628)
Why aske you
John Weldon (1676–1736)
Take, o take those lips (Measure for Measure)
Peter Phillips (1560–1628)
Pavan, Galliard Dolorosa
Giulio Caccini (1551–1618)
Dovrò dunque morire
Richard Edwards (1523–1566)
When gryping grief (Romeo and Juliet)
Dowland/Farnaby (1563–1640)
Pavan Lachrimae
Anon.
Willow song (Othello)
William Byrd (1543–1623)
The Whislinge Carman
Thomas Arne (1710–1778)
Blow blow thou winter (As You Like It); Where the bee sucks (The Tempest)
Henry Purcell (1659–1695)
Dear pretty youth (The Tempest); If music be the food of love (Twelfth Night)
About the Artists
Soprano Suzie LeBlanc is one of the most sought-after early music sopranos of her generation, as well as a gifted interpreter of lieder, French mélodies, Acadian repertoire, and contemporary music. She has performed around the world, and recorded more than 50 albums with leading early music ensembles. On the opera stage, she performed for De Nederlandse Opera, Festival de Beaune, Opéra de Montréal, Boston Early Music Festival, Tanglewood, and Early Music Vancouver. 
Vancouver-based conductor and early keyboardist Alexander Weimann has toured internationally with Tragicomedia, Cantus Cölln, Freiburger Barockorchester, the Gesualdo Consort, and Tafelmusik. Today, he serves as artistic director of the Pacific Baroque Orchestra in Vancouver, and also as music director of Les Voix Baroques, Le Nouvel Opéra, and Tempo Rubato. Mr. Weimann studied organ, church music, musicology, theatre, medieval Latin, and jazz piano. He also attended numerous master classes in harpsichord and historical performance and became intensely involved with Gregorian chant. Recently, he conducted the Montreal-based baroque orchestra Ensemble Arion, Les Violons du Roy, and the Portland Baroque Orchestra, and is a regular, featured soloist with the Orchestre Symphonique de Québec and the Montreal Symphony Orchestra. Over the last few years, he has frequently conducted the Victoria Symphony and Symphony Nova Scotia, most recently in Handel's Messiah.
In collaboration with: