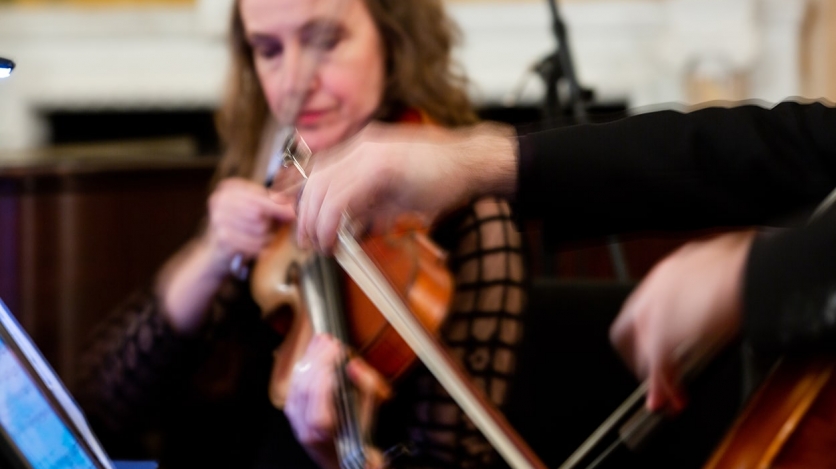 Stephanie Griffin. (Image: Roey Yohai Studios)
Stephanie Griffin: Beautiful You Are
We premiere a new vocal chamber piece by the Canadian composer, commissioned by Americas Society.
Overview
On February 28, we will host this event in person, and tickets are free. Please email us to reserve your seat.
Video of the concert will be released at a later date. Remember to follow us to watch this and other exciting performances. 
Program
Stephanie Griffin: Beautiful You Are for voice, viola, clarinet, and piano
"To His Coy Mistress," voice, viola, clarinet, and piano
"Quam pulchra es," voice and viola
"Interview," voice and piano
"Phenomenal Woman," voice, clarinet, and piano
"Coy Mistress," voice and clarinet
"Beautiful you are," voice, viola, clarinet, and piano
Program Notes
Program Notes
Beautiful you are
Canadian composer Stephanie Griffin's new song cycle for soprano, clarinet, viola, and piano explores varying approaches to male poets' appreciation of female beauty and reactions from their female counterparts. It takes its title from a poem by Kenneth Patchen, itself a modern-day English-language paraphrase of the oft-set "Quam pulchra es" from the Biblical love poem "The Song of Solomon." Griffin sets both texts, along with another pair of poems: the famously controversial "To His Coy Mistress" by English Enlightenment poet Andrew Marvell (1621–1678) and its feminist response "Coy Mistress" by American poet Annie Finch (b. 1955). The cycle also features settings of Maya Angelou's "Phenomenal Woman" and Dorothy Parker's wry "Interview."
The composer writes about the piece:
After composing "The Leopard," for soprano Sharon Harms, pianist Christopher Oldfather and clarinetist Benjamin Fingland, all three musicians showed interest in me creating a song cycle for these forces, made famous by Schubert's "Shepherd on the Rock." Since there is also a body of repertoire for voice, viola and piano and clarinet, viola and piano, I decided to add viola to the mix so that the new piece could be part of an interesting mixed recital. Being a violist myself, and having performed alongside all three musicians, I plan to be the violist for the world premiere. In today's public discourse, there is much discussion of what is deemed appropriate male communication with women. Yet the male expression of appreciation for female beauty plays such an important role in the history of our poetry and music that I decided to approach this topic with warmth and humor, juxtaposing the sublime with the absurd. My song cycle will contrast genuine expressions of female beauty from widely different eras: the nomadic Biblical metaphors from the Song of Solomon, such as: "your hair is like a flock of goats" with Kenneth Patchen's: "O beautiful you are/my own land of holiness, unblemished grace," pitting these both against English Enlightenment poet Andrew Marvell's ironic, self-serving, and scandalous overtures to his "Coy Mistress." From a feminist perspective, I seek to contrast Maya Angelou's unapologetic praise of her own feminine beauty in "Phenomenal Woman" with Dorothy Parker's biting commentary on the type of women men praise and Annie Finch's scathing response to Andrew Marvell: "You've praised my eyes, forehead, breast: you've all our lives to praise the rest." Stylistically, I plan to mirror the extreme variety of the texts with different combinations of the instruments and widely contrasting modes of musical expression, from a modal, almost Medieval feeling in the Song of Solomon to a free-wheeling, modern jazz aesthetic in the Maya Angelou setting.
Stephanie Griffin is an innovative composer and violist with an eclectic musical vision. Born in Canada and based in New York City, her musical adventures have taken her to Indonesia, Singapore, Japan, Hong Kong, England, Ireland, Germany, Belgium, Mexico, and Mongolia. Stephanie founded the Momenta Quartet in 2004, and is a member of the Argento Chamber Ensemble and Continuum; principal violist of the Princeton Symphony; and viola faculty at Brooklyn and Hunter Colleges. She received prestigious composition fellowships from the Jerome Foundation (2017) and the New York Foundation for the Arts (2016), and was a 2014 fellow at Music Omi. She holds a Doctor of Musical Arts degree from The Juilliard School where she studied with Samuel Rhodes, and has recorded for Tzadik, Innova, Naxos, Aeon, New World, and Albany Records.
Funders
The MetLife Foundation Music of the Americas concert series is made possible by the generous support of Presenting Sponsor MetLife Foundation.
The Spring 2023 Music program is also supported, in part, by by the Howard Gilman Foundation, and by public funds from the New York City Department of Cultural Affairs in partnership with the City Council and from the New York State Council on the Arts with the support of the Office of the Governor and the New York State Legislature.
Additional support comes from the National Endowment for the Arts, the Association of Performing Arts Professionals' ArtsForward program, made possible through support from The Andrew W. Mellon Foundation, New Music USA's Organizational Development Fund in 2022-23, the Alice M. Ditson Fund of Columbia University, The Aaron Copland Fund for Music, and The Amphion Foundation, Inc.