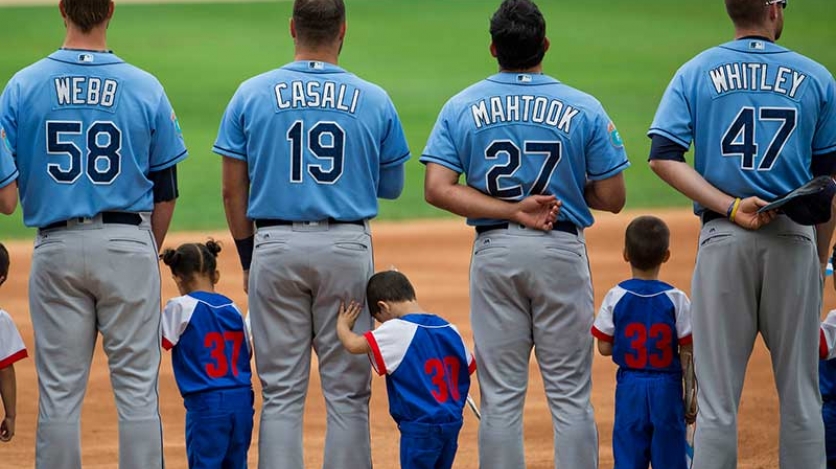 Tamba Bay Rays in Cuba in 2016. (AP)
Sports Diplomacy: A Cafecito on Cuba and Venezuela
Join YPA for a timely discussion on how Cuban baseball and Venezuelan soccer can transcend politics to foster transnational links with the United States and beyond.
Overview
This event is open to the public and free for AS, COA, and YPA; and $15 for non-members. Prior registration is required. 
For COA members, please email mfontana@as-coa.org to register. (View a list of COA corporate members.)
How can sports transcend politics to foster transnational links between the United States and Latin American countries like Cuba and Venezuela? Young Professionals of the Americas hosts two leading figures in the sports diplomacy arena for an evening cafecito and a timely discussion on how Cuban baseball and Venezuelan soccer can provide an avenue for dialogue when other forms of engagement prove difficult.
Speakers:
Thomas Goodman, Executive Director, Caribbean Educational & Baseball Foundation
Eglantina Zingg, Founder and President, Goleadoras
Alana Tummino, Cuba Working Group Head and YPA Executive Director, AS/COA
Event information: Elizabeth Gonzalez | egonzalez@as-coa.org | 1-212-277-8330
YPA Membership: Mila Fontana | mfontana@as-coa.org | 1-212-277-8331
---
Not a member yet? Join YPA today for access to this event and our networking and social events, such as private art fair tours, concerts, and intimate talks with industry leaders around professional development.
Want to learn more about events like this? Sign up for the YPA mailing list.
Follow YPA on Twitter, Facebook, and Instagram.
---
About the speakers:
Thomas "Tommy" Goodman is executive director of the Caribbean Educational & Baseball Foundation, a nonprofit organization using a shared passion for baseball to build youth-focused bridges with our neighbors in the Caribbean. Goodman most recently served as associate vice president at The Cohen Group, where he managed much of the firm's Caribbean portfolio, advising clients on opportunities in and leading dozens of visits to Cuba, Mexico, and other parts of the region. Previously, Goodman practiced law in the Washington, DC office of Wilson, Sonsini, Goodrich & Rosati; as an honors attorney at the U.S. Department of Transportation (USDOT); and as a contract attorney in the Foreign Claims Settlement Commission of the U.S. Department of Justice. He also worked as an intern in the USDOT's Office of International Law and with the Center for Justice and International Law in San Jose, Costa Rica. Before law school, Goodman was a teacher for three years at the Lincoln School, also in Costa Rica. He received a JD and BA from the University of Virginia, and has studied at the Universitat de Valencia (Spain) and Regents College (London). He is fluent in Spanish and conversant in Portuguese, and is a member of the District of Columbia and Virginia bars.
Eglantina Zingg is a social entrepreneur, activist, media and fashion industry professional with over 20 years experience in international communications. Born in Caracas, Venezuela, raised in the Amazon, and currently living in New York City, Zingg's unique multicultural background has inspired her to pursue a life in public advocacy, fighting for social, economic, and political change in Latin America and beyond. Presently, Zingg is the founder and president of Goleadoras, a U.S.-based not-for-profit social enterprise leveraging the power of fútbol to transform the self-confidence, sense of solidarity, ambition, perseverance and well-being of girls in the United States. The organization runs a campaign #GirlswithBalls, which kicked off last year in Queens, NY with a 13-week unparalleled training method targeted at 10-15 year-old girls and their female coaches, 18-25 year-olds. Goleadoras' first founding team became the winners of the United Nations Global Goals World Cup in 2018. Prior to Goleadoras, Zingg founded Proyecto Paz, an organization dedicated to bringing soccer programs to underprivileged communities throughout Latin America. Zingg began her professional career at MTV Latin America where she was the host of the channel's daily show, L'Gueveo. She received a BA in mass communication and art history from Florida International University in Miami, FL. She participated in the academic program of theater and performance at Yale University and graduated from London Academy of Music and Dramatic Art (Lamda), one of the most prestigious theater schools in the UK.
Alana Tummino is the chief of staff of the President's Office at AS/COA. Among her roles, she heads the AS/COA Cuba Working Group and is executive director of the organization's Young Professionals of the Americas network. With over a decade of experience working with Latin America, Tummino collaborates with public- and private-sector leaders, NGO's, foundations, and academics throughout the Western Hemisphere on a range of business and policy issues. She leads work on Cuba's changing economic and political landscape and relations with the United States, and helps businesses navigate investment opportunities and the changing regulatory framework. Tummino also focuses on issues of social inclusion, entrepreneurship, and women. She has published policy and opinion pieces in numerous outlets, and has appeared as an expert on CNN, CNN en Español, NPR, BBC, and PBS, among others. Tummino has been quoted as an expert in publications including The Wall Street Journal, BBC, Agencia EFE, Politico, NBC News, The Miami Herald, and Foreign Policy. Prior to joining AS/COA, Tummino worked with various international development organizations on microfinance and women's economic empowerment. She was a foreign language and area studies fellow for Portuguese and Latin America from the U.S. Education and State departments, and the Financial Women's Association graduate scholar for microfinance. She received an MA in economic and political development from Columbia University's School of International and Public Affairs, and received her BA in political science and Spanish from the George Washington University.
In partnership with: