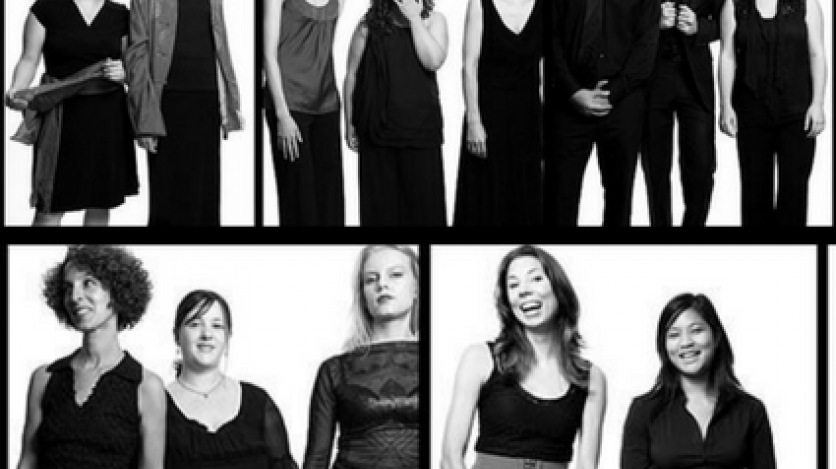 SONYC (Image: Arthur Moeller)
SONYC: Mind the Gap
The String Orchestra of New York City, a dynamic and conductorless ensemble, presents "Mind the Gap," featuring the world premiere of Bridges by Cuban composer Keyla Orozco for string orchestra and rumba tap dancer Max Pollak. 
Overview
Admission: Free. No more advance registrations, but please check in with the box office in the lobby this evening! 
Not yet a member? Learn how to become a Cultural Circle member.
The String Orchestra of New York City (SONYC), a dynamic and conductorless ensemble, presents "Mind the Gap," featuring the world premiere of Bridges by Cuban composer Keyla Orozco for string orchestra and rumba tap dancer Max Pollak, which was the recipient of a Fromm Foundation Grant from Harvard University. The program will also include Bachianas Brasileiras no. 9 by Brazilian composer Heitor Villa-Lobos, as well as the premiere of Mexican composer Cristóbal MarYán's Viral, which examines social media.
Program
| | |
| --- | --- |
| Keyla Orozco (Cuba) | Bridges, featuring rumba tap dancer Max Pollak *world premiere |
| Cristóbal MarYán (Mexico) | Viral *world premiere |
| Heitor Villa-Lobos (Brazil) | Bachianas Brasileiras no. 9 |
This performance is part of the Composers Now Festival.
SONYC performs Lisa Bielawa's The Trojan Women at Symphony Space (2017).
About the artists
SONYC, founded in 1999, comprises some of this nation's extraordinary string players in a critically acclaimed tour de force ensemble. A conductorless chamber group, the ensemble's members rehearse in a collaborative effort that allows each musician to have an impact on the artistic process. The flexibility and intimacy of a string quartet are thus fused with the power and scope of an orchestra. SONYC is composed of a group of dedicated musicians who are also winners of international competitions, members of renowned chamber ensembles, and highly regarded soloists. The ensemble is a pioneer of the concert hall, as well as the classroom, having given over 250 performances and close to 100 master classes for children of all ages and backgrounds, nationally as well as in NYC's public schools. A herald of new music from around the world, SONYC has given 25 world and US premieres. SONYC has been awarded Harvard University's Fromm Foundation Grant with composer Keyla Orozco, the Meet the Composers Residency Grant, as well as the Aaron Copland Fund for Music Recording Grant. Most recently, SONYC is the recipient of Columbia's 2017 Alice M. Ditson Fund Award for a new "music and text" project; works will include a new piece by Mexican composer, Cristóbal MarYán, based on President Trump's tweets, as well as Randy Woolf's Blues for Black Hoodies, based on rap texts. The group released an all-American world premieres CD entitled "first takes," featuring works by composers Paul Moravec, Lisa Bielawa, Michael Gatonska and Christopher Theofanidis. Additionally, SONYC is featured in William McKenna's award-winning documentary Breathing Together. Whether performing new music or the cherished string orchestra repertoire, SONYC strives to inspire and educate its audiences.
Max Pollak is a 2011 Hoofer Award Winner, 2011 Bessie Award nominee, 2010 Individual Artist Grantee of the Northern Manhattan Arts Alliance and 2008 fellow in Choreography from the New York Foundation of the Arts. He is recognized worldwide for his musicianship and his individual style as the first person to merge authentic Afro-Cuban music and dance with American rhythm tap and body music to create RumbaTap. His original a-cappella vocal arrangements have been praised by The New York Times, and his work with classical composers, symphonic and chamber orchestras is unique in the world. The founder of Cuba's first tap festival, he has been teaching and performing there since 1998 and has collaborated with Los Muñequitos de Matanzas, Cuba's top Rumba group; Chucho Valdés; Lila Downs; and jazz legends Ray Brown, Phil Woods, Gregory Hines, Paquito D'Rivera, Slide Hampton and Danilo Pérez. He has toured with Cyro Baptista's percussion ensemble Beat The Donkey, Manhattan Tap, Urban Tap, Rennie Harris Pure Movement, Feet 2 The Beat, Roxane Butterfly, and Grupo Los Santos, among others. He has performed at such international venues as Vienna's Konzerthaus, Musikverein, Schleswig Holstein Musik Fest, Orford Festival, Musique de Chambre à Giverny, and Havana's Teatro Nacional and Teatro Amadeo Roldán. He has performed with members of the Vienna Philharmonic, the New York Philharmonic, St. Luke's Chamber Orchestra, and Les Violons du Roy, as well as the Duluth Superior and Plano Symphony Orchestras. On faculty at Sarah Lawrence College, he travels internationally with his group RumbaTap and released his first solo album in 2015.
About Composers Now Festival
The Composers Now Festival celebrates living composers, the diversity of their voices and the significance of their musical contributions to our society. During the month of February, the Festival brings together dozens of performances presented by venues, ensembles, orchestras, opera companies, dance companies and many other innovative events throughout New York City. Experience the sounds and get to know the creators behind the music. From jazz to indie, from classical to electronic and beyond, join us on a sonic journey through the landscape of the arts of our time.
Composers Now is a project partner of The Fund for the City of New York.
In collaboration with: