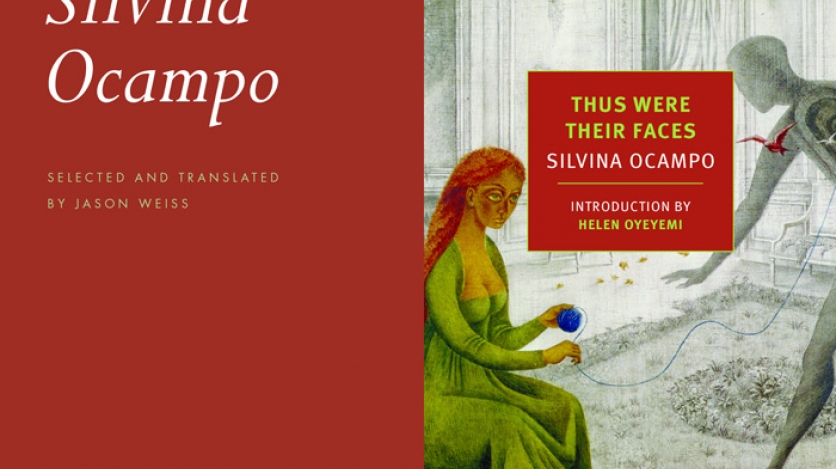 Silvina Ocampo Celebration: Jason Weiss, Suzanne Jill Levine, Sylvia Molloy
Join us for a panel discussion on the work of Silvana Ocampo featuring authors/translators Jason Weiss, Suzanne Jill Levine, and Sylvia Molloy.
Overview
Online registration is currently closed but members may arrive before the event and pick up tickets. Non-members may pay at the door. Please email jnegroni@as-coa.org with questions.
Admission: Free for Americas Society and Young Professionals of the Americas (YPA) members; $10 for non-members. No additional fees will be charged when purchasing online. Not yet an AS Member? Join now!
Authors/translators Jason Weiss, Suzanne Jill Levine, and Sylvia Molloy will discuss Silvina Ocampo's work on the publication of Silvina Ocampo (poems; trans. Jason Weiss), and Thus Were Their Faces (stories; trans. Daniel Balderston). Ocampo (1903–1993), often overshadowed by her sister Victoria, her husband Adolfo Bioy-Casares, and by Borges, is considered a legend of Argentine letters. In association with NYRB Classics. 
We thank the following additional institutions for helping publicize this event:  the Center for Puerto Rican Studies, CUNY; Columbia University; the Consulate General of Argentina in New York; the Consulate General of Colombia in New York; the CUNY Dominican Studies Institute; the Hispanic New York Project; Hunter College, CUNY; Instituto Cervantes New York; InterAmericas®; The International Literary Quarterly; McNally Jackson Books; the Mexican Cultural Institute of New York; New York University; The Poetry Project at St. Mark's Church; The 92Y Unterberg Poetry Center; and Words Without Borders.
This event will be held in English.
Event Information: Jose Negroni | jnegroni@as-coa.org | 1-212-277-8353
Press Inquiries: Adriana La Rotta | alarotta@as-coa.org | 1-212-277-8384
Image: Covers of Silvina Ocampo and Thus Were Their Faces (NYRB, 2015). Courtesy New York Review Books.
---
About the Books 
Silvina Ocampo
Ocampo studied with de Chirico and collaborated with Borges and Bioy Casares. Her poems were celebrated in Argentina but, until now, have been nearly unavailable in English. This selection, translated by Jason Weiss, spans Ocampo's full career—from early nature sonnets to a late metaphysical turn—and shows her to be adept at "captur[ing] the magic inside everyday rituals" (Italo Calvino).
Thus Were Their Faces
Dark, gothic, fantastic, and grotesque, Ocampo's stories stand alongside those of her collaborators and countrymen Borges, Cortázar, and Bioy Casares. "Few writers have an eye for the small horrors of everyday life; fewer still see the everyday marvelous. Other than Ocampo, I cannot think of a single writer who . . . has chronicled both with such wise and elegant humor." —Alberto Manguel. Thus Were Their Faces is translated by Daniel Balderston.
Silvina Ocampo (1903–1993) was born to an old and prosperous family in Buenos Aires, the youngest of six sisters. After studying painting with Giorgio di Chirico and Fernand Léger in Paris, she returned to her native city—she would live there for the rest of her life—and devoted herself to writing. Her eldest sister, Victoria, was the founder of the seminal modernist journal and publishing house Sur, which championed the work of Jorge Luis Borges and Adolfo Bioy Casares, and in 1940 Bioy Casares and Silvina Ocampo married. The first of Ocampo's seven collections of stories, Viaje olvidado (Forgotten Journey), appeared in 1937; the first of her seven volumes of poems, Enumeración de la patria (Enumeration of My Country) in 1942. She was also a prolific translator—of Dickinson, Poe, Melville, and Swedenborg—and wrote plays and tales for children. The Argentine critic Ezequiel Martínez Estrada wrote that "everything in Silvina Ocampo's poetry carries with it her reminiscence of a lost paradise, of an inferno traveled in dreams." [from the publisher's website]
In addition to his translation Silvina Ocampo, published this year by New York Review Books, Jason Weiss has translated Luisa Futoransky's The Duration of the Voyage: Selected Poems (1997) and Marcel Cohen's stories, Mirrors (1998). He is the author of The Lights of Home: A Century of Latin American Writers in Paris (2003), and Always in Trouble: An Oral History of ESP-Disk', the Most Outrageous Record Label in America (2012), and editor of Back in No Time: The Brion Gysin Reader (2002) and Steve Lacy: Conversations (2006), the latter, selected interviews and other documents of the late soprano saxophonist and jazz composer.
Suzanne Jill Levine is an eminent translator, scholar, and critic of Latin American literature. Her books include Manuel Puig and the Spider Woman: His Life and Fictions (2000) and The Subversive Scribe: Translating Latin American Fiction (1991; 2009). Her recent works include critically acclaimed translations of José Donoso's The Lizard's Tale (2011), Luis Negrón's Mundo Cruel (2010), and Where There's Love, There's Hate (2013; in collaboration with Jessica Powell) by Adolfo Bioy Casares and Silvina Ocampo, as well as her editions of Jorge Luis Borges for Penguin Classics (2010). She is Director of Translation Studies at the University of California in Santa Barbara.
Sylvia Molloy is an Argentine writer and critic who has taught at Princeton, Yale, and New York University. Her creative and critical publications include En breve cárcel (1981; Certificate of Absence, 1989); Las letras de Borges (1979; Signs of Borges, 1993), At Face Value: Autobiographical Writing in Spanish America (1991), Hispanisms and Homosexualities (co-editor, 1998); El común olvido (2002); and Poses de fin de siglo: Desbordes del género en la modernidad (2013). She has served as President of the Modern Language Association of America and of the Instituto Internacional de Literatura Iberoamericana and holds an honorary degree in humane letters from Tulane University.
In collaboration with: