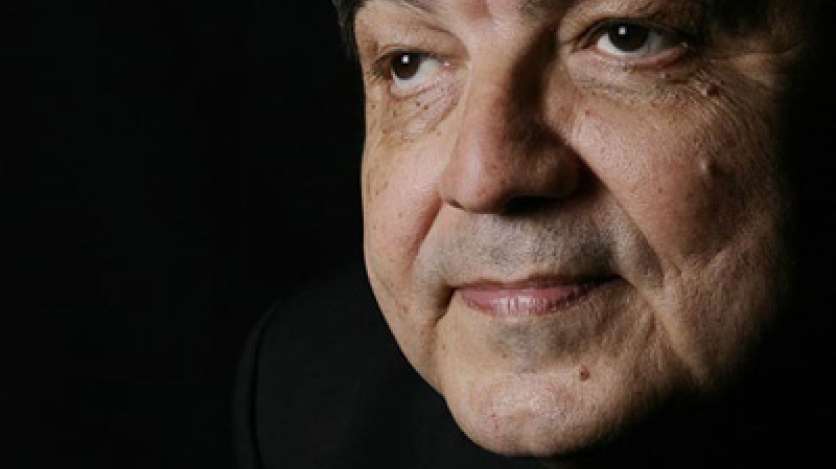 Sergio Ramírez. Photo by Daniel Mordzinski
Sergio Ramírez: Divine Punishment
Nicaraguan author Sergio Ramírez will read from and discuss his political thriller, Divine Punishment.
Overview
Online registration is currently closed but members may arrive before the event and pick up tickets. Non-members may pay at the door. Please email jnegroni@as-coa.org with questions.
Special Rate for PEN and ICNY Members available. Contact ASlitspecial@as-coa.org for more information
Not yet an AS Member? Join now! Special Offer: Join (or upgrade to) the Sustaining level ($250/year), Contributing level ($500/year), or Donor level ($1,000/year) by May 5 and receive a complimentary copy of Sergio Ramírez's Divine Punishment on the day of the program. Click here to join or upgrade now. Questions? Contact us at membership@americas-society.org.
In this highly anticipated event, famed Nicaraguan author Sergio Ramírez and his translator, Nick Caistor, will read from and discuss the author's political thriller, Divine Punishment. Bruce McPherson, the book's publisher, will introduce. Presented with McPherson & Company and Instituto Cervantes New York as part of the PEN World Voices festival. Books will be available for sale/signing through McPherson & Company. An additional event featuring Sergio Ramírez and other speakers will be presented at Instituto Cervantes on Thursday, May 7.
We thank the following additional institutions for helping publicize this event:  the Center for Puerto Rican Studies, CUNY; Columbia University; the Consulate General of Argentina in New York; the Consulate General of Colombia in New York; the CUNY Dominican Studies Institute; the Hispanic New York Project; Hunter College, CUNY; Instituto Cervantes New York; InterAmericas®; The International Literary Quarterly; McNally Jackson Books; the Mexican Cultural Institute of New York; New York University; The Poetry Project at St. Mark's Church; The 92Y Unterberg Poetry Center; and Words Without Borders.
This event will be held in English with bilingual readings.
Event Information: Jose Negroni | jnegroni@as-coa.org | 1-212-277-8353
Press Inquiries: Adriana La Rotta | alarotta@as-coa.org | 1-212-277-8384
---
About the Book
"Upon its original publication, Carlos Fuentes declared Divine Punishment to be the quintessential Central American novel. In this, the greatest work of a storied literary career, Sergio Ramírez transforms the most celebrated criminal trial in Nicaraguan history—the alleged murders in 1933 of two high society women and his employer by a Casanova named Oliverio Castañeda—into an examination of the entire Nicaraguan society at the brink of the first Somosa dictatorship. Passion, money, sex, gossip, political intrigue, medical malpractice and judicial corruption all merge into a novel that reads like a courtroom drama wrapped in yellow journalism disguised as historical fiction posing as a scandal of the first order." [from the publisher's website]
". . . Ramírez extends Flaubert's techniques to a whole society, which becomes a true microcosm of Central America, for although located in León, Nicaragua, the action reverberates in Costa Rica and Guatemala. . . . Melodrama is comedy without humor. Sergio Ramírez returns the smile to the newspaper serial, but in the end this smile freezes on the lips—we are back in the heart of the darkness. Between the fullness of comedy and the imminence of tragedy, Sergio Ramírez has written the great novel of Central America—the novel that it was necessary to have in order to reach an intimacy with its peoples, to visit the edge between their traditional recalcitrance and their potential for renewal. . ."—Carlos Fuentes
"As with the works of Henry James, Divine Punishment is an epic of consciousness. But unlike them, the consciousness stirred here is not individual but collective ... Sergio Ramírez draws one of the most formidable portraits of bourgeois hypocrisy ever written in Latin America ..."—Tomás Eloy Martínez
". . . the main character is language, as well as the entire society of the city of Leon. . . . [Divine Punishment] is a poetic novel, as well as being dramatic and pathetic, and tragic, humorous, macabre, romantic, realistic, and political . . ."—Ernesto Cardenal
Sergio Ramírez (b. Masatepe, Nicaragua, 1942), author of over thirty novels, memoirs, story- and essay-collections, is one of Latin America's most important literary figures. In addition to his masterwork Castigo Divino (1988; Divine Punishment, 2015), his other works include Margarita, está linda la mar (1998; Margarita, How Beautiful the Sea, 2007) and Mil y una muertes  (2004; A Thousand Deaths Plus One, 2009), the latter also published by McPherson & Company. Ramírez also served as the Vice President of Nicaragua (1984-1990). Most recently, he was awarded the prestigious Carlos Fuentes Prize (2014). He lives in Managua.
Nick Caistor is a translator, journalist and author of non-fiction books. He has translated some 40 books from Spanish and Portuguese, including works by Paulo Coelho, Alan Pauls, Juan Marsé, Manuel Vázquez Montalbán, and Sergio Ramírez. He has twice been awarded the Valle-Inclán prize for translation. Caistor has written biographies of Che Guevara and Octavio Paz, and a cultural history of Mexico City. As a journalist, he has presented and produced numerous programs on BBC's Radio 4 and the BBC World Service, and contributes regularly to the TLS and Guardian. He lives in Norwich, England.
In collaboration with: