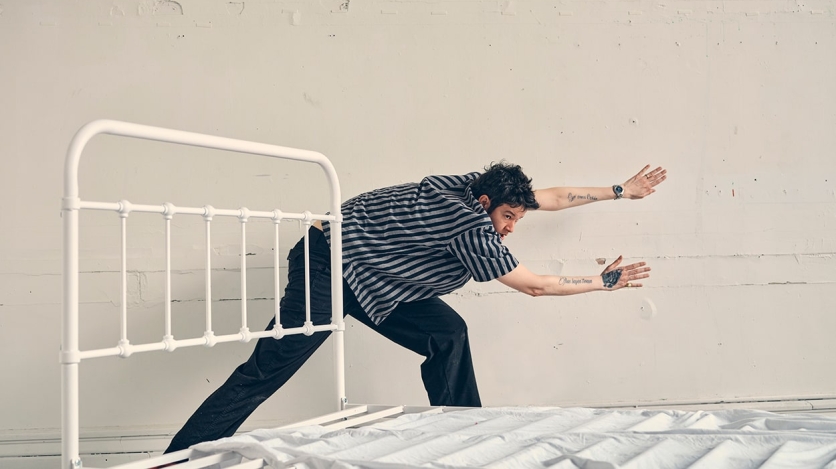 Rita Indiana. (Image: Christopher Gregory)
Rita Indiana: Tu nombre verdadero
The Dominican musician and writer premieres her latest songbook. 
Overview
On April 15, we will host this event in person and tickets are free.    
Registration is closed for this event as it is sold out.  
Remember to follow us to watch this and other exciting performances. 
Tu nombre verdadero is a live performance, with music and lyrics by Rita Indiana and libretto and direction by Noelia Quintero-Herencia, dedicated to Jorge Pineda Perez. A post-pandemic abstract tale that visits experiences of illness and death in the context of artistic practices and their markets, the piece was commissioned by Americas Society after the couple moved to New York City in 2021. Quintero-Herencia, who also designed the sets, conceived the piece as "a system of goodbyes, the lights and shadows multimedia machine we would need to be able to look at things that are difficult to portray, such as loss." 
The songbook, arranged for piano and drums with Luis Amed Irizarry, departs from Rita Indiana's storytelling and popular music staples reaching into "uncharted places of my musical memory, the sounds of early childhood or how I remember them, a time before I knew what death meant." Musical genres are approached in their bare-bones form, stripped of irony or fusion, as if death had also kissed them.
Tu nombre verdadero was created out of the need to share an intimate space with those of us who were left behind, a need to memorialize the departed outside of social media, in the present, where the living remain.
Performers:
Rita Indiana, voice
Luis Ahmed Irizarry, piano
Efraín Martínez, drums
Melissa Bonetti, Andrea Chavarro, Teresa Davis, Kayla Faccilongo, voices 
Production team: 
Artistic Collective Matahambre 
Lyrics & Music: Rita Indiana 
Director: Noelia Quintero Herencia 
Producers: Rita Indiana, Noelia Quintero Herencia 
Script: Rita Indiana and Noelia Quintero Herencia 
Musical Arrangements: Rita Indiana and Luis Amed Irizarry 
Sound Engineering: Antonio Caraballo 
Lighting Design: Marién Vélez 
Set Design: Noelia Quintero Herencia 
Graphic Design: Ian Vfctor - Modafoca 
Set Dresser: Gerardo Calderón 
Stage Manager: Noelia Quintero Herencia 
Technical Director: Marién Vélez 
Film & Video Production: Noelia Quintero Herencia, Ian Victor, Sebastian Gonzalez Quintero, Ricardo Goitfa 
Video Mapping: Xiao Jiang
Ligthting Technician: Florencia Lechin 
Costume Assistant: Ivette Hernandez - Mantoherida 
Acting Coach: Vicente Santos 
Production Assistants: Daniel Gonzalez Quintero, Zilah Felix, Luz Esther Hernandez 
Tech Consultant: Lenino Comprés 
Production Consultants: Angela Sofía Santiago Caro, Maribel Caro Cruz (ontological coaching)
Rita Indiana is a Dominican-born New York-based music composer and a key figure in contemporary Latin American literature. Her novel Tentacle was the first book written in Spanish to win the Grand Prize of the Association of Caribbean Writers in 2017. She is the author of five novels and a driving force in experimental Caribbean popular music, receiving a nomination for a Latin Grammy in 2021. Currently, she is the Director of New York University's MFA in Creative Writing in Spanish. 
Noelia Quintero-Herencia is a Puerto Rican filmmaker, multimedia artist, and researcher. During the 2000s, she created, directed, and produced the Suncoast Emmy winning documentary series on Puerto Rican art and culture Prohibido Olvidar. She wrote and directed the documentary on urban art La Motora Roja tiene que aparecer (2008) and the film PAPI, which won the Dominican Soberano Award for Best Film in 2020. She is the longtime collaborator of Dominican writer and composer Rita Indiana for whom she has directed several music videos and performances. In 2021, her documentary Ellas, mujeres en la música, won her another Suncoast Emmy. Her work has been exhibited at the Centro León, Proyectos Ultravioleta, and at the Leslie-Lohman Museum.
PALO E GUAO
Allá donde la luna se coge con el monte 
Adonde el horizonte se etralla en el palmar 
Adonde van los hilos de la camisa del hombre 
Que firmó conmigo un nombre para poderlo llamar
Allá donde las luces son uñas que se rompen 
Alla donde la carne se puede ir a comprar 
Adonde van los gritos de la Virgen de las flores 
Cuando siente los dolores que del rio bajan al mar
Quisiera no tener que verte aquí 
Que esta no fuera hermano tu mansión 
De esta casa no se puede salir
Y dice que hay, tranquilo que ello hay 
Piedrita que caminan, te van acompañai
A la sombra del palo e' Guao 
Oh oh oh oh 
A la sombra del palo e' Guao; 
Oh oh oh oh
Tira sombra el cocotero, 
tira sombra el guayacán 
Tira sombra el flamboyán, 
la flor, la rama el alero 
Tira sombra el jardinero 
Con el machete agarrao 
Y su sombrero terciao 
Sombra redonda es la tierra 
Pero sólo una da guerra 
La sombra del palo e Guao 
Tira sombra la armadura 
Tira sombra el arcabuz 
Tira sombra hasta la cruz 
Es sombra la noche oscura 
Pero hay una que es mas dura 
Camino al valle de Bao 
Que al pasarle por el lao 
Se encapricha con tus huesos 
Y sale a comerte a besos 
La sombra del palo e' Guao 
El tronco respira un fuego 
Que quema y rompe la carne 
Las ramas a media tarde 
Te llenan de llaga el cuero 
El ave de mal agüero 
Ta en su raíz enterrao 
Y los indios de Bonao 
Mojan sus flechas en ella 
Porque a la muerte le es bella 
La sombra del palo e' Guao 
Y dice que hay, tranquilo que ello hay 
Piedrita que caminan, te van acompañai 
Ni cuanto hay, te digo que ello hay 
Se ven como la arena, no lo puedo contai
A la sombra del palo e' Guao Oh oh oh oh 
A la sombra del palo e' Guao Oh oh oh oh
Una cosa blanca, una cosa negra, 
una cosa blanca, una cosa negra, 
una cosa blanca, una cosa negra 
una cosa blanca, una cosa negra
LA SUBASTA
Se ahogan los caballos abajo del puente 
por donde las aguas se tiñen de aceite 
Fajo contra fajo 
fuete contra fuete 
saben a melaza 
pero son grilletes 
En neón se entienden 
El saca y el mete flecos que se arrancan 
caprichosamente
Sangre en la subasta, 
que mercado es este? 
Martillero, 
por mi duelo 
cuánto más?
El hueso negocia 
dentro del boquete 
hediondos laureles 
rojos cual filetes 
Mancha prodigiosa 
nadie viene a verte 
mientras en tu nombre 
se firman los verdes
Sangre en la subasta, 
qué mercado es este? 
Martillero, 
por mi duelo 
cuánto más? 
 
Sangre en la subasta, 
qué mercado es este? 
Martillero, 
por mi duelo 
cuánto más? 
Funders
The MetLife Foundation Music of the Americas concert series is made possible by the generous support of Presenting Sponsor MetLife Foundation.
This project is made possible, in part, by a grant from the Association of Performing Arts Professionals' ArtsForward program, made possible through support from The Andrew W. Mellon Foundation and by the National Endowment for the Arts. 
The Spring 2023 Music program is also supported, in part, by public funds from the New York City Department of Cultural Affairs in partnership with the City Council, by the New York State Council on the Arts with the support of the Office of the Governor and the New York State Legislature, and the Howard Gilman Foundation.