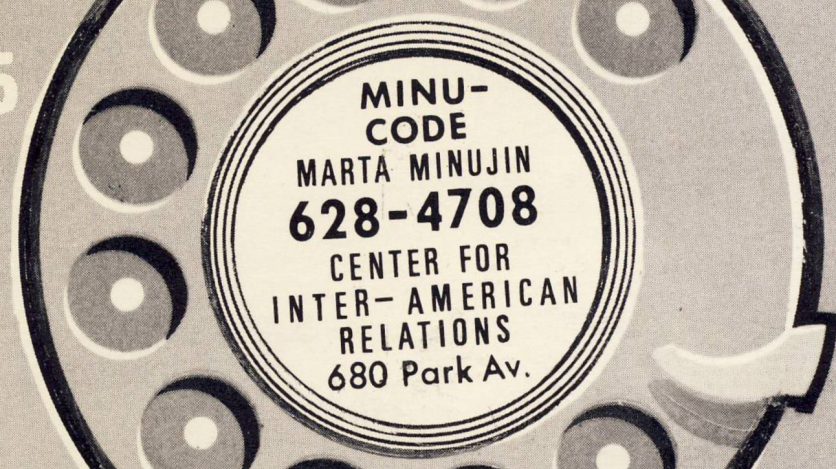 Review 89 cover. (Design: José Pablo Negroni)
Review 89: The Americas in New York: Writing and Arts in La Gran Manzana
 
The event marked the launch of the Fall 2014 issue of Review, which celebrate the contributions of Latino writers and artists to the cultural wealth of New York.
Overview
The exciting launch of the Fall 2014 issue of Review featured comments by guest editor Nicolás Kanellos (University of Houston) and readings of prose and poetry by a dynamic group of the issue's contributing authors all of whom have been shaped by and have helped shape New York culture: Carlos Aguasaco, Angie Cruz, Lyn Di lorio, Isaac Goldemberg, Julio Marzán, and Sergio Troncoso. Since our presenters are all first, second, and subsequent generations of immigrant writers whose development has largely taken place within New York, this event also reflected on immigration and culture in New York and the larger U.S.A. Presented with Routledge/Taylor & Francis.
Learn more about Review Magazine.
Review 89 (Fall 2014; The Americas in New York), guest-edited by Nicolás Kanellos, compiles critical essays, creative texts, book reviews and art by/about Latino writers/artists whose work has contributed to the cultural wealth of New York. Among the critical essays are contributions by scholars Silvio Torres-Saillant, Laura Lomas, and Vanessa Pérez Rosario, exploring, respectively, Dominican writers in New York, the oeuvres of seminal Puerto Rican poets; and a panorama of Latina writers. The issue also showcases an interview of singer/composer Rubén Blades (in collaboration with Instituto Cervantes), and another conversation with author Isabel Allende and journalist Amy Goodman (from their event at the Americas Society); and original fiction, poetry, and essays by contemporary writers from Argentina, Colombia, Cuba, Mexico, Peru, and the Dominican Republic, including, in addition to the launch, participants listed above, Carmen Boullosa, José Torres, Lila Zemborain, and others.  The issue also includes memorial pieces on Oscar Hijuelos, Tato Laviera, and Juan Gelman; features on contemporary Latin American visual arts in New York; an essay on Pablo Neruda by Edwin Williamson; and a reflection by Gregory Rabassa on his translation of Gabriel García Márquez's One Hundred Years of Solitude; and reviews of the latest publications by Rolando Hinojosa-Smith, Edwidge Danticat, Álvaro Enrigue, Joao Paulo Cuenca, and others. 
"[Angie Cruz] is a writer of grace and true grit, an uncommon and laudable combination of gifts."  —Susan Thomas, St. Louis Post-Dispatch
"Utilizing rhythmic prose and enchanting humor, Lyn Di Iorio has written a brilliant love story full of magical urbanism that is sure to make Outside the Bones a modern day classic." —Ernesto Quiñonez, author of Bodega Dreams and Chango's Fire
"Marzán displays the kind of wit and intellectual verve rarely seen in contemporary literature." –Oscar Hijuelos, Pulitzer Prize-winning author (On The Bonjour Gene)
"Sergio Troncoso's The Nature of Truth single-handedly redefines the Chicano novel and the literary thriller." —El Paso Times
Watch an interview with Angie Cruz on Code Read:
We thank the following additional institutions for helping publicize this event: Arte Público Press, the Center for Puerto Rican Studies, CUNY; Columbia University; the Consulate General of Argentina in New York; the Consulate General of Colombia in New York; the CUNY Dominican Studies Institute; the Hispanic New York Project; Hunter College, CUNY; InterAmericas®; The International Literary Quarterly; McNally Jackson Books; the Mexican Cultural Institute of New York; New York University; The Poetry Project at St. Mark's Church; The 92Y Unterberg Poetry Center; University of Houston; and Words Without Borders.
This event will be held in English and Spanish with bilingual readings.
Event Information: Jose Negroni | jnegroni@as-coa.org | 1-212-277-8353
Press Inquiries: Adriana La Rotta | alarotta@as-coa.org | 1-212-277-8384
---
Carlos Aguasaco (b. Bogotá), assistant professor of Latin American Cultural Studies and Spanish at City College (CUNY) in New York, is the author of ¡No contaban con mi astucia! México: parodia, nación y sujeto en la serie de El Chapulín Colorado (2014). His work in video art has been shown on three continents. He has co-edited four literary anthologies and published three books of poems, most recently Antología de poetas hermafroditas (2014).
Angie Cruz (b. New York City) is an essayist as well as the author of two novels, Soledad (2001) and Let It Rain Coffee (2005). She edits the literary and arts journal, Aster(ix).
Lyn Di Iorio is an essayist and author of the novel Outside the Bones (2011). She grew up in Puerto Rico and came to the Mainland to attend college. She is a professor of English at the City University of New York (CUNY), where she teaches Caribbean and U.S. Latino/a literatures. Currently she is working on a suspense novel that is also a dark comedy.
Isaac Goldemberg (b. Chepén, Peru) has lived in New York since 1964. He has published four novels, two books of short fiction, fourteen books of poetry, and three plays. His most recent publications are La vida breve (2012), Diálogos conmigo y mis otros (2013), and Libro de las raíces (2014). He is a Distinguished Professor at Hostos Community College of The City University of New York, where he directs the Institute of Latin American Writers and is the editor of Hostos Review.
Nicolás Kanellos is the Brown Foundation professor of Hispanic Studies at the University of Houston and the founding director of Arte Público Press, the nation's largest Latino publisher. His most recent book, Hispanic Immigrant Literature: El Sueño del Retorno (2011), was winner of the PEN Southwest Prize for Non-Fiction. In 2014, he was awarded the "Anderson Imbert" Lifetime Achievement Award from the North American Academy of the Spanish Language.
Julio Marzán is author of poetry collections and novels including Translations without Originals (1986) and The Bonjour Gene (2005). He is editor of Inventing a Word: Twentieth-Century Puerto Rican Poetry (1980) and Selected Poems: Luis Palés Matos (2000). He has also served as Poet Laureate of Queens. Marzán's The Spanish American Roots of William Carlos Williams (1994) was groundbreaking in its exploration of the acclaimed "American" poet's Latino heritage. He contributed the foreword to By Word of Mouth: Poetry from the Spanish by William Carlos Williams (2011), edited by Jonathan Cohen.
Sergio Troncoso (b. El Paso, Texas) has lived in New York since 1989. His books include The Last Tortilla and Other Stories (1999), Crossing Borders: Personal Essays (2011), From This Wicked Patch of Dust (2011), The Nature of Truth (2003 and 2014). He also co-edited the anthology Our Lost Border: Essays on Life amid the Narco-Violence (2013). He is a resident faculty member of the Yale Writers' Conference and an instructor at the Hudson Valley Writers' Center.