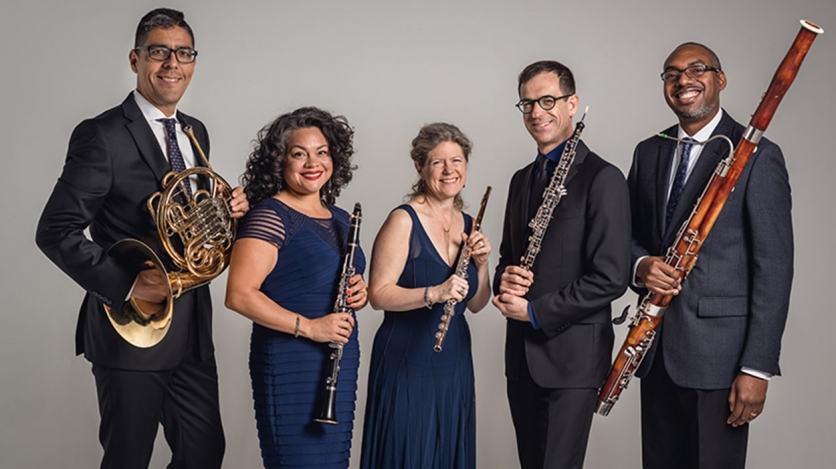 Quinteto Latino. (Image: Lenny Gonzalez) 
Quinteto Latino
Join Music of the Americas for a premiere by Felipe Nieto and pieces by Gabriela Lena Frank et al.
Overview
Quinteto Latino is a San Francisco Bay Area wind quintet with a mission to build community through Latino classical music. Founded in 2004 by French horn player Armando Castellano, this ensemble aims to expand the boundaries of a classical music tradition by performing works exclusively by Latino/a composers. In addition, the quintet advocates on behalf of Latino/a composers and classical musicians through mentoring, commissioning, and being a voice regionally and nationally for issues around diversity and classical music.
In their Music of the Americas debut, the Quintet will present a program featuring a premiere by Colombian composer Felipe Nieto, alongside works by Gabriela Lena Frank and others.
Program
Felipe Nieto-Sachica, New Work for Quinteto Latino, title TBD
Gabriela Lena Frank, "Mitos: Suite Dramatica para Quinteto de Vientos (y actores)"
Gabriela Ortiz, "Puzzle-Tocas"
Quinteto Latino
Diane Grubbe, flute
Kyle Bruckmann, oboe
Leslie Tagorda, clarinet
Shawn Jones, bassoon
Armando Castellano, ensemble director and French horn
Funders
The MetLife Foundation Music of the Americas concert series is made possible by the generous support of Presenting Sponsor MetLife Foundation. The Spring 2021 Music program is also supported, in part, by public funds from the New York City Department of Cultural Affairs in partnership with the City Council. Additional support for this concert comes from The Amphion Foundation, Inc., and The Aaron Copland Fund for Music.