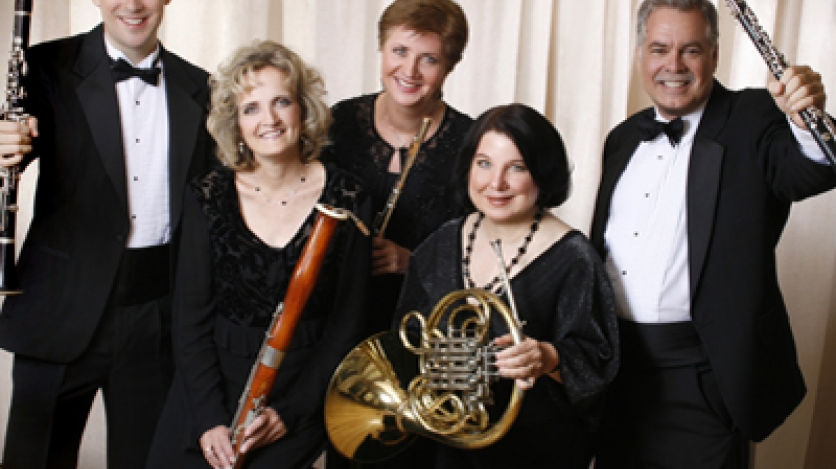 Image: courtesy of the artists.
Quintet of the Americas: Music of Roberto Sierra
Quintet of the Americas, with guest artists Jeanne Golan (piano) and Anna Tonna (mezzo), celebrates the music of composer Roberto Sierra in a concert at Americas Society.
Overview
Registration for this event is now closed. Tickets will be available for purchase at the door beginning at 6:15 PM. $20 for non-members; $10 student tickets will be available with ID.
Quintet of the Americas, with guest artists Jeanne Golan (piano) and Anna Tonna (mezzo), celebrates the music of composer Roberto Sierra in a concert at Americas Society.
Long recognized as leading interpreters of folk and contemporary wind quintet music of North and South America, Quintet of the Americas is one of the Western Hemisphere's finest chamber ensembles. The Washington Post has called their performances, "musical dialogue at the highest level" and Japan's InTune magazine has written that "their virtuosity, balances, articulation and intonation mark them as one of the world's top wind quintets."
Program
| | |
| --- | --- |
| Roberto Sierra | Sextet (2014) World premiere with Jeanne Golan, piano |
|   | Doña Rosita la soltera (1985) with Anna Tonna, mezzo soprano |
|   | Salsa para vientos (prize winner at 1983 Budapest Spring Festival) |
|   | Estudios (2011-12) New York premiere |
| György Ligeti | Six bagatelles |
About the artists
Established in Bogotá in 1976 and based in New York City since 1979, Quintet of the Americas (QOA) has spent over three decades commissioning over 70 works, performing over three hundred concerts throughout the United States, and in Canada, the Caribbean, South America, and Eastern Europe, and recording eight CDs.
Notable recitals have included a Carnegie Hall debut featuring three commissions for quintet with orchestra; Carnegie Hall American Music Week Series at Weill Recital Hall; Bermuda International Festival; Chamber Music Northwest; Inter-American New Music Festival in Puerto Rico; Bar Harbor Festival, Chautauqua; Pan American Music Festivals at the Library of Congress; the O.A.S., Festival Internacional de Música Contemporanea in Bogotá, Colombia; First International Congress on Women in Music; two Lincoln Center Out-of-Doors Festivals; retrospective concerts for Karel Husa, David del Tredici, Ursula Mamlok, and Ann McMillan; and contemporary music concerts for the American Composers Orchestra's Sonidos de Mexico and Sonidos de Cuba festivals.
Working with community organizations to bring new music and composers to audiences in community spaces, every year the Quintet reaches hundreds of under-served people in Queens, their only experience with new music being through the Quintet's programs. The Quintet has received five Chamber Music America Residency Program Grants: 1994-95, 1995-96, 1996-97, all in Chicago, sponsored by the Lila Wallace Reader's Digest Foundation and two residencies in Queens, New York. The Quintet has also held residencies at Austin Peay State University, Northwestern University, and Hunter College; and abroad at the Kharkiv Special Secondary Music School in the Ukraine and the Conservatory of Music in Tblisi, Republic of Georgia. They have performed outreach programs for Carnegie Hall Neighborhood Concerts, Lincoln Center Inc., Chamber Music Society of Lincoln Center, the 92nd Street Y, Midori and Friends, Fondaçion Batuta in Colombia, Queens Symphony, and Young Audiences of Indianapolis. They have been artists-in-residence at New York's Americas Society and New York University.
Known for its many styles of repertoire, QOA has received two ASCAP-CMA Awards for Adventuresome Programming. In 2002, QOA was chosen to receive the first NEA/Chamber Music America Special Commissioning Award to commission and tour Vision III for quintet, electronics and 32 folk instruments, by Judith Sainte Croix. Special programs have included Sephardic music; Native American music; music influenced by jazz; music by women composers; music from Argentina, Colombia, Mexico, and Venezuela; music from the African diaspora; commissions for the Hudson River Quadricentennial; commissions for a program based on the Hubble Space photographs; and commissions based on the memories of seniors in Queens.
The Quintet has recorded four CDs of contemporary American music by Pauline Oliveros, Amy Rubin, Lee Hyla, Christopher Culpo, and Elliott Sharp on Quintet of the Americas Self Portrait (CRI); Roberto Sierra, William Thomas McKinley, and Ilan Rechtman on Discovering the New World (MMC); Jacob Druckman, Steven Mackey, Jeffrey Wood, Ursula Mamlok, Julia Wolfe, and Stuart Balcomb on Never Sing Before Breakfast, (Newport Classics); and Karel Husa (New World). Three additional CDs have also been released - XANGO (music of Villa-Lobos), Souvenirs (works by Barber, Bernstein, Gershwin, Gottschalk, J.P. Johnson, Joplin, and Ory), and Dancing in Colombia (MSR).
For more than three decades, the works of American composer Roberto Sierra have been part of the repertoire of many of the leading orchestras, ensembles, and festivals in the United States and Europe. At the inaugural concert of the 2002 world renowned Proms in London, his Fandangos was performed by the BBC Symphony Orchestra in a concert that was broadcast by both the BBC Radio and Television throughout the UK and Europe. Many of the major American and European orchestras and international ensembles have commissioned and performed his works. Among those institutions are the orchestras of Philadelphia, Pittsburgh, Atlanta, New Mexico, Houston, Minnesota, Dallas, Detroit, San Antonio and Phoenix, as well as the American Composers Orchestra, the New York Philharmonic, Los Angeles Philharmonic, National Symphony Orchestra, Royal Scottish National Orchestra, the Tonhalle Orchestra of Zurich, the Spanish orchestras of Madrid, Galicia, Castilla y León, Barcelona, and others.