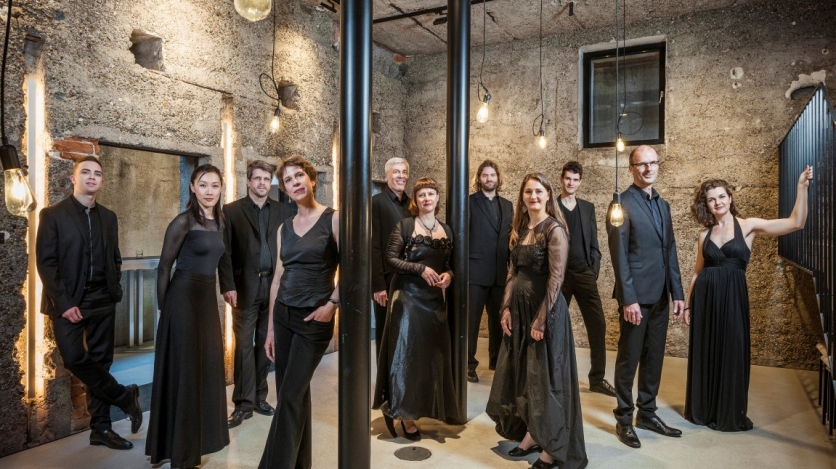 (courtesy of the artist)
Portrait of Dániel Péter Biró: Ethica
Music of the Americas presents a portrait concert of Canada-based composer Dániel Péter Biró, featuring the U.S. premiere of his cycle Ethica, among other works.
Overview
Admission: Free and open to the public. Please register.
Not yet a member? Learn how to become a Cultural Circle member to access this event.
Music of the Americas presents a portrait concert of Canadian composer Dániel Péter Biró, which expands upon the research he conducted as a fellow at the Radcliffe Institute for Advanced Study at Harvard University and as a Guggenheim Fellow.
Program
| | |
| --- | --- |
| HaDavar (The Word) (2011) | alto, piano, and electronics |
| Lizkor Velishkoach (To Remember and to Forget) (2000) | string quartet |
| Shevarim (Breakings) (2007) | piano and electronics  |
| Nulla Res Singularis *US premiere (2017-18) | five voices and five strings |
| Schola Heidelberg and ensemble aisthesis featuring pianist Donald Berman, conducted by Walter Nussbaum |   |
Klangforum Heidelberg.
About the composer
Canadian composer Dániel Péter Biró (b. 1969) is associate professor of composition and music theory at the University of Victoria in Victoria, BC, Canada. He studied in Hungary, Germany, Switzerland, Austria, and Israel before completing his PhD from Princeton University in 2004. His dissertation examines historical relationships between orality, memory, and notational development in Hungarian laments, Jewish Torah recitation, and early Christian plainchant. In 2011 he was visiting professor at Utrecht University, where he researched Jewish and Islamic chant as practiced in the Netherlands. Biró has been commissioned by festivals (Eclat Festival, Darmstadt International Summer Courses, Toronto New Music Concerts, Vancouver New Music), and his music has been performed internationally by such ensembles as Frankfurt Radio Symphony, Ensemble Surplus, ensemble aisthesis, Kai Wessel, the Meitar Ensemble, ensemble recherche, Neue Vocalsolisten, Talea Ensemble, and Schola Heidelberg. He has won international prizes for his work (Kodály Prize, Gigahertz Production Prize, Vocal Music Competition of the ISCM–Austria). In 2013 his composition Kivrot Hata'avah (Graves of Craving) represented Canada at the World Music Days in Vienna, Austria. In 2014–2015 he was a fellow at the Radcliffe Institute for Advanced Study at Harvard University, where he worked on the completion of the composition cycle Mishpatim (Laws) for voices, ensemble and electronics in collaboration with Experimentalstudio. He co-edited The String Quartets of Béla Bartók: Tradition and Legacy in Analytical Perspective (Oxford University Press, 2014). In 2016–2017, he was artist-in-residence at the University of Victoria Centre for Studies in Religion and Society and was named a Guggenheim fellow in 2017.
About the performers
The vocal soloists of the Schola Heidelberg are equally at home with widely differing styles and vocal techniques, including microtonal intonation and vocal and respiratory noise. Under the artistic directorship of their founder Walter Nußbaum, the ensemble frequently performs works from the sixteenth and seventeenth centuries alongside contemporary ones, reflecting a deep concern with historically informed practice and contemporary music. The ensemble's extensive repertoire is the fruit of close collaboration with leading present-day composers. The ensemble frequently performs in its home city, throughout Germany, and at international festivals such the Salzburg Festival, Milano Musica, the Lucerne Festival, the Biennale in Venedig, the Biennale Salzburg and the Festival d'automne (Paris). The Schola has collaborated with Ensemble Modern, the WDR Symphony Orchestra Cologne, the SWR Symphony Orchestra, the Bamberg Symphony Orchestra, the Deutsche Radio Philharmonie, and the Gürzenich Orchestra.

Ensemble aisthesis (Greek, meaning: perception, to understand with your senses) specializes in contemporary music from the twenthieth and twenty-first centuries. Under the artistic direction of founder Walter Nußbaum, the instrumentalists have built an extensive repertoire, from modern classics like Schoenberg, Webern, Boulez, Stockhausen, and Lachenmann, to forward-looking Romantic works by Wagner or Mahler. Commissions are developed in close collaboration with the composers. The ensemble performs regularly in Heidelberg and has been invited to festivals like musica viva in Munich, the Zurich Festival, the Romanische Nacht in Cologne, the Tongyeong International Music Festival in South Korea, the Kasseler Musiktage, and the Basel Music Forum. 
Pianist Donald Berman is recognized as a chief exponent of new works by living composers, overlooked music by 20th century masters, and recitals that link classical and modern repertoires. His two-volume The Unknown Ives and The Uncovered Ruggles (New World) represents the only extant recordings of the complete short piano works of Charles Ives and Carl Ruggles. Other recordings on Bridge Records include the four-CD set Americans in Rome: Music by Fellows of the American Academy in Rome, The Piano Music of Martin Boykan, and Scott Wheeler: Tributes and Portraits. Berman has also recorded The Light That Is Felt: Songs of Charles Ives (with soprano Susan Narucki, New World), Wasting the Night: Songs of Scott Wheeler (Naxos) and Christopher Theofanidis's Piano Concerto (Summitt), as well as music by Su Lian Tan (Arsis), Arthur Levering (New World), Martin Boykan (New World; Bridge), Tamar Diesendruck (Centaur), and Aaron Jay Kernis (Koch). Recent performances by Berman include solo recitals at Bargemusic, National Sawdust, and (le) poisson rouge in New York City. He has also been a featured soloist at Zankel Hall and Rockport Music Festival as well as abroad in Belgrade, Rome, Beiijing, and Israel. A 2011 Radcliffe Institute Fellow, Berman is currently President of The Charles Ives Society. He teaches at the Longy School of Music of Bard College and Tufts University. His principal teachers were Mildred Victor, George Barth, John Kirkpatrick, and Leonard Shure.
In collaboration with: