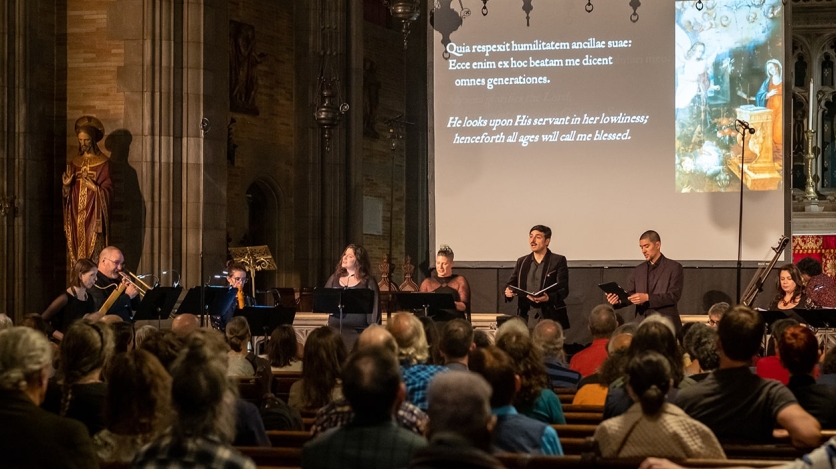 Piffaro. (Image: Roey Yohai Studios)
Piffaro: Entre dos álamos
The early music group, joined by a stellar vocal ensemble, makes its Music of the Americas debut with a program of Latin American 16th-century music. 
Overview
On May 23, we will host this event in person, and tickets are free. 
Registration is CLOSED for this event, but walk-ins are welcome as seats may still be available. 
Video of the concert will be released at a later date. Remember to follow us to watch this and other exciting performances. 
Piffaro and a stellar cast of singers celebrate the arrival of spring with for a program of magnificent music from 16th and 17th century Peru, Bolivia, and Chile in "Entre dos Álamos," including sacred and secular music from cities, missions, and cathedrals. The title of the concert comes from Juan Blas de Castro's setting of a lyrical fragment from Lope de Vega's novel Las fortunas de Diana, in which the envious river Tagus tries to separate two lovers, just awakened by the inevitable arrival of the new season. This piece is included in the Codex Zuola, copied in Peru in the 17th century.
Piffaro (Priscilla Herreid, Grant Herreid, Greg Ingles, Jonatan Alvarado, and Erik Schmalz) will be joined by a stellar cast of guest singers and instrumentalists, including Nell Snaidas, Estelí Gomez, Kirsten Sollek, Andrew Padgett, Daniel Swenberg, Danny Mallon, Héloïse Degrugillier, and Stephanie Corwin .
Piffaro, The Renaissance Band delights audiences with highly polished recreations of the rustic music of the peasantry and the elegant sounds of the official wind bands of the late Medieval and Renaissance periods. Its ever-expanding instrumentarium includes shawms, dulcians, sackbuts, recorders, krumhorns, bagpipes, lutes, guitars, harps, and a variety of percussion—all careful reconstructions of instruments from the period.
Under Artistic Director Priscilla Herreid, the world-renowned pied-pipers of Early Music present an annual subscription concert series in the Philadelphia region, tour throughout the United States, Europe, Canada, and South America, and appear as performers and instructors at major Early Music festivals. Recordings are a significant part of the ensemble's work, and 18 CDs have been released since 1992. Piffaro has been active in the field of education since its inception in 1980, and has been honored twice for its work by Early Music America, receiving the "Early Music Brings History Alive" award in 2003, and the Laurette Goldberg "Lifetime Achievement Award in Early Music Outreach" in 2011. In June 2015, the American Recorder Society honored Piffaro with its Distinguished Achievement Award.
This concert is part of GEMAS, a project of Americas Society and Gotham Early Music Scene devoted to early music of the Americas.

Program Notes
Program
Program created by Priscilla Herreid
Codex Zuola/Manuel Correa (c.1600-1653) arr. Priscilla Herreid 

Que importa que yo lo calle 

Zuola, arr. Jonatan Alvarado 

Porque tan firme os adoro 

Zuola, arr. P. Herreid 

shawm, sackbut, dulcian, voices, recorders, guitar, vihuela, percussion 

Codex Trujillo of Peru (c. 1782)
Trujillo, arr. Tom Zajac 
Trujillo, arr. Zajac 
Trujillo, arr. Zajac 
Trujillo, arr. Zajac 

voices, viola da gamba, guitar, vihuela, percussion, recorders, sackbut, dulcian 

Santiago de Murcia (1673-1739) 
Codex Zuola/Gaspar Sanz (1640-1710), arr. Grant Herreid 
Murcia, arr. G Herreid 

guitar, vihuela, voice, recorders, sackbut, dulcian, shawm, percussion

Codex Zuola 
Zuola, arr. Alvarado 
Zuola, arr. Alvarado 
Zuola, arr. Alvarado 

voices, guitar, vihuela, recorders 

INTERMISSION 

Anonymous, Archivo Musical de Chiquitos, ed. Piotr Nawrot 
Anon., Peruvian hymn
Francisco Guerrero (1528-1599) 
Codex Zuola/Tomás de Herrera (fl.1611-1620) 
Guerrero 

Letanía – Ane Nupaqîma suchetaña

Anon., ed. Piotr Nawrot 

voices, shawms, sackbut, dulcians, lute, guitar, vihuela, percussion 

Tiento obra del 6º Tono por Ut

Estacio de la Serna (c.1570-after 1616) arr. P Herreid 
odd verses: Cristóbal de Belsayaga (c.1575-after 1633) even verses: Guerrero 

plainchant recorders, sackbuts, lute, vihuela, theorbo, voices, shawm, dulcian 

Trujillo, arr. Zajac
Musicians
PIFFARO     
Priscilla Herreid: shawm, recorder, dulcian     
Grant Herreid: tenor, guitar, lute, viola da gamba, pipe, tabor     
Greg Ingles: sackbut, recorder     
Erik Schmalz: sackbut, recorder    
Jonatan Alvarado: tenor, guitar, vihuela
GUESTS     
Nell Snaidas: soprano, guitar     
Estelí Gomez: soprano     
Kirsten Sollek: contralto     
Andrew Padgett: bass-baritone     
Héloïse Degrugillier: recorder     
Stephanie Corwin: dulcian     
Daniel Swenberg: guitar, theorbo     
Danny Mallon: percussion
About the program
by Priscilla Herreid
Outside of cathedral archives, there is little existing source material from 16th and 17th century South America. The first half of our program focuses on three important examples of this rare material. The Codex Zuola, or, Libro de varias curiosidades y Tesoro de Diversas Materias (Book of various curiosities and treasure of various subjects) was compiled by the Spanish priest Gregorio Zuola in late 17th/early 18th century Cuzco. Zuola came to South America in 1666, eventually moving to Cuzco, where he died in 1709. The Codex is essentially a scrapbook that gives a picture of life in Cuzco; contents include recipes, horoscopes, writings about the Franciscan order and conflicts he saw within it, and a large number of poems, 17 of which are set to music. Many of the pieces are anonymous, and while it has been speculated that Zuola likely composed most of them, it's potentially more meaningful to consider the window these pieces open into his world, rather than their authorship. We will explore these pieces in a variety of ways. Dime Pedro, Porque tan firme, and Hijos d'Eva are polyphonic pieces (pieces in multiple voices), and we perform them with voices and instruments playing both together and in response to one another. Most of the music in Zuola is a single line melody, though, without any accompaniment. This does not imply that the melody is the full piece. The musicologist Bernardo Illari theorizes that the melodies are actually tenor lines from lost Spanish polyphonic pieces; that Zuola learned these pieces through oral transmission, and that these Spanish songs are, through Zuola, made American. Jonatan Alvarado has reimagined some of these melody-only songs in this way, writing additional voices to replace the parts that may have once existed; thus Que importa, Malograda fuentecilla, and Pajarillo fugitivo are as new as they are old – still living, breathing works. 
Our next source is the Codex Martínez Compañón or Codex Trujillo, compiled by Baltasar Jaime Martínez Compañón - Bishop of Trujillo, Peru in the late 18th century. The Codex Trujillo is another description of someone's world, this time through the use of watercolor paintings and 20 musical pieces. The Tonada del Chimo or Song of the Chimú (the pre-Hispanic Chimú culture lived along the Peruvian coast) is the only surviving piece in the extinct Mochica language. Castilian Spanish words stand in for words (and concepts) that did not exist in Mochica, such as Jesu Christo. Next are three dances beginning with the Bayle del Chimo, a beautiful solo for violin (or in this performance, recorder) and basso continuo. The Lanchas is a sumptuous and festive dance that we'll perform with alternating recorders and sackbuts, accompanied by plucked strings and percussion. Bayle de danzantes (con pifano y tamboril – "with pipe and tabor") brings the whole band back, including – of course – the three-holed pipe and tabor. Lastly, the Cachua la despedida is a joyfully triumphant song that laughs at death. All of these pieces from Codex Trujillo were arranged by Tom Zajac, and he composed many of the instrumental duet parts (Lanchas and Bayle de danzantes have a particular Tom "stamp." They were originally for one melody part only, with bass). Tom was a Piffaro member for over 20 years. He loved this music very much, and we sense him with us as we perform this music. 
The final source in this set is a guitar manuscript that was discovered in Santiago, Chile only 20 years ago. The Cifras selectas de guitarra from 1722 includes Los Impossibles, featuring our wonderful plucked strings, and El Amor, which Grant Herreid has arranged as a dialogue with a keyboard version entitled Desmayo, here played by the winds. These bookend the song Marizápalos, famous as a song about a girl named Marizápalos, but known also in a variety of settings, including a textless one for guitar. The song was immensely popular, and is also found in Codex Zuola.
We return to Zuola for our final set in the first half, highlighting our superb singers on melody-only pieces from the manuscript. Poco a poco pensamiento, a lament about loving someone who is bad for you, is followed by Malograda fuentecilla, in another four-part reimagining by Jonatan Alvarado. Pajarillo fugitivo leads into Entre dos álamos verdes, a retelling of a poem by Lope de Vega. The two poplars – which would normally entwine themselves – are separated by the jealous river Tagus, and this reminds the poet of a similar story of the lovers Silvio and Elisa. The final verse is the only one that is not set to music in Zuola. These four songs display the beauty inherent in these melodies, and demonstrate a variety of ways in which the melodies can be accompanied. 
The second half of our program is loosely arranged as a church service. The mass was an avenue towards establishing a social and cultural order within the imperial program of the Spanish crown. Within that order, the native musicians were, in a sense, free to contribute their own musical thoughts and personalities, but the music itself, compositional styles, and instruments were European, and the native musicians were subservient in music-making. However, native musicians very quickly mastered the new wind instruments, and on large feast days, churches often overflowed with instrumentalists - sometimes as many as 60 Spanish and native musicians performing together. Letters sent home by colonists remarked that these were finer ensembles than those in the great Spanish cathedrals. Yyaî Jesuchristo comes to us from the Jesuit missions of the Chiquitos in Bolivia. This chant, and the litany that ends our set (Ane Nupaqîma suchetaña) are in the Chiquitano language. The availability of the music is largely thanks to the investigative and editing work of Father Piotr Nawrot, the Roman Catholic priest and musicologist who for many years directed the International Festival of American Renaissance and Baroque Music, "Misiones de Chiquitos," where Piffaro has had the unforgettable experience of performing. Maria todo es Maria was printed in the French explorer Amédée François Frézier's journal of his time on the Pacific coast (Relation du voyage de la Mer du Sud). Frézier gives two examples of Peruvian popular music, one being this devotional text set to a popular tune. The liturgical and musical practices of the cathedral in Seville were the models for the new American cathedrals, thus Francisco Guerrero's music was regularly imported by Spanish priests – both to be sung in church, and to be used as a compositional model for native musicians. Guerrero's Liber vesperarum – a collection of music to be sung at a Vespers service – was to be found at Lima Cathedral at least into the 20th century. The Beatus vir from that collection includes a handwritten note with directions for the dulcian player! We visit Zuola one more time in the middle of the set, with another of his polyphonic pieces. Hijos d'Eva was written by the Peruvian composer Tomás de Herrera. 
Estacio de la Serna was born in Spain but eventually became maestro de capilla and then organist of Lima Cathedral. Only two of his pieces survive, both tientos (instrumental fantasies written solely, by this time, for keyboard instruments). This tiento on the 6th tone took minimal arranging to work beautifully on recorders, sackbuts, and plucked strings. One of the first pieces of polychoral music written in Latin America is this Magnificat by the Spanish composer Cristóbal de Belsayaga. It begins and ends in glorious 8-part harmony, with some verses set for smaller forces. It was common practice with the Magnificat (and other many-versed hymns) to sing composed polyphonic music for half of the verses and chant the rest, as they would get very long otherwise – too long to be practical in a church setting. Belsayaga's Magnificat sets only the odd verses, but since this is a concert and the priest isn't waiting for us to finish, I decided to have polyphony for some of the even verses, as well! Guerrero wrote a setting of the even verses in the same mode, so we've woven the two together and left three verses to be chanted. Our wind instruments and singers combine in multiple ways throughout the Magnificat, displaying the various sound combinations that are possible when instrumentalists are involved in sacred music-making, as they were – heavily – in South America.  
We return to the Codex Trujillo for our final piece. The Cachua Serranita is a joyful, spirited dance with text praising the Virgin Mary. We sing the refrain multiple times. The music is a little tricky, but the words of the refrain are "na na na na" etc, so if you feel comfortable after a couple refrains have gone by, join in! 
It is a privilege to perform this music, and a duty to program and perform it thoughtfully. In the liner notes to his excellent CD Pajarillos Fugitivos, Jonatan Alvarado writes, "This repertoire's history, much like that of its ancient colonial homeland, is one filled with all sorts of encounters, marked by the trauma of colonial oppression but also determined by the imbalances and inequities, inevitable to a modern land born under imperialist rule. [This music is] still relevant and its capacity to move musicians and audiences remains intact. To engage with this music – and, for that matter, with any music of the past – means to enter a dialogue with what is still alive in this music and within us: our sensibilities, the language in which we communicate and think, and our cultural imagination. What else, then, have we left to do, but to make it ours and spread it, so that it may live on in others?" I am grateful for Jonatan's extraordinary assistance as I put this program together – for his guidance on everything related to the Codex Zuola, his advice on text setting, his help with the program notes, and so much else that is difficult to quantitatively measure. For two years, Nell Snaidas has answered the phone to my many text- and singing-related questions, and the heart and soul which she pours into this repertoire is an inspiration. And my sincere thanks go to Professor Américo Mendoza-Mori for his wisdom and thoughtful guidance as I researched music of indigenous cultures.
About the musicians
Piffaro, The Renaissance Band, "Widely regarded as North America's masters of music for Renaissance wind band" (St. Paul Pioneer Press), has delighted audiences since its founding in 1980 by Joan Kimball and Bob Wiemken. Under the current direction of Artistic Director Priscilla Herreid, the ensemble recreates the elegant sounds of the official wind bands and the rustic music of the peasantry from the late Medieval and Renaissance periods. Through concert appearances throughout North and South America and Europe, nineteen recordings, and radio and internet broadcasts, its music has reached listeners as far away as Siberia. The ensemble, active in the field of education since its inception, has received two Early Music America awards and the American Recorder Society's Distinguished Artist Award. Founders Kimball and Wiemken received Early Music America's Howard Mayer Brown Award for Lifetime Achievement in the Field of Early Music in 2021. 
Artistic Director Priscilla Herreid is a musician in the ancient and living tradition of woodwind doubling. Her formative years studying recorder at Philadelphia's Settlement Music School led her to the High School for Creative and Performing Arts. She studied oboe with Louis Rosenblatt at Temple University, where she began playing Renaissance wind instruments in Temple's Collegium, directed by Bob Wiemken. After further studies in baroque oboe with Gonzalo Ruiz at The Juilliard School, she became a member of Piffaro in 2007. Now as Artistic Director, Priscilla has the honor of continuing Piffaro's mission of bringing the renaissance wind band and its repertoire to ever wider audiences. Priscilla is also an avid educator, teaching at the Madison and Amherst Early Music Festivals and coaching existing ensembles in the art of playing renaissance polyphony – a form she believes is inherently satisfying for amateurs and professionals at every level. Priscilla regularly performs on renaissance winds, early oboes, and recorder with many other prominent early music ensembles. Her appearances include the Handel + Haydn Society, Trinity Baroque Orchestra, Tenet Vocal Artists, the Waverly Consort, The Metropolitan Opera, Portland Baroque, Venice Baroque, the Gabrieli Consort, The City Musick, Philharmonia Baroque, Boston Baroque, the Dark Horse Consort, Ex Umbris, the Boston Early Music Festival Orchestra, American Bach Soloists, The Bishop's Band, New York Baroque Inc., The Sebastians, Les Delices, Ruckus, and Mr. Jones and the Engines of Destruction. She also accompanies silent films with Hesperus, sings the Latin Mass around New York City, and was part of the onstage band for the Broadway productions of Twelfth Night and Richard III starring Mark Rylance. 
Grant Herreid performs frequently on early reeds, brass, strings and voice with many US early music ensembles. A specialist in early opera, he has played theorbo, lute and Baroque guitar with Chicago Opera Theater, Aspen Music Festival, Portland Opera, New York City Opera, and others. A noted teacher and educator, he is the recipient of Early Music America's Laurette Goldberg award for excellence in early music outreach and education. On the faculty at Yale University, he leads the Yale Collegium Musicum and the Yale Baroque Opera Project. Grant also directs the New York Continuo Collective, and often sings Gregorian chant for the Tridentine mass. He has created and directed several theatrical early music shows and devotes much of his time to exploring the esoteric unwritten traditions of early music with the ensembles Ex Umbris and Ensemble Viscera. 
Greg Ingles attended Interlochen Arts Academy, Oberlin Conservatory and SUNY Stony Brook. Before his career in early music, Greg was the Solo Trombone in the Hofer Symphoniker. He enjoys unearthing rarely heard gems as the music director of the early brass ensemble Dark Horse Consort. Greg is a member of Piffaro and made his Carnegie Hall debut with Quicksilver. He has played with such ensembles as the American Bach Soloists, Philharmonia Baroque, Concerto Palatino, The Handel + Haydn Society of Boston, Portland Baroque and Tafelmusik. He played with the Globe Theater's Shakespeare on Broadway productions of Twelfth Night and Richard III. Greg is currently the Lecturer in Sackbut at Boston University and teaches at the Madison Early Music Festival each summer. 
Erik Schmalz, a specialist in trombones and performance from the Renaissance to the Romantic periods, works internationally with many prestigious ensembles. Among others, these include Dark Horse Consort, Tafelmusik, Piffaro, Ciaramella, Green Mountain Project, The Toronto Consort, Trinity Baroque Orchestra, Opera Lafayette, and Handel + Haydn Society. Performing on period trombones, renaissance slide trumpet, and recorder, his versatility also led him to be cast as one of the seven instrumentalists in the Globe Theater's Shakespeare on Broadway productions of Richard III and Twelfth Night. Erik received degrees in trombone performance from Oberlin Conservatory of Music where he studied with Ray Premru, and from the University of Cincinnati College-Conservatory of Music with Tony Chipurn. 
Jonatan Alvarado started studying guitar in his native Mercedes in the province of Buenos Aires, and later followed composition and conducting studies at the Universidad Nacional de La Plata. He graduated in voice and lute from the Conservatorium van Amsterdam, under Xenia Meijer and Fred Jacobs, respectively. He further specialized in medieval and renaissance repertoires with Dr. Rebecca Stewart. Alvarado is director and co-founder of the Ensemble Seconda Prat!ca, dedicated to renaissance and early baroque Latin American music. He is also a member of Da Tempera Velha, Sollazo Ensemble and Concerto di Margheritta, and sings regularly with lutenist Ariel Abramovich. He often collaborates with prominent groups such as La Chimera, Club Medieval, Ensemble Phoenix, Constantinople and Armonía Concertada. He has appeared as a soloist in the most important European stages and festivals, from the Abbey of Royaumont, to the Bimhuis Amsterdam and the Vienna Konzerthaus. Jonatan Alvarado's eclectic musical restlessness extends his artistic activity to completely disparate projects, always under the common denominator of working from historical sources and the use of historical instruments, as in the recovery of the unpublished songbooks of the Spanish Republican exile together with Samuel Diz, or the medieval musical archive of the Cathedral of Tui. His first solo CD, "Pajarillos Fugitivos" (Ayros 2018) was nominated for the International Classical Music Awards in the category of Best Early Music Vocal Album. His latest album 'Voces de Bronce' is dedicated to early 20th-century Argentine traditional music. Upcoming recordings include the debut album of Da Tempera Velha, which will revisit the famous Cancionero de Palacio, and an album with Ariel Abramovich focusing in the 16th century archive of Huehuetenango, Guatemala. 
Guest Artists
Bassoonist Stephanie Corwin enjoys an active career performing and teaching music of the past four centuries on modern and historical instruments. Her vocation has taken her throughout the US and abroad, simultaneously satisfying her love for travel and her desire for connecting with people on and off the stage. Highlights include solo appearances at Lincoln Center and Carnegie Hall, chamber music performances at the Staunton and Yellow Barn festivals, and concerts with Philharmonia, Trinity Wall Street, and the Handel and Haydn Society. Stephanie is the inaugural winner of the Meg Quigley Vivaldi Bassoon Competition and has received prizes at the Fischoff, Coleman, and Yellow Springs chamber music competitions. After graduating from Davidson College, she earned her MM from Yale University and DMA from Stony Brook University, studying with Frank Morelli at both institutions. Intrigued by performance practice, she completed a Performer Diploma in historical bassoons at Indiana University with Michael McCraw. Stephanie has served on faculty at the University of Virginia, the Chamber Music Conference, and Amherst Early Music Festival, and will be teaching at the 2023 Tafelmusik Baroque Summer Institute. 
Héloïse Degrugillier has worked extensively as both a recorder and traverso performer, and teacher throughout Europe and the United States. She has performed with leading period ensembles, including Handel and Haydn, the Boston Camerata, Boston Early Music Festival and Tempesta Di Mare.Héloïse also enjoys an active teaching career. She teaches at Tufts University and Rhode Island College. She is the president and music director of the Boston Recorder Society. She has completed her studies in the Alexander Technique and has a Masters in Music from the Utrecht Conservatory in the Netherlands. 
Praised for her "clear, bright voice" (New York Times) and "artistry that belies her young years" (Kansas City Metropolis), soprano Estelí Gomez is quickly gaining recognition as a stylish interpreter of early and contemporary repertoires. Highlights of the 2022-23 season include: performances with the NY Philharmonic and Grammy-winning Roomful of Teeth in the new David Geffen Hall; recording a Spanish translation of Handel's Messiah with Bach Collegium San Diego; the world premiere of chamber opera Dreams Have No Borders in Ashland, OR; solo appearances with A Far Cry, Madison Bach Musicians, Westminster Choir College, Jacksonville Symphony Orchestra, and iSing Silicon Valley; teaching residencies at University of Oregon and Oregon Bach Festival; and concerts at Lincoln Center and the Baryshnikov Arts Center, with additional tours throughout Europe and Portugal, with Roomful of Teeth. Roomful's third studio album, Rough Magic, will be released in May 2023. Originally from Watsonville, California, Estelí received her Bachelor of Arts with honors in music from Yale College, and Master of Music from McGill University, studying with Sanford Sylvan. Estelí is thrilled to be teaching at Lawrence University as assistant professor of voice, in addition to continuing her work as a performer. 
Born in NYC, Danny Mallon holds Bachelor's and Master's of Music degrees in percussion from the Mannes College of Music, where he has been a faculty member since 1989. He has played on grammy nominated and Juno awarded period instrument recordings and performs with period ensembles in the US and Canada. He traveled as a musical ambassador for the US Dept. of State from 2009-2012. 
Praised for his "powerful baritone and impressive vocal range" (Boston Music Intelligencer) and as a "musicianly, smooth vocalist, capable in divisions" (Opera News Online), bass-baritone Andrew Padgett is an accomplished interpreter of early music from medieval to baroque repertoire, and has been featured as a soloist in concert venues worldwide, such as Alice Tully Hall at Lincoln Center, NYC, the Kennedy Center for the Performing Arts in Washington, D.C., and the Esplanade Concert Hall in his hometown, Singapore. He is a frequent collaborator with ensembles such as TENET, Pegasus Early Music, Musica Sacra, and Brandywine Baroque, both as an ensemble artist and a soloist. Andrew holds a B.S. in physics, an M.M. in voice from UC Santa Barbara, and an M.M. in Early Music, Oratorio, and Chamber Ensemble from Yale University's Institute of Sacred Music. After several years in New York City, as a member of the internationally-acclaimed Saint Thomas Choir of Men and Boys, he now lives in Boston with his wife and son, where he sings in Emmanuel Music's long-running Bach Cantata Series, under the direction of Ryan Turner. In his free time, Andrew is an avid comic book reader, miniature painter, and homebrewer.
Grammy-nominated artist Nell Snaidas has been praised by the New York Times for her "beautiful soprano voice, melting passion" and "vocally ravishing" performances. Of Uruguayan-American descent, Nell is recognized for her specialization in Latin American/Spanish and Italian baroque music and has sung in venues ranging from Tanglewood (Boston Early Music Festival) to the missions of Bolivia. Favorite projects include co-directing The Bishop's Band with Tom Zajac in his beautiful program "Trujillo Codex of Peru", concertizing with Ex Umbris, and singing in Grant Herreid's "Don Quixote" with Piffaro. This season Nell appeared at Carnegie Hall with El Mundo (Richard Savino, dir.) in a program of music from the Archives of the Guatemala Cathedral and was the musical and stage director for the first known opera to have been performed in the Americas, La Púrpura de la Rosa (by Tomás Torrejón y Velasco 1701) for Baroque Chamber Orchestra of Colorado. With Sebastián Zubieta, Nell is the Co-Artistic Director of GEMAS: Early Music of the Americas, which is a project of the Gotham Early Music Scene and Americas Society. Nell is overjoyed to be appearing with Piffaro in Priscilla Herreid's first season as artistic director.  
Contralto Kirsten Sollek has been called " …an appealingly rich alto" (The New York Times) and an alto with "elemental tone quality" (The Philadelphia Inquirer). In the genre of historical performance, she has been featured with Bach Collegium Japan, Seattle Baroque Orchestra, Musica Angelica Baroque, Concerto Palatino, and Boston Baroque. Also active in contemporary music, Ms. Sollek has worked extensively with John Zorn, and has performed regularly with groups such as Alarm Will Sound, Ensemble Signal, Sandbox Percussion, and NOVUS New York. Operatic credits include the role of Woman (written for her) in Han Lash's Desire, the Dying Cow in Lisa Bielawa's serial video opera, Vireo, Bradamante in Handel's Alcina with the Teatro Municipal de Santiago, Rosmira in Handel's Partenope with Boston Baroque, and the title role (cover) in Handel's Rinaldo for the Glyndebourne Festival. 
Daniel Swenberg plays a wide variety of lutes and guitars: baroque, renaissance, classical/romantic, small, medium, and large. Chief among these is the theorbo-- the long lute that you are either wondering about or overhearing your neighbor discuss. He plays with myriad groups, mostly in the EZ-Pass territories, California, and Toronto. He is on faculty at Juilliard's Historical Performance program. His programing integrates and emphasizes music with the history, sciences, economics, politics, and broader culture of the time, from Weiss to Vice.
Funders
The MetLife Foundation Music of the Americas concert series is made possible by the generous support of Presenting Sponsor MetLife Foundation.
The Spring 2023 Music program is also supported, in part, by by the Howard Gilman Foundation, and by public funds from the New York City Department of Cultural Affairs in partnership with the City Council and from the New York State Council on the Arts with the support of the Office of the Governor and the New York State Legislature.
Additional support comes from the National Endowment for the Arts, the Association of Performing Arts Professionals' ArtsForward program, made possible through support from The Andrew W. Mellon Foundation, New Music USA's Organizational Development Fund in 2022-23, the Alice M. Ditson Fund of Columbia University, The Aaron Copland Fund for Music, and The Amphion Foundation, Inc.