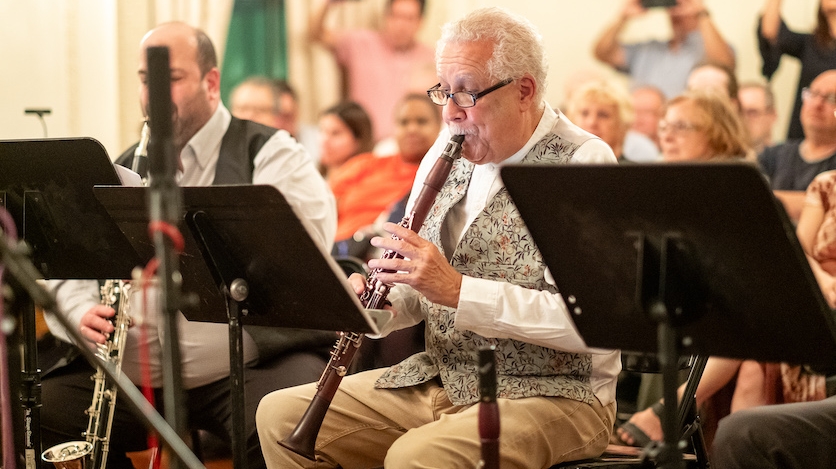 Paquito D'Rivera on Music of the Americas with Gregorio Uribe Big Band. (Image: Roey Yohai Studios)
Paquito D'Rivera: The Magical World of the Clarinet
The legendary Cuban clarinetist presents his favorite music for the instrument. 
Overview
On July 14, we will host this event in person, and tickets are free. 
Registration for this event is CLOSED as tickets are SOLD OUT.
Video of the concert will be released at a later date. Remember to follow us to watch this and other exciting performances. 
Paquito D'Rivera is a fundamental musician in the worlds of Latin jazz and classical music, as a composer and instrumentalist. He is a NEA Jazz Master, multi-Grammy Award winner, and recipient of countless international awards. D'Rivera is also one of the great clarinet players of his generation, with a seven-decade career in Cuba, the United States, and the world. 
For his return to Music of the Americas, Paquito created a tribute to his beloved instrument and its music, with original pieces and arrangements for a clarinet ensemble that includes some of his closest collaborators. 
Musicians
Paquito D'Rivera, Michelle Camargo, Juan Ruiz, Claudia Hernández, Scott Robinson, David Gould, Andrew Hadro, Diana Álvarez, Christopher Cullen: clarinets 
Camila Cortina: piano   
Takafumi Nikaido: percussion
Program Notes
The Magical World of the Clarinet 
The clarinet is a single-reed musical instrument in the woodwind family that has its roots in early instruments used in Ancient Greece and Ancient Egypt. The modern clarinet developed from the chalumeau, a Baroque instrument similar to a recorder, but with a single-reed mouthpiece. Lacking a register key, the chalumeau was played mainly in its fundamental register, with a limited range of about one and a half octaves. So, accordingly to the frequently handy Wikipedia, around the beginning of the 18th century, the German instrument maker Johann Christoph Denner (or possibly his son Jacob Denner) equipped a chalumeau in the alto register with two keys, one of which enabled access to a higher register. A second key, at the top, extended the range of the first register to A4 and, together with the register key, to B♭4. Later on, Denner also lengthened the bell and provided it with a third key to extend the pitch range down to E3. After Denner's innovations, other makers added keys to improve tuning and facilitate fingerings. The clarinet of the Classical period typically had five keys, and Mozart suggested extending the range downwards by four semitones to C3, which resulted in the basset clarinet, first built by Theodor Lotz, that was about 18 centimeters longer. 
In 1791 Mozart composed his legendary Concerto for Clarinet and Orchestra in A for that instrument, with passages ranging down to C3. By the time of Beethoven, (c. 1780–1820) the clarinet was a fixed member in the orchestra, and in the late 1830s German flute maker Theobald Böhm invented a key system for the flute that was adapted to the clarinet between 1839 and 1843 by French clarinetist Hyacinthe Klosé in collaboration with instrument maker Louis Auguste Buffet. A great variety of keys have been developed, many of them built around modifications to the basic Böhm system, including the Mazzeo, McIntyre, the Benade NX, and the Reform Böhm, combined with a German system mouthpiece and bore. But invariably, from the early innovations of the Denners up to these days, the second register of our instrument doesn't begin –as with other woodwind instruments –an octave above the first, but oddly enough, an octave and a perfect fifth above the first. In other words: "a confusing and very real pain in the neck" would be a pretty accurate way of defining this musical contraption comprised of 5 different sections, where the upper body has nothing to do with its lower counterpart. 
Nevertheless, and against all odds, our versatile "Licorice Stick" has been an endless source of inspiration for the likes of Mozart, Brahms, Weber, Daniel Freiberg, Louis Spohr, Lalo Schifrin, Claude Debussy, Carlos Franzetti, Félix Guerrero, Igor Stravinsky, Leonard Bernstein, and so many composers of all times, as well as serving as a great tool to illustrious instrumentalists of all genres and music styles, form Anton Stadler, Richard Mühlfeld, Ernesto Cavallini, and Carl Baerman to Reginald Kell, Jimmy Noon, Benny Goodman, Larry Combs, Jimmy Hamilton, Stanley and Naomi Drucker, Buddy de Franco, David Shifrin, Artie Shaw, Tony Scott, Ivo Papazov, Anat Cohen, Julian Bliss, Eric Dolphy, Paul and Sabine Meyer, Scott Robinson, Jimmy Giuffre, Luis Rossi, Ricardo Morales, Jonathan Colter, Pete Fountain, Charles Neidich, Eddie Daniels, Giora Feidman, and Ken Peplowski. 
Ever since, an impressive array of Jazz, folk and dance musicians, chamber and orchestra players, teachers, luthiers and a vast variety of festivals, publications and clarinet ensembles have proliferated all around the world, so "The Magic World of the Clarinet" is our heartfelt tribute to the practitioners of this beloved instrument that the ineffable Frank Wess so cleverly described as been "invented by 5 men, that never met!"
Paquito D'Rivera, July 2023
Funders
The MetLife Foundation Music of the Americas concert series is made possible by the generous support of Presenting Sponsor MetLife Foundation. 
The Spring 2023 Music program is also supported, in part, by the Howard Gilman Foundation, by public funds from the New York City Department of Cultural Affairs in partnership with the City Council and from the New York State Council on the Arts with the support of the Office of the Governor and the New York State Legislature, and The Fan Fox and Leslie R. Samuels Foundation.