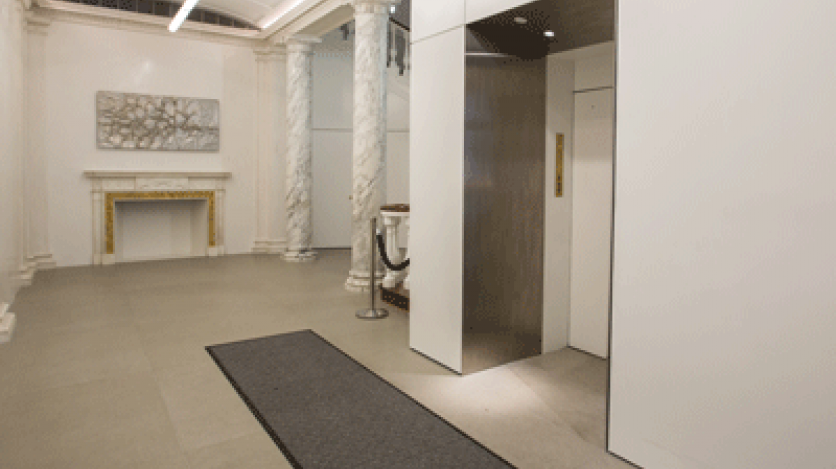 Americas Society David Rockefeller Atrium. (Image: Angel Jusay)
Panel Discussion - Spatial Acts: Americas Society Commissions Art
On October 7, Americas Society's Visual Arts opens its new exhibition with the four featured artists engaged in a panel discussion.
Overview
Join Americas Society Visual Arts for its exhibition opening and panel discussion to open the fall season. Admission to this event is free of charge; registration is required.
The exhibition Spatial Acts: Americas Society Commissions Art features works of artists Esvin Alarcón Lam (Guatemala, 1988), Elena Damiani (Peru, 1979), Marcius Galan (Brazil, 1972) and Jorge Pedro Núñez (Venezuela, 1976), who were selected to be part of Americas Society's new initiative to commission an in-situ artwork especially conceived for the David Rockefeller Atrium, located in the organization's landmark building in Park Avenue. The four artists will participate in a panel discussion with Manuel Cirauqui, writer and assistant curator at Dia Foundation, and Gabriela Rangel, curator and director of Visual Arts at the Americas Society.
At the beginning of 2014, a Nominating Committee put together a list of nineteen artists from the Americas who were invited to submit proposals for the David Rockefeller Atrium. During the second stage of the process, a selection committee designated four semi-finalists whose recent works are gathered in this group show. The name of the winning artist will be announced in November. The permanent piece will be placed in an adjacent section to the entrance of the Americas Society's visual arts gallery, whose history includes the first U.S. exhibitions of many artists from the Americas. The artwork will serve as a testament to the tradition of the Americas Society's Visual Arts program and its commitment to foster creativity and experimentation for the engagement of diverse audiences.