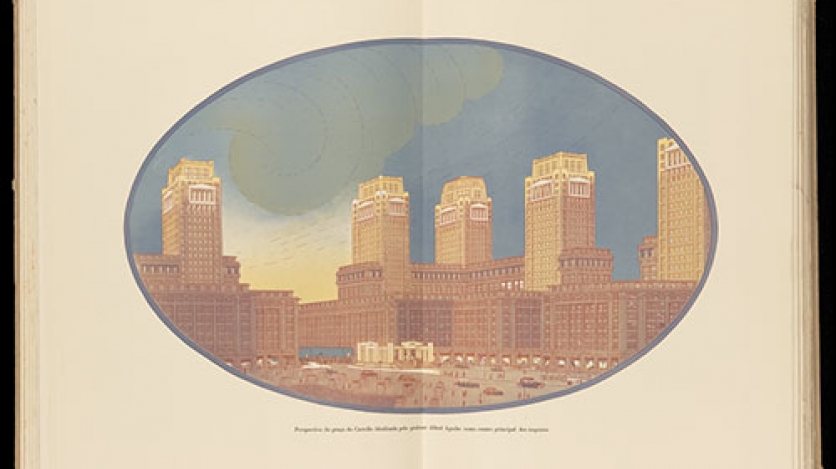 Panel discussion: Planning the Metropolis in Latin America, 1830–1930
On the eve of the exhibition opening, cocurators Maristella Casciato and Idurre Alonso, along with professors Diana Agrest, Luis Carranza, Galia Solomonoff, and Patricio del Real examine the nineteenth- and early twentieth-century growth and transformations of urban centers in Latin America.
Overview
Admission: $5 for Americas Society members, $10 for non-members. Registration link will be shared soon.
On the eve of the opening of The Metropolis in Latin America, 1830–1930, cocurators Maristella Casciato and Idurre Alonso, along with professors Luis Carranza (Columbia GSAPP), Patricio del Real (Harvard University), and Galia Solomonoff (Columbia University), examine the nineteenth- and early twentieth-century growth and transformations of urban centers in Latin America.
Learn more about the exhibition The Metropolis in Latin America, 1830–1930.
Follow the discussion on Twitter: #MetropolisLatAm | @ASCOA
Event Information: Veronica Flom | vflom@as-coa.org | 1-212-277-8367
Media Relations: mediarelations@as-coa.org | 1-212-277-8333
Membership Information: as-coa.org/CulturalCirclemembership@as-coa.org
---
Idurre Alonso is associate curator of Latin American collections at the Getty Research Institute. Previously, she was curator at the Museum of Latin American Art (molaa) (2003-2014), where she organized numerous exhibitions including LA Presencia. Latin American Art in US Collections (2007); Changing the Focus. Latin American Photography 1990-2005 (2010) and Play with Me: Interactive Installations (co-curated with Cecilia Fajardo-Hill and Selene Preciado). In 2015 she was awarded together with Selene Preciado the Emerging Curator Award from Los Angeles Contemporary Exhibitions, which culminated in the exhibition Customizing Language (2016) and a publication with the same title. Alonso curated two exhibitions for Pacific Standard Time: Los Angeles/Latin America Initiative: The Metropolis in Latin America (1830-1930) co-curated with Maristella Casciato for the Getty Research Institute, and Photography in Argentina, 1850-2010: Contradiction and Continuity co-curated with Judith Keller for the Getty Museum. Idurre's research interests include experimental practices in photography from Latin America, the intersections between art and experimental poetry, the iconography and development of national narratives since nineteenth century, and issues of power hierarchies in emerging art from Latin America. She obtained her BA and MA in art history from Universidad del País Vasco, Spain. Her Ph.D. dissertation (in progress) focuses on conceptual photographic practices in Latin America.
Luis E. Carranza is an adjunct associate professor at Columbia University's Graduate School of Architecture, Planning and Preservation. He obtained his B.Arch. at the University of Southern California and his Ph.D. in architectural history and theory from Harvard University. His research and published work focuses primarily on modern art, cinema, and architecture in Latin America (with an emphasis on Mexico) and can be found throughout his publications such as Architecture as Revolution: Episodes in the History of Modern Mexico (University of Texas Press, 2010) and Modern Architecture in Latin America: Art, Technology, Utopia (with Fernando Lara, University of Texas Press, 2015). His current research addresses the work of the Mexican radical functionalist architect and painter Juan O'Gorman to be published in Latin America: Experiments in (Radical) Functionalism (forthcoming, 2018) and the history of Carlos Lazo's design and production of "civilized caves" for the Department of Communications and Public Works in Mexico.
Maristella Casciato is senior curator of architecture at the Getty Research Institute. She was Mellon Senior Fellow at the Canadian Center for Architecture, Montreal (2010) prior to be appointed associate director of research at the same institute (2012-2015). She has taught history of architecture in Italy and in the United States. Since the late 1990s she has been engaged in a research project on Pierre Jeanneret and the planning of Chandigarh in post-colonial India. On this topic she has curated a few exhibitions and contributed to the publication of catalogues and essays.
Patricio del Real works on modern architecture and its transnational connections with a focus on Latin America. Before teaching at Harvard, he was visiting associate research scholar and lecturer in the program of Latin American studies at Princeton University. His current book project examines how postwar politics and modern architecture came together at the Museum of Modern Art and its Department of Architecture and Design to construct and transform the idea of Latin America. He co-edited the anthology, Latin American Modern Architectures: Ambiguous Territories (Routledge, 2012), and Taking Positions: Architects Write from Latin America, an anthology of original documents to be published in MoMA's Documents series. He co-curated Latin America in Construction: Architecture 1955-1980, which received the 2017 Philip Johnson Exhibition Catalogue Award, recognizing excellence of architectural history scholarship in exhibition catalogues.
Galia Solomonoff is the founding principal of Solomonoff Architecture Studio, a design firm established in Chelsea in 2004. Since its inception, the firm has been dedicated to the integration of contemporary art and architecture. With artist Robert Irwin, Solomonoff and her previous firm, OpenOffice, converted a 1929 Nabisco box-printing factory into Dia:Beacon, a daylight-only minimal art museum in Beacon, New York. Solomonoff currently teaches at the Graduate School of Architecture, Planning and Preservation (GSAPP) at Columbia University and lectures on topics of art, public housing and Latin American Architecture. Solomonoff has worked with over 40 artists, designing site specific, multi-media, permanent and temporary art exhibitions. Her architectural practice seeks to make art accessible to all publics. As a member of Studio X and Columbia's Global Centers, Solomonoff travels regularly with students and engages in discussions of art, architecture and how to further their public democratic mission in the cultural and political sphere. Solomonoff is married to artist Fabian Marcaccio, and lives with her family in New York City.
---
Image: Perspectiva da praça do Castello idealisada pelo professor Alfred Agache como centro principal dos negocios (Perspective view of the Castle Square designed by Professor Alfred Agache as the main business center), Alfred Donat Agache. From Cidade do Rio de Janeiro: Remodelação-Extensão e Embellezamento (Paris, 1930), pp. 176–77. The Getty Research Institute, 85-B10639