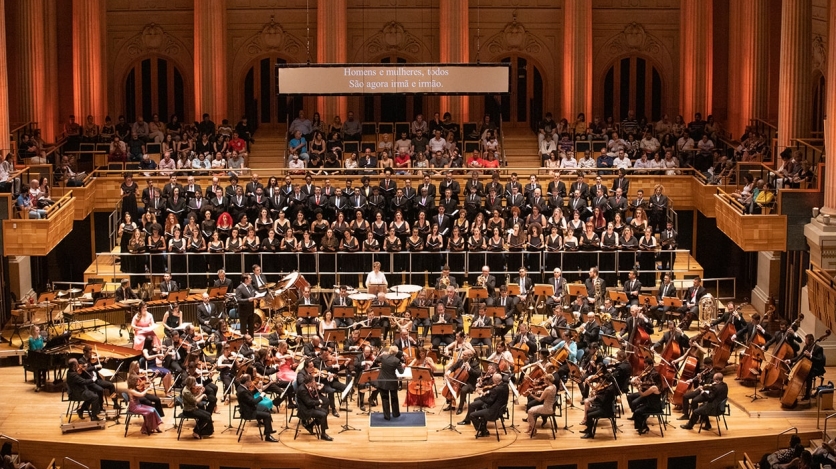 OSESP Orchestra and Choir with Marin Alsop. (Image: Mariana Garcia)
OSESP in Conversation: The Amazon Concert – Sights and Sounds of Brazil
The leaders of the renowned Brazilian orchestra discuss the ensemble's latest multimedia project. 
Overview
On October 15, we will host this event in person, and tickets are free. Please email Gina Portale to reserve your seat. 
Video of the concert will be released at a later date. Remember to follow us to watch this and other exciting performances. 
Founded in 1954, the Orquestra Sinfônica do Estado de São Paulo (OSESP) is the leading orchestra in Latin America. Thierry Fischer has been principal conductor and music director since 2020, succeeding Marin Alsop, who held the position from 2012–2019. The orchestra performed at major European festivals, and in 2019 toured China and Hong Kong. In the same year, it launched Carnegie Hall's All Together: A Global Ode to Joy project, performing Beethoven's Ninth Symphony with a new Portuguese translation of the Ode to Joy. In 2018, its recording of the symphonies of Villa-Lobos on NAXOS, conducted by Isaac Karabtchevsky, won Concerto magazine's Grand Prize and the Prêmio da Música Brasileira.
The OSESP and Marin Alsop perform two concerts at Carnegie Hall this fall. On October 15, they will present The Amazon Concert – Sights and Sounds of Brazil, an immersive work that includes music by Villa-Lobos, Clarice Assad, Tom Jobim, Philip Glass, and others, as images of the Brazilian tropical forest as seen through the eyes of its myriad species flash above the stage. This conversation between conductor Marin Alsop, interdisciplinary creator Marcello Dantas, OSESP's Artistic Director Arthur Nestrovski, and Fundação OSESP President Marcelo Lopes, will explore the artistic work—both musical and visual—involved in the groundbreaking multimedia project.
In collaboration with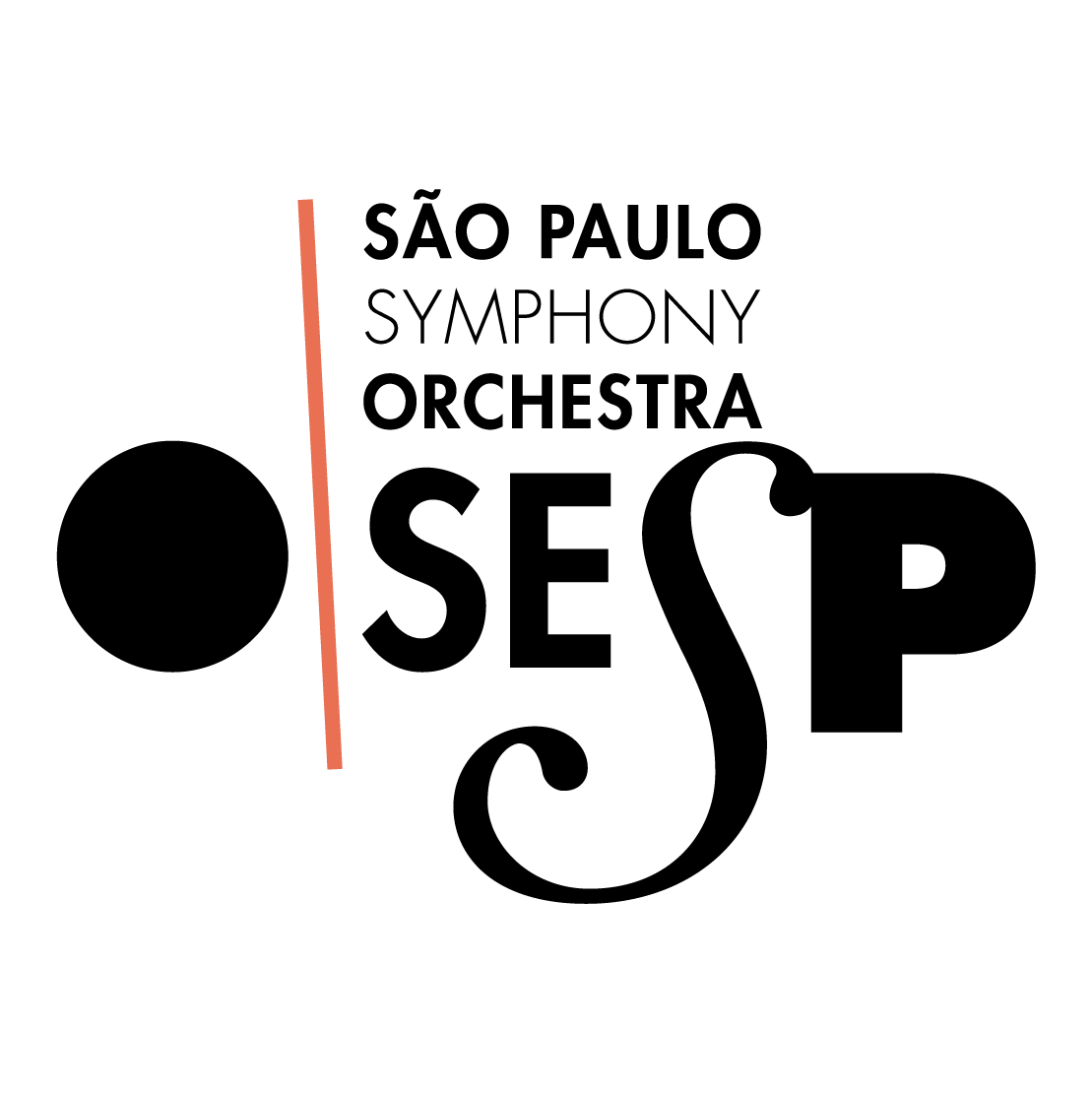 Program Notes
About the speakers
A conductor of vision and distinction, Conductor of Honor Marin Alsop represents a powerful and inspiring voice. Convinced that music has the power to change lives, she is internationally recognized for her innovative approach to programming and audience development, deep commitment to education, and advocacy for music's importance in the world. The 2021/22 season marks Alsop's third as Chief Conductor of the ORF Vienna Radio Symphony Orchestra, which she leads at Vienna's Konzerthaus and Musikverein, and on recordings, broadcasts and tours. As Chief Conductor and Curator of Chicago's Ravinia Festival, she conducts the Chicago Symphony Orchestra's summer residencies, formalizing her long relationship with Ravinia and the orchestra. In 2021, Alsop became Music Director Laureate and OrchKids Founder at the Baltimore Symphony Orchestra. This concluded her outstanding 14-year tenure as Music Director, in which she led the orchestra on its first European tour in 13 years, on multiple award-winning recordings and in more than two dozen world premieres, alongside founding OrchKids, its music education program for thousands of the city's most disadvantaged young people. In 2019, after seven years as Music Director, Alsop became Conductor of Honour of the São Paulo Symphony Orchestra, where she continues conducting major projects each season. Alsop has longstanding relationships with the London Philharmonic and London Symphony orchestras, and regularly guest conducts such major international orchestras as the Cleveland Orchestra, Philadelphia Orchestra, Gewandhausorchester Leipzig, Filarmonica della Scala, Orchestra of the Age of Enlightenment, and the Danish National, Budapest Festival and Royal Concertgebouw orchestras. In 2021/22 she tours Austria, England, and a five-concert tour of Spain with ORF Vienna Radio Symphony Orchestra, as well as return to the Orchestre de Paris, Frankfurt Radio Symphony, NDR Elbphilharmonie, the Gothenburg Symphony and London's Philharmonia Orchestra. Recognized with multiple Gramophone Awards, Alsop's extensive discography includes recordings for Decca, Harmonia Mundi and Sony Classical, and acclaimed Naxos cycles of Brahms with the London Philharmonic, Dvořák with the Baltimore Symphony, and Prokofiev with the São Paulo Symphony. Committed to new music, she was Music Director of California's Cabrillo Festival of Contemporary Music for 25 years. The first and only conductor to receive a MacArthur Fellowship, Alsop has also been honored with the World Economic Forum's Crystal Award and made history as the first female conductor of the BBC's Last Night of the Proms. The film 'The Conductor' (Tribeca Film Festival 2021) maps Alsop's life and career through intimate interviews, shared moments in her professional and private life, unseen archival footage with her mentor Leonard Bernstein, and of Alsop teaching the next generation of conductors. Amongst many awards and academic positions, she served as 2020 Artist-in-Residence at Vienna's University of Music and Performing Arts, is Director of Graduate Conducting at the Johns Hopkins University's Peabody Institute and holds Honorary Doctorates from Yale University and the Juilliard School. To promote and nurture the careers of her fellow female conductors, in 2002 she founded the Taki Concordia Conducting Fellowship. 
An award-winning curator and artistic director specialized in interdisciplinary practices both in and outside Brazil, Marcello Dantas is responsible for innovating the concept of "museology" by bringing unprecedented doses of technology, interactivity and multimedia resources together and providing immersive experiences that engage senses and change perceptions. With a career spanning 30 years, Dantas worked on the conception of museums and cultural institutions across South America, such as the Museum of Portuguese Language; Japan House São Paulo and the Museum of Nature in Brazil; Museo del Caribe and Museo del Carnaval in Colombia. He has curated several solo exhibitions with some of the most influential contemporary artists of today, such as Ai Weiwei, Anish Kapoor, Laurie Anderson, Michelangelo Pistoletto, Jenny Holzer, Rebecca Horn, and Bill Viola. Since 2014, he has become part of the curatorial board at the Vancouver Biennale, and in 2020 was appointed curator of the 13th Biennial Mercosul. He is a board member of several international institutions and visual arts mentor at the Art Institute of Chicago. In 2018, Dantas was awarded the Order of Cultural Merit by the Ministry of Culture of Brazil.
Executive Director of Fundação OSESP since its creation in 2005, Marcelo Lopes is an economist, lawyer, public administrator, and musician. He specialized in Public Administration from the School of Business Administration Fundação at Getúlio Vargas and holds a Master's degree in Law from the Escola de Direito de São Paulo. At age 19, he joined the OSESP as a trumpeter. At the invitation of the Founding President of the OSESP Foundation, Fernando Henrique Cardoso, together with maestro John Neschling, Marcelo started the structuring of this new institution from the beginning, in an initiative that is today considered one of the best Brazilian cultural projects. As a cultural manager, he works in lectures and conferences in Brazil and abroad, focusing on the management model of cultural facilities and symphony orchestras, and is also a member of the Fiscal Council of the São Paulo Museum of Art – MASP.
Arthur Nestrovski, Ph.D. is the Artistic Director of OSESP since 2010. In 2012, he was also appointed Artistic Director of the Festival de Inverno de Campos do Jordão. Full professor in the postgraduate program in Communication and Semiotics at PUC/SP from 1991 to 2005, he is a guest consultant for many institutions. He maintains musical activity as a guitarist and composer, performing and recording with Zé Miguel Wisnik, Zélia Duncan and Adriana Calcanhotto, among others, in Brazil and abroad. He released several albums, including Violão Violão (2022). He is the author of Outras notas musicais (2010) and Tudo Tem a Ver - Literatura e Música (2019), among other books - including several award-winning children's literature titles, such as Bichos que existem e bichos que não existem (Jabuti Book of the Year Award/Fiction 2003).
Funders
The MetLife Foundation Music of the Americas concert series is made possible by the generous support of Presenting Sponsor MetLife Foundation.
The Fall 2022 Music program is also supported, in part, by by the Howard Gilman Foundation, and by public funds from the New York City Department of Cultural Affairs in partnership with the City Council, the New York State Council on the Arts with the support of the Office of the Governor and the New York State Legislature, and by the National Endowment for the Arts. Additional support comes from the Association of Performing Arts Professionals' ArtsForward program, made possible through support from The Andrew W. Mellon Foundation, New Music USA's Organizational Development Fund in 2022-23, the Alice M. Ditson Fund of Columbia University, The Aaron Copland Fund for Music, and The Amphion Foundation, Inc.