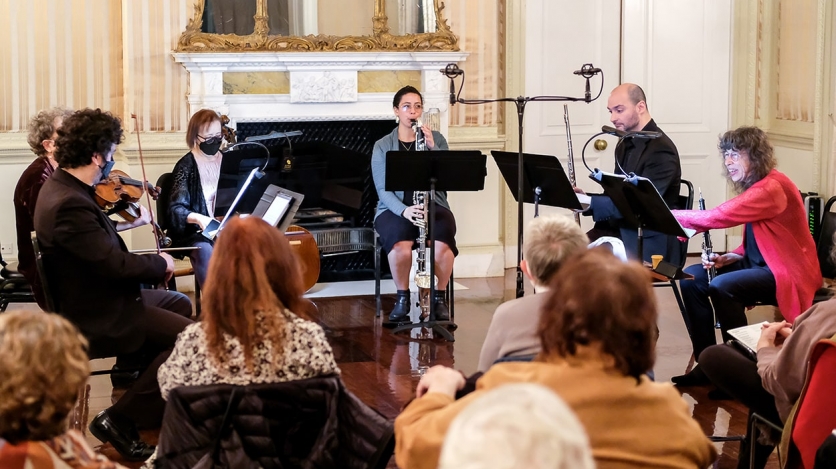 St. Luke's Chamber Ensemble at Americas Society. (Image: Roey Yohai Studios)
Orchestra of St. Luke's: Viajes y Raíces
The orchestra returns to our stage with string quartets by Tania León, inti figgis-vizueta, and Keyla Orozco.
Overview
On March 3, , we will host this event in person, and tickets are free. Please email us to reserve your seat. 
Follow us to hear about other exciting performances!
The Orchestra of St. Luke's Viajes y Raíces, or Journeys and Origins, is an intimate reflection on memory, place, and identity. The performance features the music of Pulitzer Prize-winning composer Tania León, alongside formidable composers in León's creative community: inti figgis-vizueta and Keyla Orozco. Paying homage to a wide variety of traditions, the concert program includes a series of string quartets, illuminating how each composer reflects on their own origins and explorations through their distinct musical language.
Program
Tania León Esencia
inti figgis-vizueta Talamh (Land)
Keyla Orozco Souvenirs
Funders
The MetLife Foundation Music of the Americas concert series is made possible by the generous support of Presenting Sponsor MetLife Foundation. The Spring 2022 Music program is also supported, in part, by public funds from the New York City Department of Cultural Affairs in partnership with the City Council, by the New York State Council on the Arts with the support of the Office of the Governor and the New York State Legislature, and by the Howard Gilman Foundation.
Additional support for this concert comes from the Alice M. Ditson Fund of Columbia University, The Aaron Copland Fund for Music, and The Amphion Foundation, Inc.