6 p.m.

Live broadcast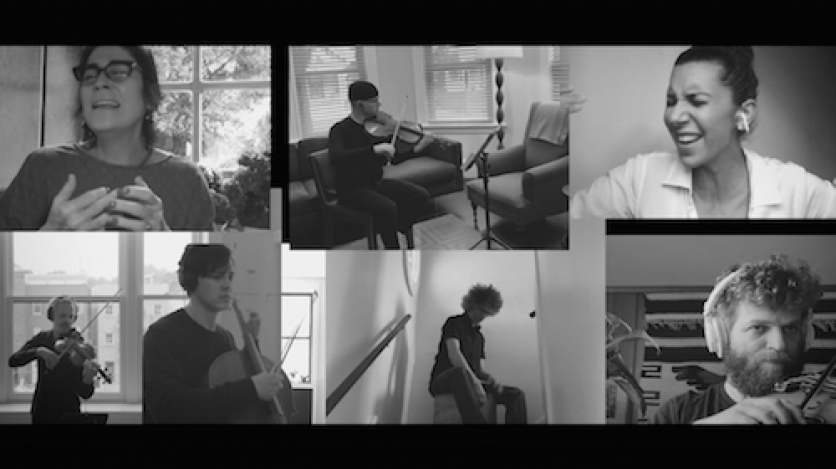 (Image: A. Tillmann)
Online Premiere: "A redoblar"
Magos Herrera and Brooklyn Rider return with an online premiere of the classic Uruguayan anthem, along with new guests Mathias Kunzli, Adrien Tillmann, and Mônica Salmaso.
Overview
A Redoblar
Admission: This will be a live webcast. No registration is needed to watch. 
Magos Herrera and Brooklyn Rider are back on our series with a new version of the Uruguayan classic anthem "A redoblar," in a new arrangement by Sebastián Zubieta, video by French video artist Adrien Tillmann, with percussion by Mathias Kunzli, and Latin Grammy-nominated Brazilian singer Mônica Salmaso making their virtual debut with us!
Special thanks to Bill Siegmund at Digital Island Studios, LLC!
About the Artists
Magos Herrera
Facebook: @MagosHerreraOficial
Born in Mexico City and currently based out of New York City,
Magos Herrera
is a jazz singer-songwriter, producer, and educator, regarded as one of the most expressive, beautiful voices and most active vocalists in the contemporary Latin American jazz scene. She has recorded six solo albums and worked on joint collaborations for two more albums with producer Javier Limón, in addition to having participated as a guest artist of several recordings and albums. An accomplished artist, Herrera has performed in a variety of leading international cultural venues and has been part of the line-up of some of the most memorable jazz festivals around the world.
Brooklyn Rider
Facebook: @BklnRider
Hailed as "the future of chamber music" (Strings), the veteran string quartet Brooklyn Rider presents eclectic repertoire and gripping performances that continue to draw rave reviews from classical, world, and rock critics alike. NPR credits Brooklyn Rider with "recreating the 300-year-old form of string quartet as a vital and creative twenty-first-century ensemble."
Johnny Gandelsman, violin
Colin Jacobsen, violin
Nicholas Cords, viola
Michael Nicolas, cello
Mônica Salmaso
Facebook: @MonicaSalmasoOficial
With her "gorgeous, quintessentially Brazilian voice," (New York Times) Latin Grammy-nominated Brazilian singer Mônica Salmaso has been performing and recording for 30 years. Her collaborators include some of the most distinguished Brazilian musicians, including Guinga and Paulo Bellinatti. 
Mathias Kunzli
Facebook: @MathiasKunzliMusic
Hailing from Switzerland, multi-disciplined drummer/percussionist Mathias Kunzli currently splits his time between Los Angeles and New York City. He can be found performing around the globe in a variety of styles with artists and bands of many backgrounds. Additionally, his original work is featured in Film, TV and other multi-media platforms.
Adrien Tillmann
Facebook: @AdrienHTillmann
Adrien H. Tillmann is a French photographer based in Manhattan, born from a French-German family near Paris. His photography, dedicated to the jazz world, can be seen in various parts of the globe, including on the walls of the legendary New-York Jazz clubs The Village Vanguard and Birdland.
 
"A redoblar"
Mauricio Ubal - Rubén Olivera: music and lyrics 
Magos Herrera: voice
Mônica Salmaso: voice
Brooklyn Rider: Johnny Gandelsman, Colin Jacobsen: violins
                             Nicholas Cords: viola
                             Michael Nicolas: cello
Mathias Kunzli: percussion
Adrien H. Tillman: video direction and editing
Bill Siegmund: audio editing
Oscar Zambrano: audio mastering
Sebastián Zubieta: arrangement 
Made with support from MetLife Foundation
Special thanks to Maestro Dobel