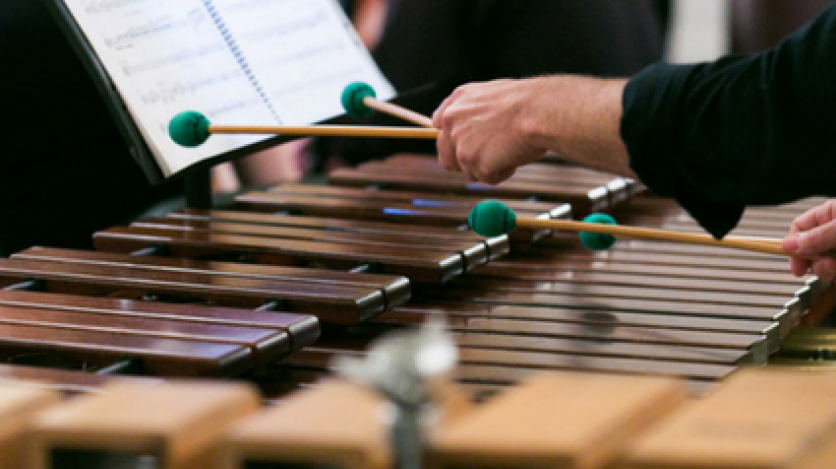 NYNME percussionist Daniel Druckman at Americas Society. (Image: Roey Yohai)
New York New Music Ensemble: New Works from Brazil
New York New Music Ensemble returns to Music of the Americas with a program featuring new music from Brazil, including three world premieres.
Overview
Registration for this event is now closed. Remaining seats will be available at the door starting at 6:15 p.m. on February 21.
Not yet a member? Learn how to become a Cultural Circle member.
New York New Music Ensemble (NYNME) returns to Music of the Americas with a program of new music from Brazil, including three world premieres by Alexandre Lunsqui, Flo Menezes, and Sílvio Ferraz alongside works by NYC-based composers Marcos Balter and Felipe Lara. 
Program
| | |
| --- | --- |
| Alexandre Lunsqui (b. 1969) | Telluris Heat (2016-2017)* |
| Flo Menezes (b. 1962) | Mis3rere (2017)* |
| Sílvio Ferraz (b. 1959) | Calando (2017)* |
| Marcos Balter (b. 1974) | Curumim (2012) for solo piccolo |
| Felipe Lara (b. 1979) | Tutti (2005) |
|   | *world premiere |
This performance is part of the Composers Now Festival.
NYNME performs Javier Álvarez's Tientos at Americas Society (2016).
About New York New Music Ensemble 
Since 1976, the New York New Music Ensemble has commissioned, performed, and recorded the important and upcoming composers of our time. Such organizations as the Jerome, Fromm, Mellon, and Koussevitzky Foundations; the Mary Flagler Cary Charitable Trust; NEA, and NYSCA, among others have recognized and supported the ensemble. They have performed innumerable college residencies (Long Beach, University of Wisconsin-Madison, University of Pittsburgh), appeared at major festivals (Ravinia, Santa Fe, June in Buffalo, Pacific Rim, The Thailand International Composers Festival), and recorded an extensive discography of important chamber works. They have traveled to Europe, Asia, and South America to perform, teach, and record, and branched out into theatre music and adventuresome electronic, interactive new technologies.
About Composers Now Festival
The Composers Now Festival celebrates living composers, the diversity of their voices and the significance of their musical contributions to our society. During the month of February, the Festival brings together dozens of performances presented by venues, ensembles, orchestras, opera companies, dance companies and many other innovative events throughout New York City. Experience the sounds and get to know the creators behind the music. From jazz to indie, from classical to electronic and beyond, join us on a sonic journey through the landscape of the arts of our time.
Composers Now is a project partner of The Fund for the City of New York.
In collaboration with: