7 to 9 pm ET

Live broadcast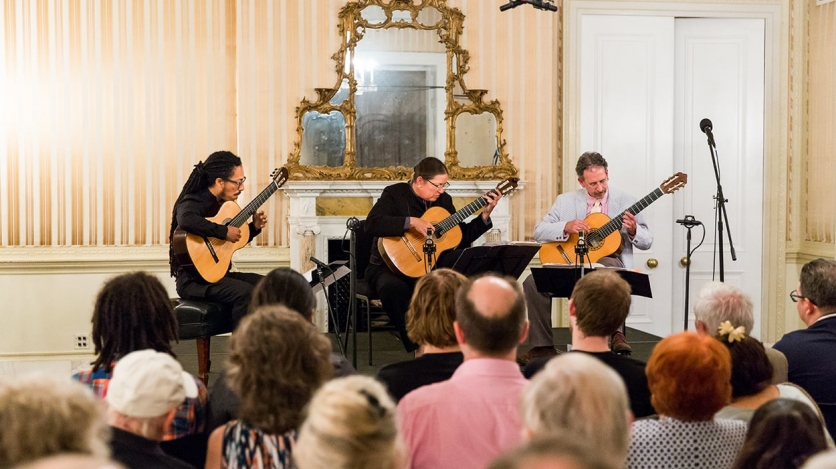 João Luiz, Laura Oltman, Michael Newman. (Image: Roey Yohai Photography for Americas Society)
New York Guitar Seminar: Piazzolla at 100, Binelli at 75
The 2021 festival will celebrate the Argentine composers, whose music transformed tango.
Overview
Every summer since 2009, Music of the Americas has partnered with the New York Guitar Seminar at Mannes to present the opening faculty recital of the New York Guitar Seminar (NYGS). Open to guitarists and music lovers of all ages and levels of skill, the NYGS offers a week of intensive technical and musical training in New York City.
Previous concerts have featured Berta Rojas, the Oltman Newman Duo, and Fábio Zanon, among many others.
In 2021, we celebrate Astor Piazzolla's centennial and the 75th birthday of his protégé Daniel Binelli. Piazzolla remains one of the best-known composers in the world, and his music transformed tango and extends to the chamber music world, where the guitar plays an important role. Internationally renowned composer, arranger and master of the bandoneon Daniel Binelli performs extensively in concert and recital. He is the foremost torchbearer of the music of Astor Piazzolla. The repertoire for this concert will include Binelli's Metropolis and works by Piazzolla.
In collaboration with
New York Guitar Seminar at Mannes
Funders
The MetLife Foundation Music of the Americas concert series is made possible by the generous support of Presenting Sponsor MetLife Foundation. The Spring-Summer 2021 Music program is also supported, in part, by public funds from the New York City Department of Cultural Affairs in partnership with the City Council. This concert is supported by The Augustine Foundation.